Q1: WhatsApp was not working properly so I reinstalled it, suddenly realized that all my contacts have been deleted. Is there any way to restore my contacts?
Q2: I lost my WhatsApp contacts when i upgraded to new iOS version. How do I get them back?
Q3: My WhatsApp was not working properly so I decided to restart my phone and when it turned on, I discovered that my entire contact list has been erased! I wasn't updating anything, my iCloud is switched off and I haven't backed up my phone since quite some time. Is there a way I can still recover my contact list?
There are a few problems that you may encounter when using WhatsApp on your iPhone, just like the above examples. Now you just need to follow the guide below to recover your WhatsApp contacts.
What You Will Need
WhatsApp Pocket
An iPhone
A PC or Mac with iTunes installed
USB cable to connect your iPhone
If you don't already have WhatApp Pocket installed, click here for more information, or download it using the link below. Here let's perform the WhatsApp backup recovery in Mac with detailed steps.
Step 1: Connect your iPhone to your Mac computer.
Step 2: Run WhatsApp Pocket on your Mac. If you have an iPhone backup on your computer, just click on "Extract from iTunes Backup Files" and the program will scan your backup immediately. If you don't have, click "Extract from iOS Device" and the scan will take longer time when it's selected.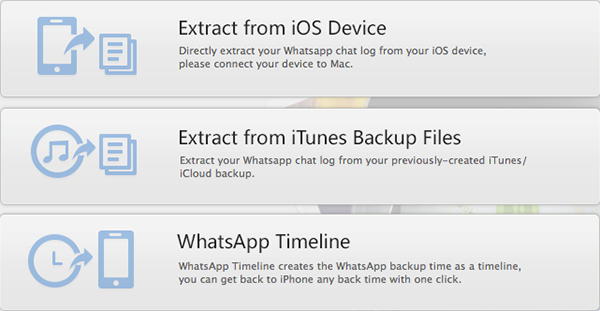 Step 3: After the scan is completed, click the Contacts Tab from the top, then select the contacts you want recover and save them onto your Mac.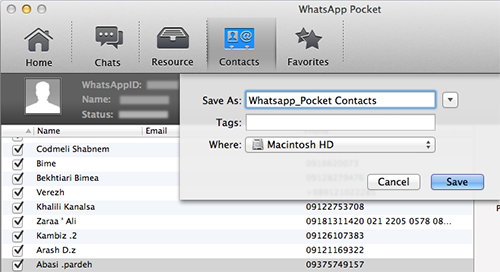 Step 4: Open up Address Book which will sync your contacts automatically, then sync with iTunes to restore the contacts to your iPhone.
You May Also Like
How to Extract WhatsApp Messages from Your iCloud Backup
How to Save Your WeChat Voice Messages from Android and iOS
How to Extract and Recover WhatsApp Chat Messages from Your iPhone
How to Save Voice Recordings or Audio Notes from WhatsApp on iPhone