{宽版文章}
{宽版文章加载:/templates/fireebok/css/app.css}
{宽版文章加载:/templates/fireebok/css/other/navbar2.1.css}
{宽版文章加载:/templates/fireebok/css/other/footer2.0.css}
{宽版文章加载:/templates/fireebok/css/other/iexplorer-styles.css}
{宽版文章加载:/templates/fireebok/css/other/iexplorer-extras.css}
{宽版文章加载:/templates/fireebok/css/other/product-page-style.css}
{宽版文章加载:/templates/fireebok/css/other/background.css}
{宽版文章加载:/templates/fireebok/css/other/styles.css}
WhatsApp Pocket
WhatsApp Pocket allows you to use WhatsApp Messenger on your computer, extract and recover WhatsApp messages from your iPhone. You can backup and view the chat history on your PC or Mac with a single click only. Do you want to save the important WhatsApp chats? Or you have deleted some important chats mistakenly or accidentally? WhatsApp Pocket solves all your problems and also does many more. >>User Guide
Reviews

Intuitive and easy to navigate, this application works
as promised...>>Learn more
Use this tool to recover WhatsApp messages from the iTunes backup file and save them on your computer in a simple and hassle free manner...>>Learn more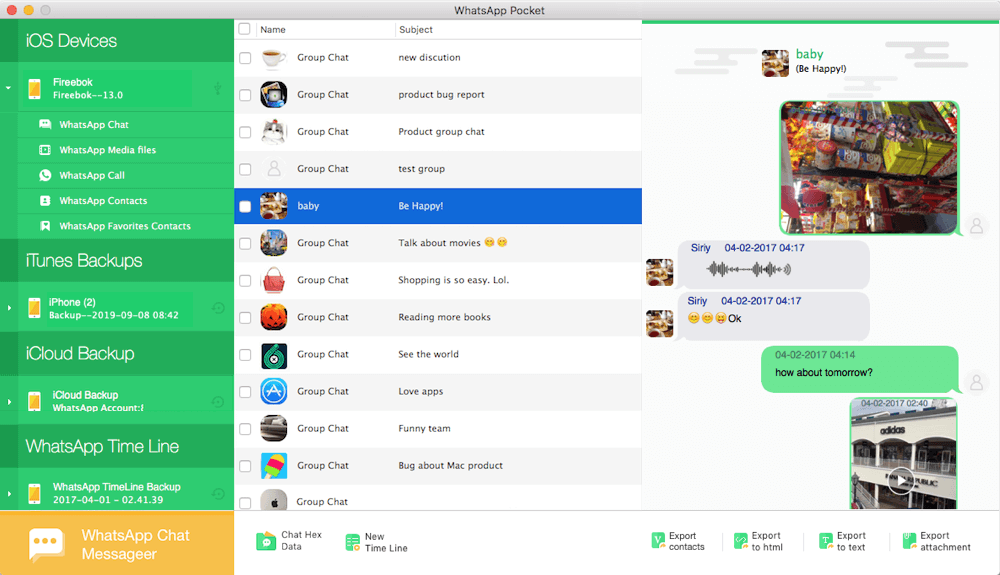 Extract and Backup Chat History from iPhone to Computer

Nowadays users prefer to use WhatsApp messenger than any other way of communication for messaging and chatting. As they are using it frequently, the amounts of conversations are growing rapidly on their iPhone. You can save your WhatsApp chat history on your computer using the useful WhatsApp Pocket in quick and easy way.

WhatsApp Pocket automatically can detect and load your iTunes and iCloud backup files. It also allows you to choose specific backup file from multiple data files.

Recover Deleted WhatsApp Messages, Photos, Contacts Easily & Efficiently

If you accidentally press the "Delete" button on your WhatsApp images, texts, videos or other important attachments or if you have lost the chat history because your iPhone crashed, then there is nothing to worry. It does not matter whether you had backed up the data or not. WhatsApp Pocket allows you to restore the information without any hassle.

This useful application converts contact information into VCF file to import them into webmail or outlook easily.

Get Back to Any Previous Conversation in WhatsApp with the Timeline

WhatsApp Timeline creates a graphical representation of your WhatsApp backup by display the time point and content sequentially along a line, you can easily bring up your WhatsApp messages even if the WhatsApp Messenger deleted due to misoperation or other issues.

Every time point in WhatsApp Timeline is a backup restore point, your WhatsApp with all content can be taken back to any time point like a time machine.

One Click to save all WhatsApp Content on Your Computer

WhatsApp Pocket include an intuitive and excellent interface to load WhatsApp content data, this responsive tool allows you to save all WhatsApp content including text message, photos, audios, videos and more into .html files. It helps the users to view and read WhatsApp messages comfortably.

Data such as videos, photos, and location data are also saved in "Resource" which makes it convenient to save the media files individually.