{宽版文章}
{宽版文章加载:/templates/fireebok/css/app.css}
{宽版文章加载:/templates/fireebok/css/other/navbar2.1.css}
{宽版文章加载:/templates/fireebok/css/other/footer2.0.css}
{宽版文章加载:/templates/fireebok/css/other/iexplorer-styles.css}
{宽版文章加载:/templates/fireebok/css/other/iexplorer-extras.css}
{宽版文章加载:/templates/fireebok/css/other/product-page-style.css}
{宽版文章加载:/templates/fireebok/css/other/background.css}
{宽版文章加载:/templates/fireebok/css/other/styles.css}

WhatsApp Pocket allows you to extract, recover WhatsApp messages from your iPhone. With just one click, you can backup and view chat history on your computer easily. Have important WhatsApp chats that you want to save? Or accidently deleted a crucial message? WhatsApp Pocket solves issues and many more! >>User Guide
Extract, backup and recover WhatsApp chat history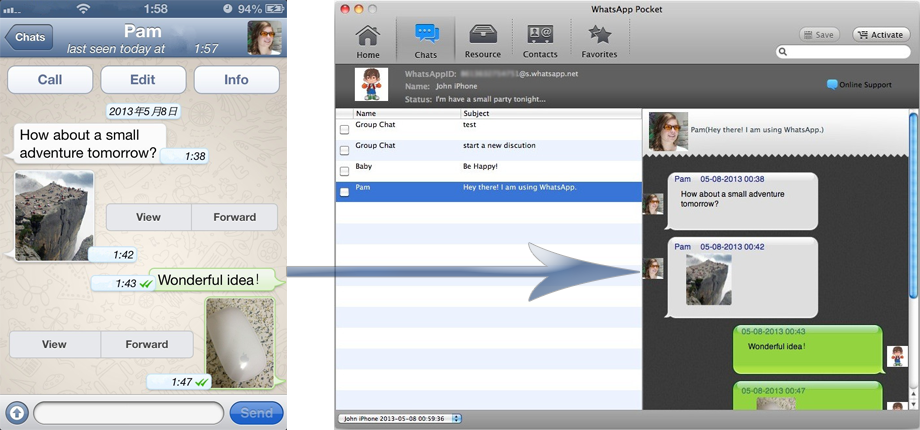 Extract, Backup WhatsApp Chat History from iPhone to Computer

When using WhatsApp messenger for chatting and messaging from day to day, more and more conversations are produced on iPhone. With the help of WhatsApp Pocket you can extract and save your WhatsApp chat history in your computer conveniently.

WhatsApp Pocket automatically detects and loads the backup files stored on your computer, it allows you to select specific backup if you have multiple ones.

Recover Deleted WhatsApp Messages, Photos, Contacts Easily & Efficiently

Accidentally pressing the "Delete" button on your WhatsApp texts, images, videos or other message attachments in a hurry? Or lost the chat history as your iPhone crashed? No matter the data has been backed up or not, WhatsApp Pocket enables you to restore the information without any hassle.

Convert contacts information into VCF file so they can be easily imported into outlook or webmail.

Provide a Perfect, Comfortable Reading Experience on Your Computer

WhatsApp Pocket processes an excellent and intuitive user interface, that make it easy to view and read chat messages for its users. Instead of pressing "load more" on the iPhone every time, this responsive tool allows you to view the conversations simply by scrolling the scrollbar.

Data including photos, videos and location data are also saved in "Resource", that makes it convenient to view the media files.