WhatApp Messager 2.10.1 or later allows its iPhone users to back up the chat history to iCloud, the media (expect for your videos) will be backed up as well. If you reinstall WhatsApp next time or delete important information in WhatsApp, you can restore your chat history from your iCloud backup. Back up the chat messages to iCloud regularly is a good habit for data security.
Back up WhatsApp Messages to iCloud in iOS
Before you back up WhatsApp chat message to iCloud, you need to allow WhatApp to store documents and data in iCloud. For iOS 7 users, turn on WhatsApp from Settings -> iCloud -> Documents & Data, for iOS 8 users, turn on iCloud Drive from Settings -> iCloud -> iCloud Drive. For iOS 11 users and later, turn on WhatsApp from Settings -> Your Name[Apple ID] -> iCloud -> under APPS USING Storage tab.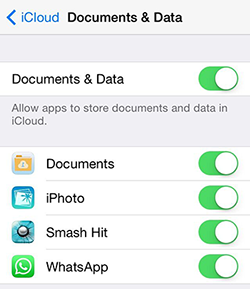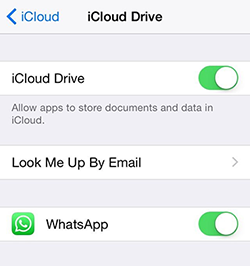 Next, backup your chats in WhatsApp from Settings -> Chat Settings -> Chat Backup, you can also use auto-backup to do that.
One important thing - make sure you checked Documents & Data in Mac OS X or iCloud Drive in Mac OS X System Preferences -> iCloud.
Access and Read WhatsApp Chat History from iCloud Backup
iCloud stores the chat backup in the iCloud Drive folder, but you are not allowed to access the backup as it is hidden. You can access and read WhatsApp messages in WhatsApp Pocket, these three easy steps below will show you how to do that, download WhatsApp Pocket on your computer. (The Windows version doesn't support extract WhatsApp messages from iCloud backup, we will release an update ASAP.)
Step 1. Open up WhatsApp Pocket on your Mac, select "Extract from iTunes Backup Files";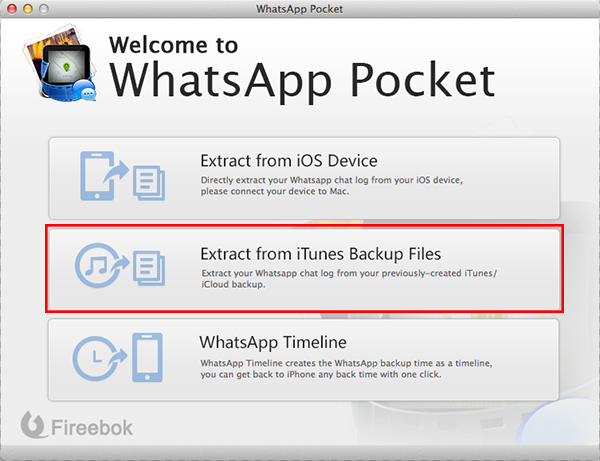 Step 2. Choose you iCloud backup and click the Scan button;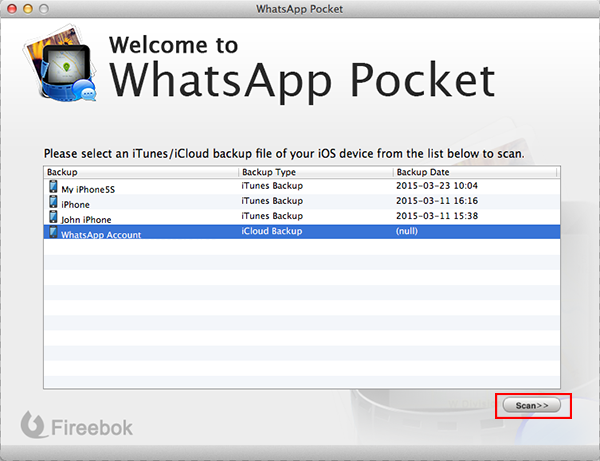 Step 3. Read your WhatsApp messages or save these information onto your computer.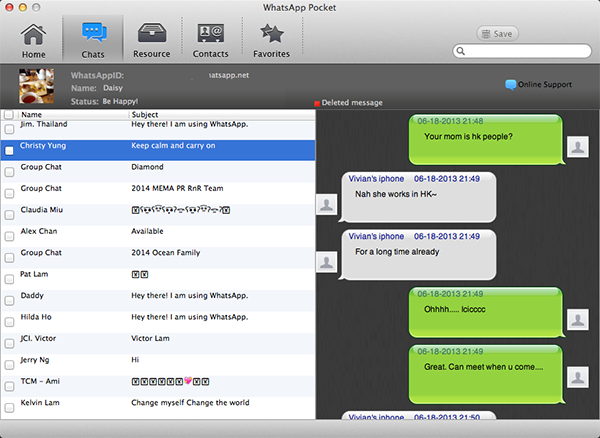 When you reinstall WhatsApp on your iPhone, you can restore your chat history from iCloud after the confirmation by clicking Restore Chat History. All chat message expect the videos will be synced to WhatsApp, of course, you can use WhatsApp Pocket to recover them without any hassle.
You May Also Like
How to Recover WhatsApp Contacts on iPhone
How to Extract and Recover WhatsApp Chat Messages from Your iPhone