{宽版文章}
{宽版文章加载:/templates/fireebok/css/app.css}
{宽版文章加载:/templates/fireebok/css/other/navbar2.1.css}
{宽版文章加载:/templates/fireebok/css/other/footer2.0.css}
{宽版文章加载:/templates/fireebok/css/other/iexplorer-styles.css}
{宽版文章加载:/templates/fireebok/css/other/iexplorer-extras.css}
{宽版文章加载:/templates/fireebok/css/other/product-page-style.css}
{宽版文章加载:/templates/fireebok/css/other/background.css}
{宽版文章加载:/templates/fireebok/css/other/styles.css}

Getting tired of reading eBooks on your Kindle, iPhone, iPod or MP3 player? Love listening to audiobooks while sleeping, crafting? Audio Book enables its users to convert any eBooks or iBooks to audiobooks and listen on an iPhone, Android or MP3 player etc. All within just a few clicks on your Mac, you will experience and enjoy an exciting and wide range of voices. Enjoy it right now! >>Softpedia's review
Expand Your Entertainment on an iPhone, iPod or MP3 Player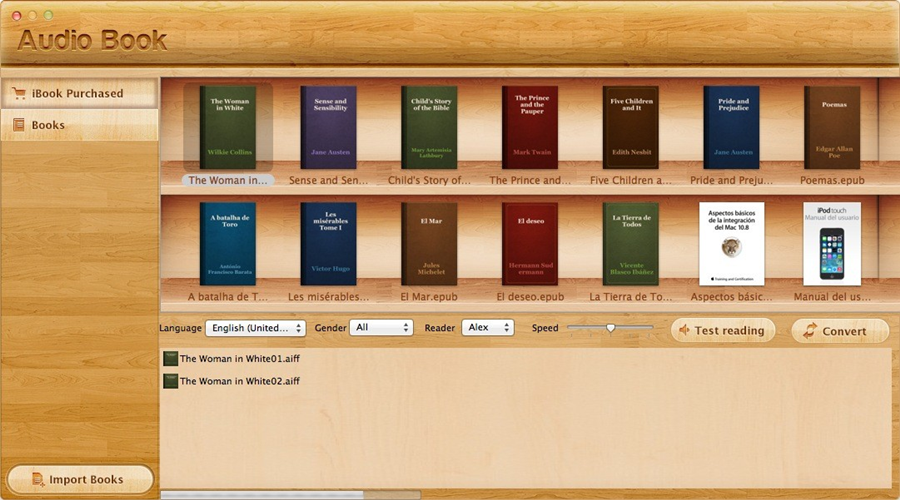 Get the Best Experience from Audiobooks on Your Device

Audiobooks are the perfect way to relax and get things around the house, more and more people like to listen to audio books rather than read eBooks on an iPad, iPhone or Kindle for long hours. Fireebok Audio Book may come in very handy for users who wish to convert an eBook to audiobook and listen on their devices like iPhone, iPad, iPod or MP3 player.

Audio Book uses clear and natural sounding voices to generate speech that's easy on the ear and easy to understand. You can enjoy a wide range of voices including 38 languages and 50+ accents, very different from each other.

Supported input format: PDF(.pdf), EPUB(.epub), RTF(.rtf), TXT(.txt), HTML(.html)
Supported output format: MP3(.mp3), AIFF(.aiff)

Turn e-Books Purchased from iBooks into Audiobooks

Have a bunch of eBooks purchased from Apple's iBooks store that you haven't had the time to get to yet? Well, it may be time to listen to them on your iOS device instead. Audio Book loads and lists all the books in iBooks automatically. Working with Audio Book is a breeze, you just need to choose and e-Book you want to covert, select the language and voice, and then click on the Convert button.

Audio Book lets you sync your audiobooks to iTunes Library easily, you can right click on them and choose several options: Show in Finder, Play (in iTunes), Add item(s) to iTunes Library or Delete.

Get Benefits for All Readers, Children, Students & Old Men

Parents like to use audiobooks to bring life and depth to children's reading experience, but sometimes they can't get whatever they wanted from the bookstores or internet. With Audio Book, you can convert any eBooks to audiobooks easily and help your children to see how the words on the page can come alive in a fluid, expressive way.

Audiobooks have traditionally been used by educators in schools, colleges and training organization. The audiobook converter turns any online text to speech conveniently and it saves the teachers' time in creating teaching materials.

Some elderly people are visually impaired, they love listening to an audio book rather than read eBooks and printed books. By using Audio Book, an audiobook can be created in a few minutes and played on special playback equipment.

Save Your Time and Money, More Joy Everywhere

A subscription to Audible might be a good investment but you need to pay every month for it. Sometimes it's impractical or dangerous to read, especially if you have a long, daily commute. Licensed users can get a lifetime of free updates and technical support.

Moreover, Audio Book lets you listen to your favorite blogs, online magazine, long emails. You can also create an audiobook and share with others.