We have recently received a lot of feedback about the WhatsApp takes up most of their iPhone storage space. Many WhatsApp users are facing the storage problem when they use WhatsApp for a long time. A lot of photos, video, video and group chat message and more, which take up most of their iPhone space. One of them that a single chat has more that 2GB, and even more.
When your WhatsApp conversation contains a large number of chat records and media files, you will feel that it is more slower that before . Finally, because of the lack of iPhone storage space, WhatsApp will can not open, and can not be used. How to do when your whatsApp has a huge content? Let's deal with the problem in four steps.
Step 1: Check your WhatsApp real app size
The WhatsApp app size of latest version 2.12.16 is 65.7MB. The other documents & data is your WhatsApp chat message content.
Enter Settings -> General -> Storage & iCloud Usage -> Manage Storage -> find WhatsApp App.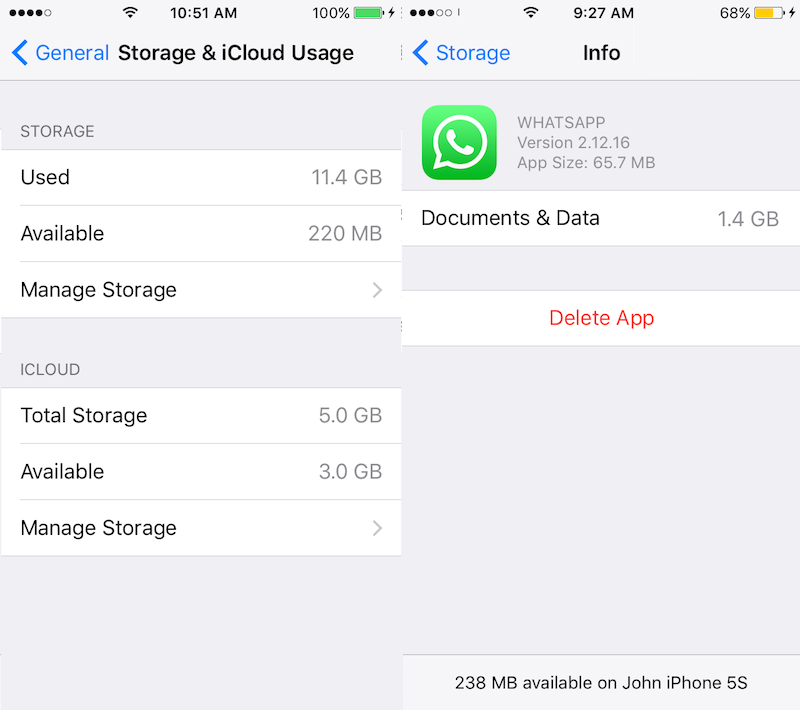 Or enter WhatsApp Settings -> Data and Storage Usage -> Storage Usage (WhatsApp old version: WhatsApp Settings -> Account -> Storage Usage -> Size)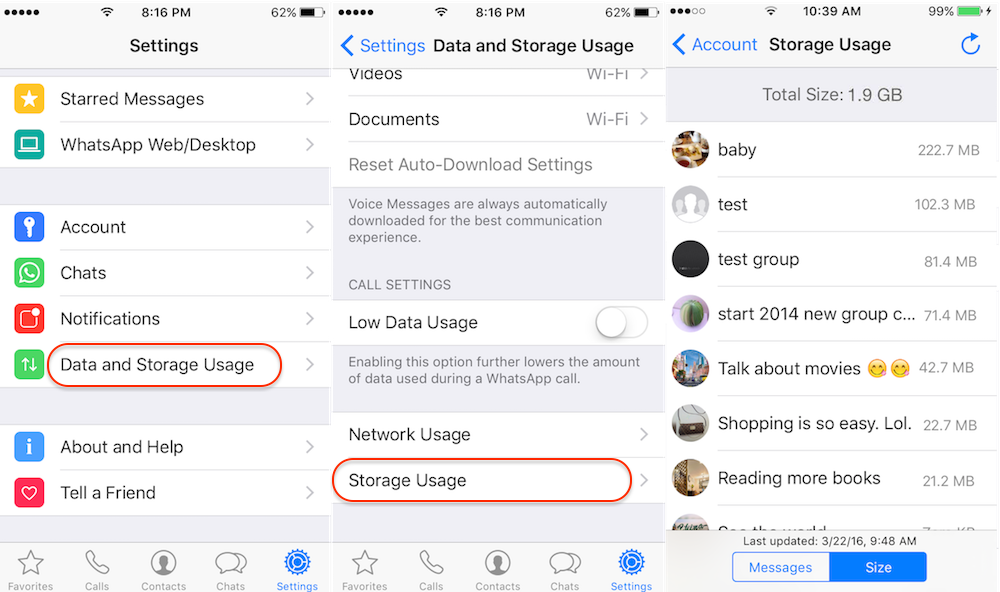 Step 2: Backup your WhatsApp data to iTunes, iCloud or your computer
1. Connect your iPhone to the computer with USB, run iTunes to make an iTunes backup.
2. Connect your iPhone with Wifi, open WhatsApp Settings-> Chats -> Chat Backup -> Back Up Now.
3. Backup your WhatsApp data to the computer with WhatsApp Pocket
---

WhatsApp Pocket


Chat WhatsApp messager, Extract and recover WhatsApp message from iPhone, iTunes and iCloud backup.



For Windows & Mac OS X
---
WhatsApp Pocket allows you to extract and recover WhatsApp messages from your iPhone, iTunes or iCloud. You can backup and view the chat history on your PC or Mac with a single click only. It save your all chats content into html file including photos, videos, audios and other information.
Preview WhatsApp chats in WhatsApp Pocket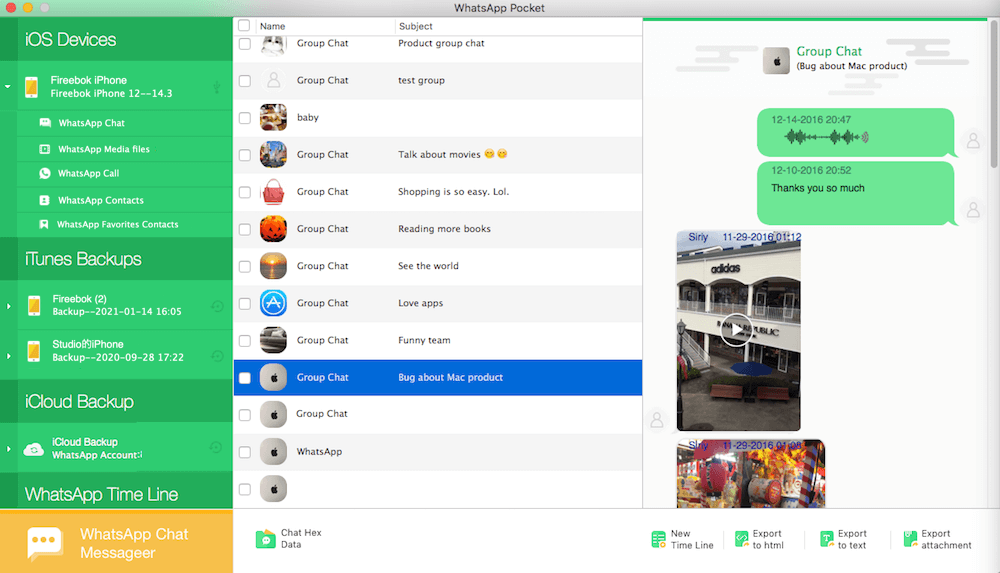 Save WhatsApp chats on your computer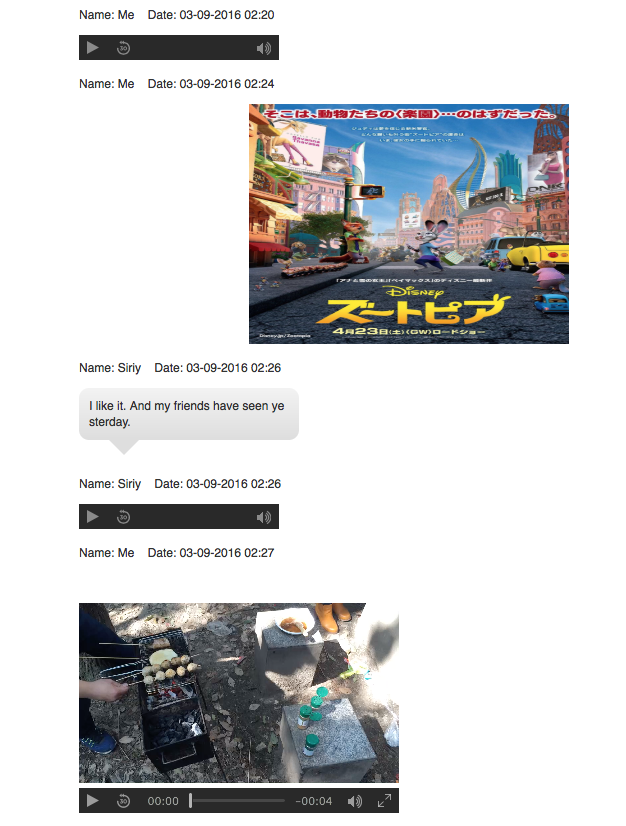 Step 3: Find the biggest conversation in your WhatsApp
WhatsApp Settings -> Account -> Storage Usage -> Size, you will find the biggest conversation in your WhatsApp.
Step 4: Remove the biggest chats or the big media files in conversation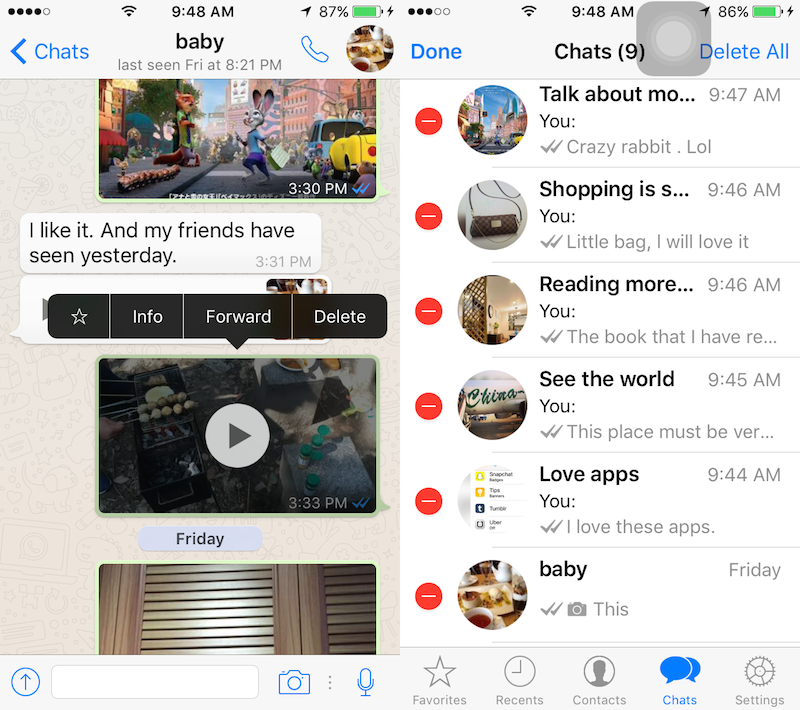 More Related Articles
About Fireebok Studio
Our article content is to provide solutions to solve the technical issue when we are using iPhone, macOS, WhatsApp and more. If you are interested in the content, you can subscribe to us. And We also develop some high quality applications to provide fully integrated solutions to handle more complex problems. They are free trials and you can access download center to download them at any time.