WhatApp is no doubt the must-have mobile messaging app which allows notifications to be pushed instantly, and it's certainly the no.1 messenger application across the mobile platforms including iPhone, Android, Blackberry, Nokia S40, Symbian and Windows Phone. However, the most popular don't mean the most secure.
But are you boring with current WhatsApp features like reading important chat messages by pressing "Load more" every time? Or WhatsApp Messenger started slowing down terribly because of bloated conversation history? With WhatsApp Pocket you can extract the chat messages backup form your iPhone to Mac and read the chat history whenever you want. Follow the steps below to extract and recover your WhatsApp chat messages.
Extract Chat Messages in WhatsApp Pocket
Connect your iPhone to your PC or Mac, open up iTunes and back up your iPhone. If you have a previously-created backup on your computer, you can skip this and follow the instructions below:
Step 1: Download WhatsApp Pocket, install the program on your computer;
Step 2: Open WhatsApp Pocket by clicking the app icon, select "Extract from iOS Device" or "Extract from iTunes Backup Files" and the program will start to scan instantly;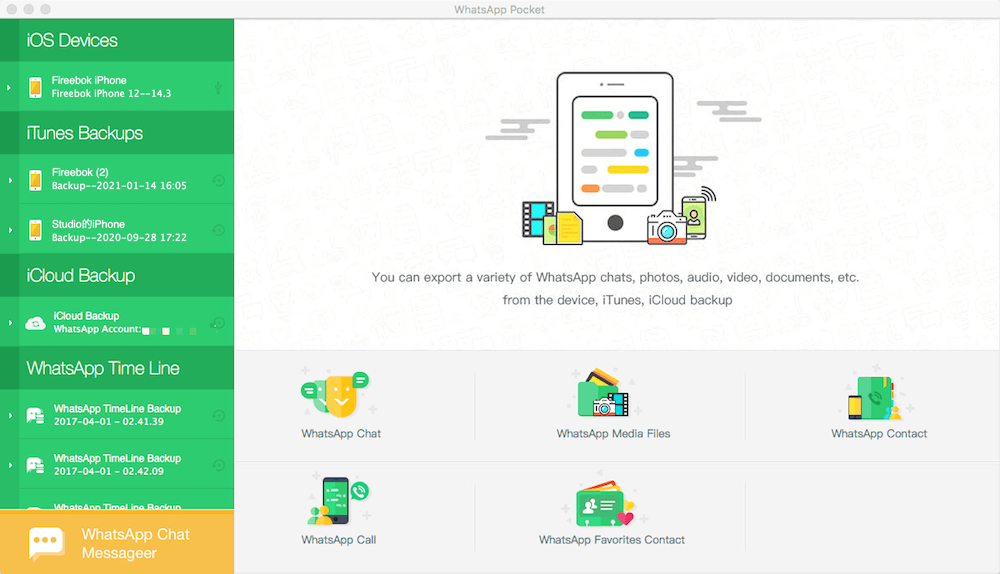 Step 3: WhatsApp Pocket shows all the conversations extracted from your device or backup. By clicking the "Resource" tab, you can preview all media files including photos, videos, voice messages & location data. Next, choose desired chat history to save onto your computer by clicking the Save button.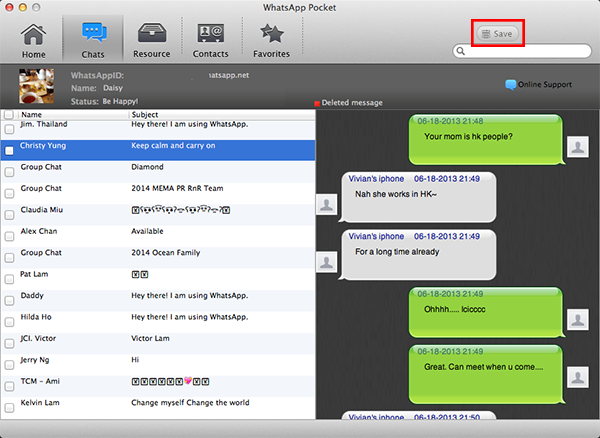 Recover WhatsApp messages with WhatsApp Pocket
1. If you have ever backup your WhatsApp messages with iTunes or iCloud, then please select recover from iTunes or iCloud. Current version only WhatsApp Pocket for Mac support to recover from WhatsApp iCloud backup. And make sure your iCloud account on Mac is as same as the iCloud account on iPhone. Lean more about how to recover from iCloud backup
Step 1 Run WhatsApp Pocket and select "Extract from iTunes backup Files" to scan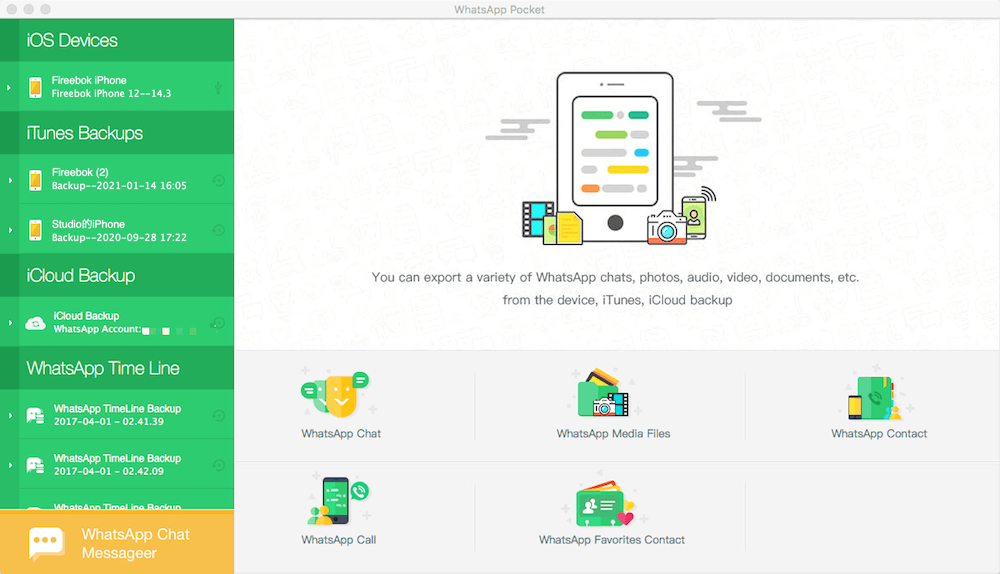 Step 2 It will list all your iTunes backup and iCloud backup.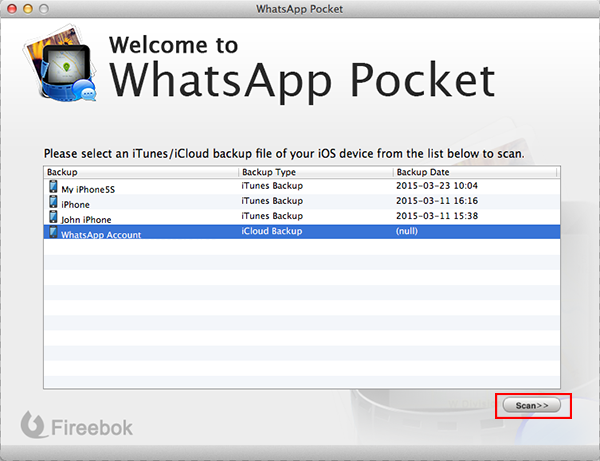 Step 3WhatsApp Pocket supports the recovery of deleted WhatsApp message from iOS device, iTunes backup or iCloud backup. And you can click "Preferences"->General to reset the setting. If you scan with Advanced recovery mode, the deleted WhatsApp message will be marked with red color.
Step 4 WhatsApp Pocket will read all your WhatsApp message from iTunes or iCloud backup. You can select right chat message to save them on the computer. All WhatsApp content including everything will be saved in .html files.
2. If you haven't any WhatsApp backup, you can still recover deleted WhatsApp message with WhatsApp Pocket.
Step 1 Connect your iPhone with the computer
Step 2 Run WhatsApp Pocket and click Preferences->General, you need turn on "Scan with advanced recovery mode", then click Reset button. It will show the deleted message in next scanning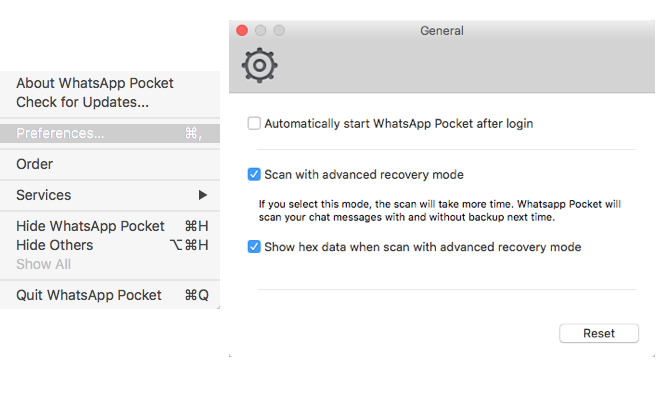 Step 3 select "Extract from iOS Device" to scan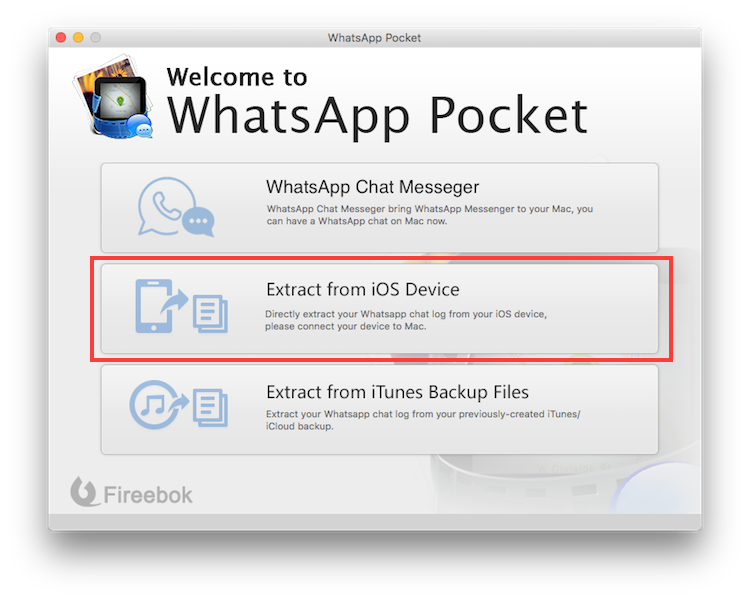 Step 4After the scanning has completed, all the WhatsApp message will be displyed on the result view. And WhatsApp Pocket add "hex data of chat" function on the new version, you can search any key word in hex charater view.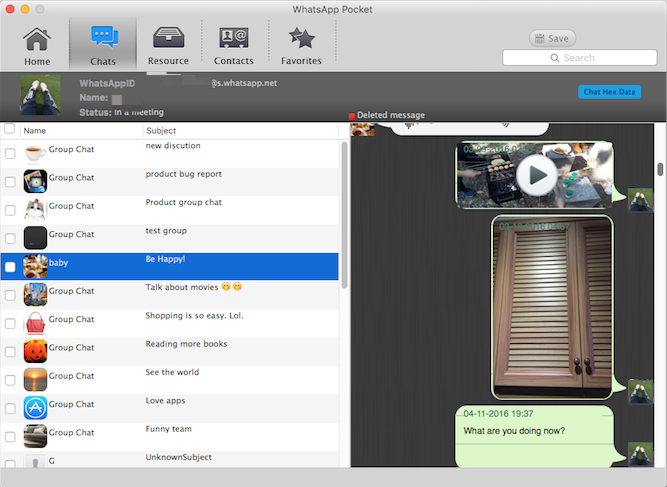 ---

WhatsApp Pocket


Chat WhatsApp messager, Extract and recover WhatsApp message from iPhone, iTunes and iCloud backup.



For Windows & Mac OS X
You May Also Like
How to Recover WhatsApp Contacts on iPhone
How to Save Voice Recordings or Audio Notes from WhatsApp on iPhone