Just like "Other", "Documents & Data" is taking up a large amount of disk space on your iPhone if you use the apps very much. It becomes quite annoying when you don't know how to release more storage to install new apps or upgrade to iOS 8, especially if you're using an iPhone 5 or iPhone 4S.
Before you figure out a way to get rid of documents and data from your iPhone, you need to understand what really is "Document & Data".
What is "Documents & Data" on iPhone
Document & Data on iPhone are junks files including browser history, cookies, logs, caches of photos and videos, database files stored by your apps. You'll notice that some apps while being very small themselves have accumulated a lot of data. An example of this is shown in the image below, you see that the Facebook app is 109 MB whereas the Documents & Data stored is 1.2 GB. This 1.2 GB is what goes into your "Other" data.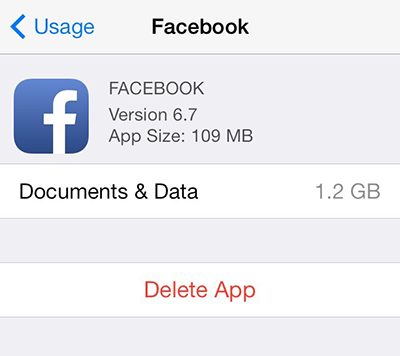 Ways to Delete Documents and Data from an iPhone
Deleted unwanted apps
Garbage and database files produced by the iOS apps are wasting your storage, especially the Games. Tap an app you want to remove and tap Delete App, if you want to reuse these apps, just go to app store and reinstall them on your device. This will delete the app and its documents and data, so make sure before your commit.
Delete media files including photos, videos, music
Photos, videos, music and other media files' caches are stored on your iPhone as a part of "Documents & Data", so you can clear the caches by deleting unnecessary media files. Remember to make a backup with iTunes so you won't make a mistake.
Clear Safari browsing data
Your browse history, cookies and logs stored in Safari are a part of "Document & Data", to clear your Safari browsing history completely it can be done in three simple steps:
To clear your history, tap Settings > Safari > Clear History
To clear all cookies, tap Settings > Safari > Clear Cookies and Data
iOS 5 or later: To clear other stored information from Safari, tap Advanced > Website Data > Remove All Website Data
Get rid of documents and data with CleanMyPhone
These apps on iPhone don't provide a way to delete Documents and Data, uninstalling and reinstalling the app is not the best option here. With the help of CleanMyPhone, you can delete the documents and data on iPhone without deleting the app itself.
Before clearing out Documents & Data from your device, you need to download and install CleanMyPhone to resolve this problem.
Step 1: Connect your iPhone to your computer and run CleanMyPhone on your PC/Mac;
Step 2: CleanMyPhone will scan your iPhone automatically, after that click the App Cleaner tab;
Step 3: Remove documents and data from your iPhone by clicking the

.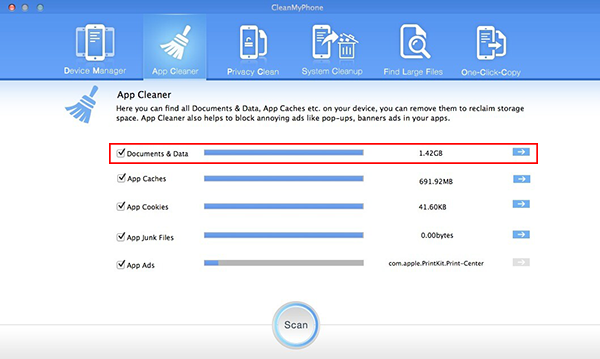 You May Also Like
How to Clear Storage on an iPhone or iPad
How to Get Rid of Other Data on iPhone, iPad or iPod Touch
How to Upgrade Your iPhone, iPad or iPod to iOS 7 If Your Device Storage is Full