What is "Documents & Data" on iPhone
Document & Data on iPhone are junks files including browser history, cookies, logs, caches of photos and videos, database files stored by your apps. You'll notice that some apps while being very small themselves have accumulated a lot of data. An example of this is shown in the image below, you see that the Facebook app is 109 MB whereas the Documents & Data stored is 1.2 GB. This 1.2 GB is what goes into your "Other" data.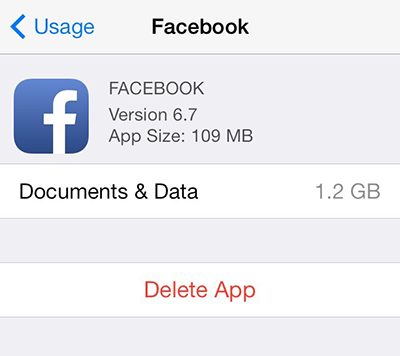 These apps on iPhone don't provide a way to delete Documents and Data, uninstalling and reinstalling the app is not the best option here. With the help of CleanMyPhone, you can delete the documents and data on iPhone without deleting the app itself.
How to Delete Documents and Data from iPhone Apps
Before clearing out Documents & Data from your device, you need to download and install CleanMyPhone to resolve this problem.
Step 1: Connect your iPhone to your Mac computer.
Step 2: Run CleanMyPhone on your computer, select the App Cleaner tab and click the Scan button to scan your device.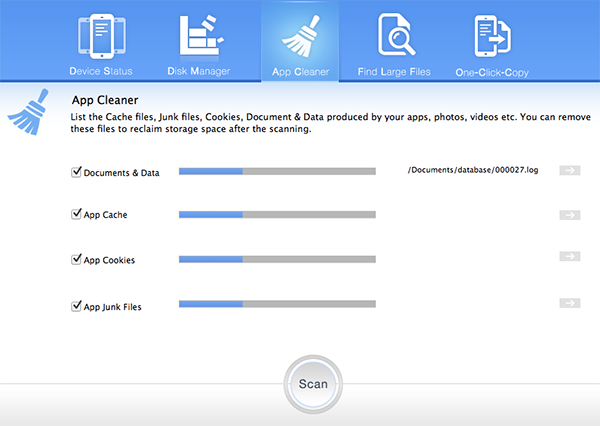 Step 3: After the scan is completed, click Remove to get rid of documents and data on your iPhone.
You May Also Like
How to Clear Storage on an iPhone or iPad
How to Get Rid of Other Data on iPhone, iPad or iPod Touch
How to Upgrade Your iPhone, iPad or iPod to iOS 7 If Your Device Storage is Full