The iPhone's power and storage space are two of the most common problems for iPhone users. In order to solve them, Apple will increase the battery capacity and storage capacity in each release of the new iPhone. The latest iPhone XS Max has a battery capacity of 3,174 mAh and the a capacity of 512 GB.
As people use the iPhone longer and longer, power and capacity are still not enough for some users. Many iPhone users have reported that after after upgrading iOS 12, The iPhone battery draining faster than before, why? This article shows you the top 7 reasons why the iPhone battery draining fast on iOS 12 and later, so you can avoid them and save iPhone battery life.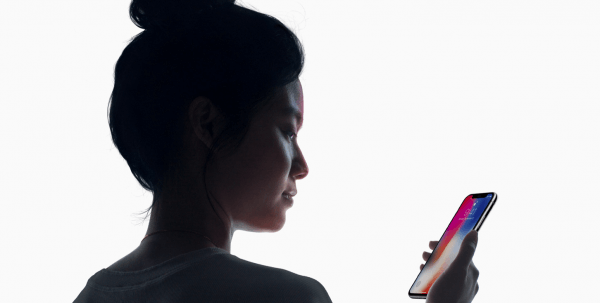 1. Raise to Wake
The Raise to Wake feature Apple added in iOS 10, it's for wakes the iPhone screen. But since Apple add the FaceID for iPhone X and later in iOS 12, now each raise to wake operation needs to wakes the screens and recognize your face, it needs more energy than before. Do you know how many time we see the iPhone screen in one day? Especially iPhone 6~ iPhone 8 plus don't have the face iD feature, the Raise to Wake function in iOS 12 is still recognizing your face.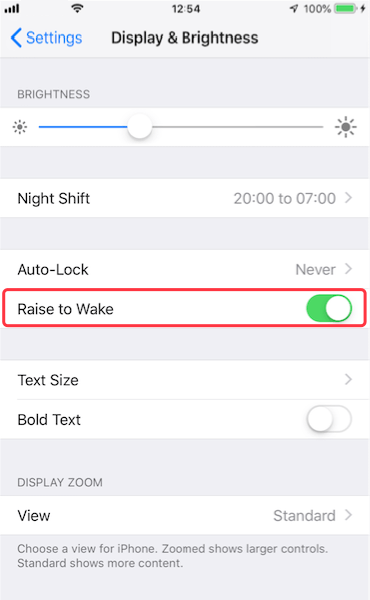 When you view the iPhone battery usage, you will find the Home & Lock Screen takes up many energy. So if possible, we can choose turn off Raise to Wake feature, it will save lots of iPhone battery. Go to iPhone Settings -> Display & Brightness -> turn off Raise to Wake
2. High CPU and Memory app
iOS doesn't have a feature like Activity Monitoer. app in macOS, which is used to view the CUP and Memory of some running apps. Apps with high cup and memory will consume lots of battery energy, and running for a long time can cause iPhone device heat up. such as some game apps, video apps and social apps.
Once the iPhone device gets hot, the iOS system and running apps will take up more battery power in a hot environment. This has entered a vicious circle, and soon your iPhone is running out of power. In addition, the iPhone often gets hot will damage the life of the iPhone lithium battery.
When your iPhone gets hot, if possible, quit using the app to cool the iPhone device.
3. Background App Refresh
When you view the iPhone app battery usage in iPhone Settings -> Battery. Tap an app, you will find some iPhone apps has two parts of activity time: on screen usage time and background usage time. And the background usage time of some apps is more than on screen usage time, it means that the background usage of the app consume more iPhone battery.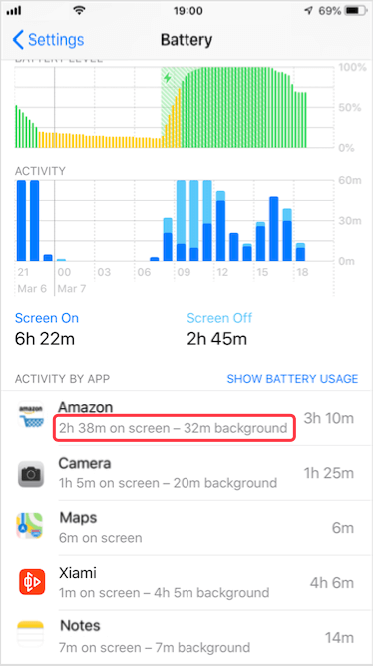 If a the background usage of app is unnecessary, you can choose to turn off, Go to iPhone Settings -> General -> Background App Refresh -> choose the app and switch off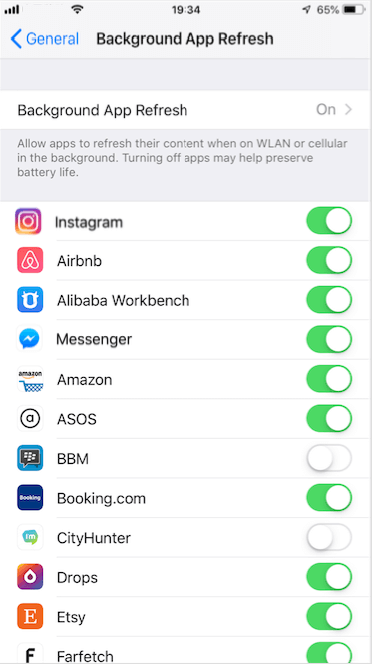 4. Email Auto-Fetching New data
We used to receive and reply email on iPhone, by default, iPhone email service fetch new data automatically, iPhone need to connect your email service to get the new email message every seconds, in addition, there are so many spam email to the mailbox. If you have mutiple email accounts on iPhone, it will consume lots of iPhone battery.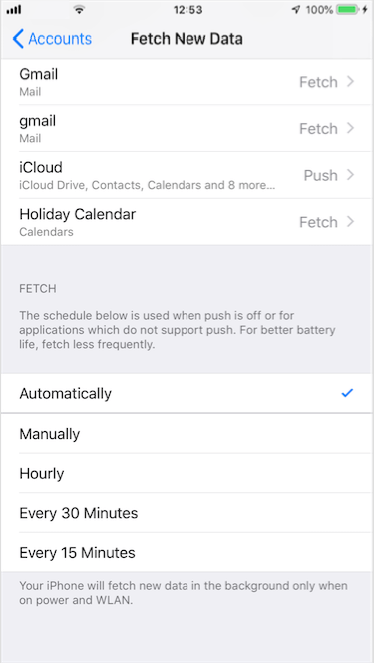 And iOS provide 5 options to Fetch New data for email: Automatically, Manually, Hourly, Every 30 Minutes, Every 15 Minutes. According to your email usage, you can choose Manually, Hourly and other options.
5. Location service
Each time we download and install a new app on iPhone, there are many pop-up windows to "###Would like to send you notifications" , "Allow ###to use wireless data?", "Allow ###to use your current location?". And many iPhone users will choose Allow.
But the location service is different from other service, it needs to get the current location information real time. If there are many apps has the location service, they will request iOS to get the current location every second on your iPhone. Location services are not necessary. They are used to collect user data or other purposes, but it's unuseful for the iPhone users.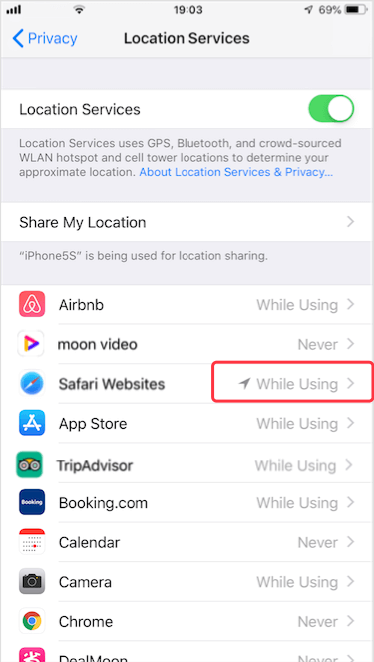 So you can choose the location service for some apps. Go to iPhone Settings -> Privacy -> Location Services ->Change While Using the App to Never.
6. iOS compatible with your iPhone app
From iOS official, they encourage iPhone users to upgrade to the latest iOS, but in fact, not all the latest iOS can maximize the performance of your iPhone. In addition to the iOS system, battery usage is also related to most of the frequently used third-party apps.
Every time Apple releases a new version of iOS, many iPhone apps also release new versions. Most updated iOS apps are for the new iOS. If you update your app to the new version, but the iPhone still runs the lower version. The same app power usage is different between the old iOS version and the new iOS version.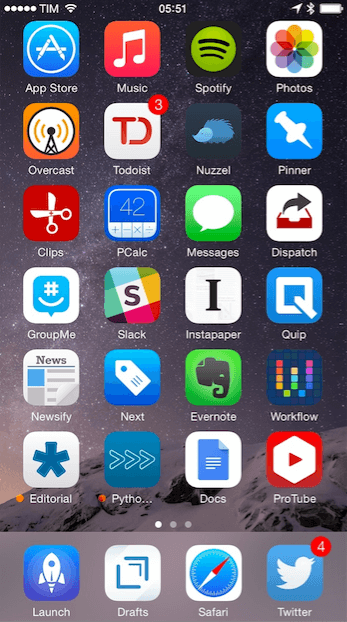 After you update some apps on iPhone, you can observe your iPhone usage for a while. If iPhone battery draining fast than before, you can consider to update iOS version on iPhone.
7. Force quit the unused app
Due to the nature of the iOS system, all open iOS apps will not close by themselves or iOS, unless you force quit them manually. A large number of background hibernation apps still take up iOS cups and memory, they are mounted in the background for a long time, it still consumes mobile phone power. Therefore, it is necessary to quit those apps that are no longer used.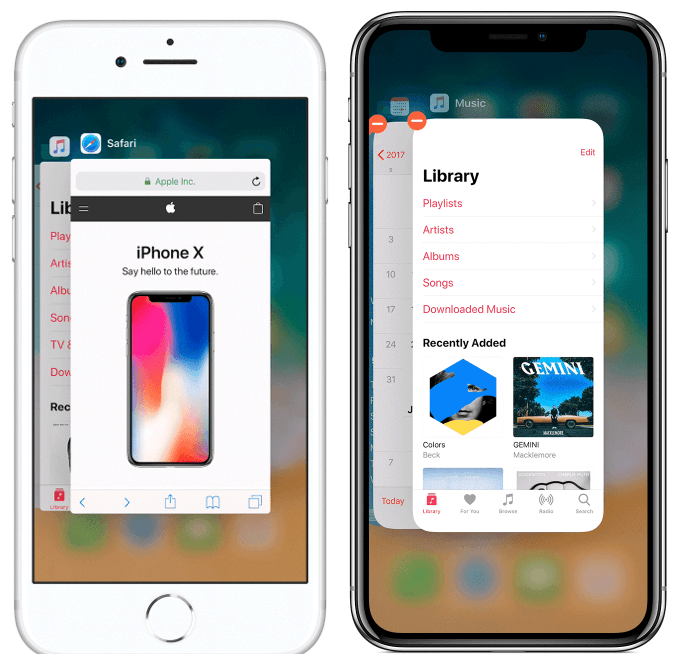 If you are using iPhone X and later, swipe up from the bottom of the screen and pause slightly in the middle of the screen. Swipe right or left to find the unused apps, swipe up on app's preview to close it. If you are using iPhone 8 or earlier, double-click the Home button to show your most recently used apps. Swipe right or left to find the unused app, swipe up on the app's preview to close it.
More Related Articles
About Fireebok Studio
Our article content is to provide solutions to solve the technical issue when we are using iPhone, macOS, WhatsApp and more. If you are interested in the content, you can subscribe to us. And We also develop some high quality applications to provide fully integrated solutions to handle more complex problems. They are free trials and you can access download center to download them at any time.