{宽版文章}
{宽版文章加载:/templates/fireebok/css/app.css}
{宽版文章加载:/templates/fireebok/css/other/navbar2.1.css}
{宽版文章加载:/templates/fireebok/css/other/footer2.0.css}
{宽版文章加载:/templates/fireebok/css/other/iexplorer-styles.css}
{宽版文章加载:/templates/fireebok/css/other/iexplorer-extras.css}
{宽版文章加载:/templates/fireebok/css/other/product-page-style.css}
{宽版文章加载:/templates/fireebok/css/other/background.css}
{宽版文章加载:/templates/fireebok/css/other/styles.css}
iPhone Cleaner
iPhone Cleaner comes with a simple but powerful solution to keep your iOS devices such as iPhone, iPad, or iPod touch clean. It not only cleans your iOS devices but also improve the performance by removing the unnecessary files or data. This useful app contains many functional features such as App Cleaner, System Cleanup, Find Large Files, Privacy Cleaner, One-Click-Copy, iOS Ads Remover, Removal of Document & Data and many more. >>User Guide
Reviews

iPhone Cleaner was designed to offer you a simple yet effective way to reclaim space on your iOS devices by removing unnecessary files, like unused apps, junk data, etc...>>Learn more
iPhone Cleaner for Mac offers a promising set of features that can help you manage what's stored on your iOS device. It's worth a try if you find yourself frequently running out of room or noticing performance issues on your device...>>Learn more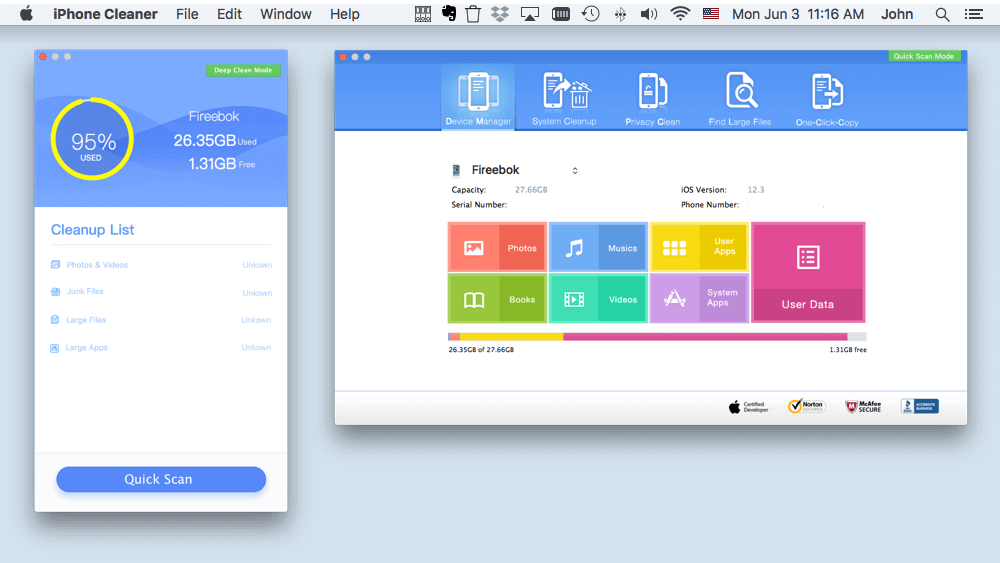 Configure, Organize and Manage Apps and Files on Your iOS Device

Device Manager of iPhone Cleaner helps you to configure, organize and manage the apps and data files on your iPod touch, iPhone or iPad. By clicking on this feature you will get to see that the disk space is categorized in two partitions, one is iOS system partition and the other one is user data partition. All the photos, videos, music, user apps, books and user data stay in the user data partition.

Once this software scans your iPhone, iPad or iPod touch, it can find out what all the data are eating the disk space. The apps and files are marked with different colors by disk usage. According to your requirement, you can delete the unnecessary files or uninstall the redundant apps from your iOS device.

Recover Storage Space and Increase the Performance of Your iDevice

All the apps, videos or photos on your iOS device produce junk files. These junk files, app cache and other unnecessary data slow down the device with respect to its performance. Once the scanning process is completed, iPhone Cleaner will show you those Documents & Data, App Cookies, etc. which can affect the performance of the iDevice, then you can remove the unnecessary files and hence recovered more disk space which can be used for the other required purposes.

Moreover, App Cleaner detects the ads including floating, pop-ups, flashing and blinking banner ads of your iPhone, iPad apps. While the ads delivered by iAd and other advertising platforms are interactive and all, they are still of annoyance for most iOS users. iPhone Cleaner lets you remove all annoying ads without jailbreak.

Delete Personal Data Securely and Permanently with Privacy Cleaner

Designed to protect iOS user's privacy safely, iPhone Cleaner's Privacy Clean erases user's personal data permanently such as messages including the attachments, Safari browser history, call history, GPS location record etc. By deleting these data your iPhone or iPad will recover disk space taken up by them.

If you're planning to sell your iPhone, or trade in your old iPad for a new one, it's extremely important to wipe all privacy stored on it. iPhone Cleaner provides this elegant way for you to make sure your private data can't be accessed by others, but before that, it is also important to make a backup so you can restore it to your new device any time.

Clean up the iOS System and Boost Your iPhone's Running Performance

Due to the iTunes photo caches in your iOS system, the iPhone photo library takes up much storage but you have a few or no photos on your iPhone. The System Cleanup module allows to clear these caches without any hassle.

Other junk files produced by iOS and 3rd party apps also occupy a large amount of storage space, you can delete these Log Files, Downloaded Temp Files, iTunes Sync-failed Files to free your disk space and boost your iOS device's running performance.

Find out the Large Files Quickly and Clean up the Disk Space

By downloading the large files such as videos, music files etc. stored on your iOS device drive and over the time these take up the space. As a result very soon you face the space shortage problem on your iDevice. By removing the unused large files that occupy huge space on your iPhone or iPad, you can improve the functional speed.

This app gives you the facility to customize the size of large files to filter them accordingly. After the scanning process is done, iPhone Cleaner will find out the targeted files and remove them to increase the space on iDevice drive.

Backup the Essential Data on Your iPhone, iPod or iPad by Single Click

One-Click-Copy is a key feature of iPhone Cleaner that backs up the important things such as photo library, camera roll, contacts, music, reminders, notes, and other important data on your iOS device.

First select the file type that you want to make a copy via the switch button and then create a backup of your iPhone or iPad. Then whenever you click the Scan button, the important contents on your iOS device will be backed up for data safety.