A guide about how to use WhatsApp Pocket
Use WhatsApp Pocket to extract and recover whatsApp message from iPhone device, iTunes backup, iCloud backup. whatsApp Contact, chat messages, audio files, videos, photos will be save on your Mac computer and Windows computer. First download WhatsApp Pocket below and install the program on your PC or Mac.
When you have finished the installing, click the WhatsApp Pocket icon to launch the program, and plug your iOS device into your computer. Then you'll see the main window.
Note: The guide will show you how to scan, preview and extract your whatsApp message to your computer.
Part 1: Scan iOS device/iTunes backup/iCloud backup
When you open WhatsApp Pocket, you can select different scan model from iOS device, iTunes backup/iCloud backup.(Mac version supports scan from iCloud, and Windows version only support iOS device and iTunes backup mode). The product uses the iTunes interface to connect with a device, so make sure your computer has installed iTunes application. If not, you can download from http://www.apple.com/itunes/.
Your connected iOS device(s) will be listed under iOS Devices tab, and all your iTunes backups will listed under iTunes Backups tab, and if you have a few different iTunes backup, you should choose the right backup before the scanning. If your mac computer has the same iCloud account as your iPhone, your iCloud backup will be listed under iCloud Backups tab. How to read WhatsApp iCloud backup with WhatsApp Pocket?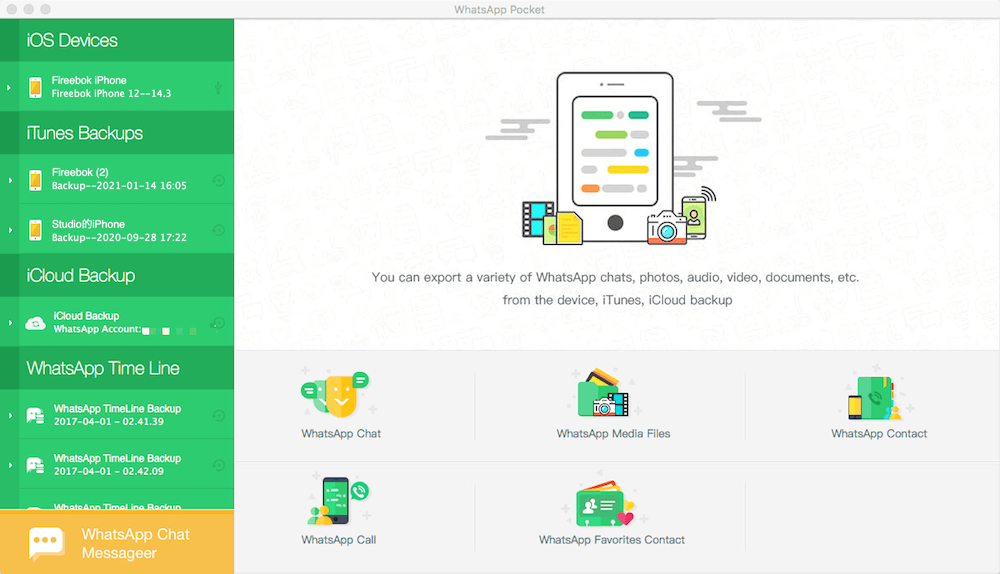 Part 2: Preview the WhatsApp chat messages
WhatsApp Pocket has five different file types: WhatsApp Chat, WhatsApp Media files, WhatsApp Call, WhatsApp Contacts, WhatsApp Favorites Contacts. You can preview all WhatsApp content When it finishes the scanning, You can preview all chat messages in WhatsApp Chat, preview all WhatsApp attachments including photos, audios and videos files in WhatsApp Media files , preview all WhatsApp contacts, farvorites call history in WhatsApp Contacts, WhatsApp Favorites Contacts, WhatsApp Call. Audio and video files will auto-play after you click the single chat message.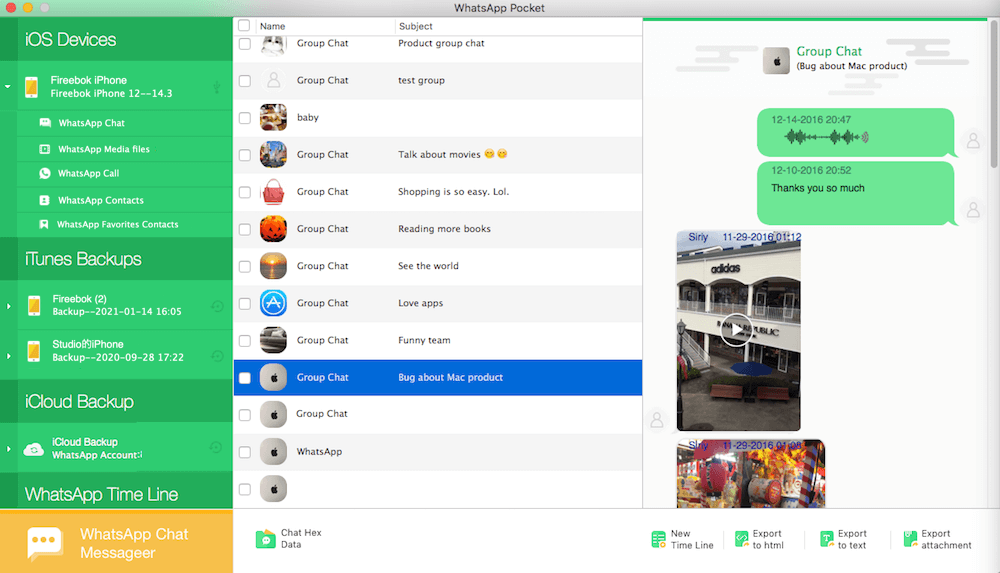 Part 3: Save the WhatsApp content
After the scanning has completed, WhatsApp Pocket supports to save all your WhatsApp contents on the computer. Different file type will saved as different file format, WhatsApp chat history will be saved as .html or .txt file format. The html file will contains the media files including photos, audio and video files, but txt file only contains the text message and date information. And the contact files will be saved as .vcf file format. You can save the whole attachmetns from the single chat messages with Export attachment button, or export all WhatsApp attachments in WhatsApp Media files tab.
1. Saved WhatsApp chat history---Select the check button or multi-select the table rows, then click Export to html and Export to text button to save them.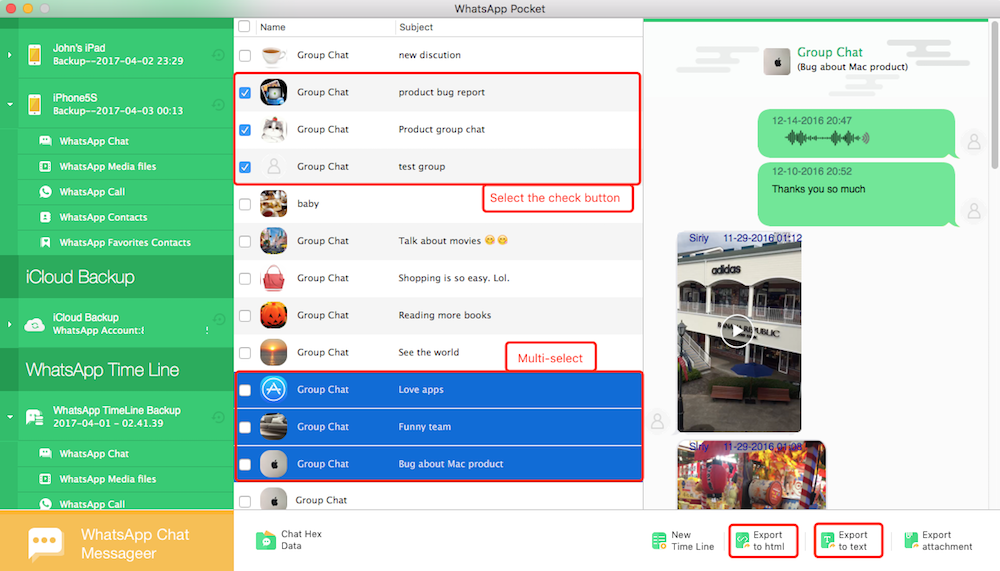 2. Saved WhatsApp Attachments---Click Export attachment button in WhatsApp Chat tab or Click Export button in WhatApp Media files tab.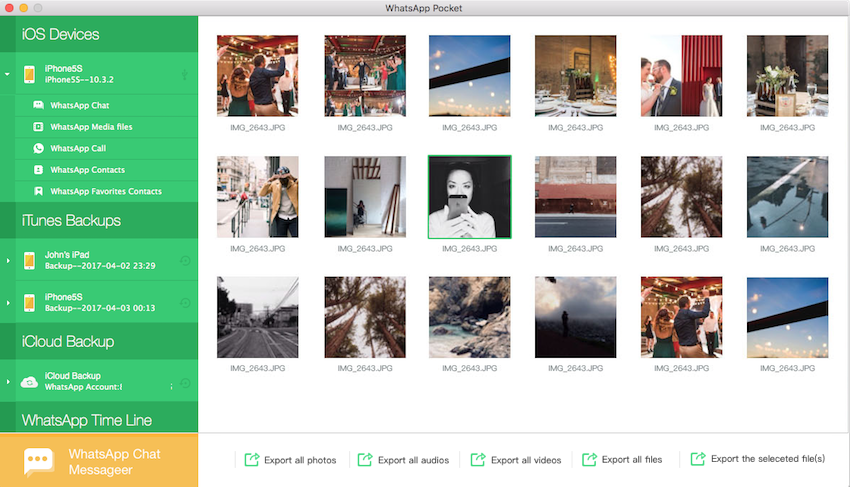 3. Saved WhatsApp contact and Favorites contacts---Click Export Vacard button in WhatsApp Contact and WhatsApp Favorites tab, it will save all contact files.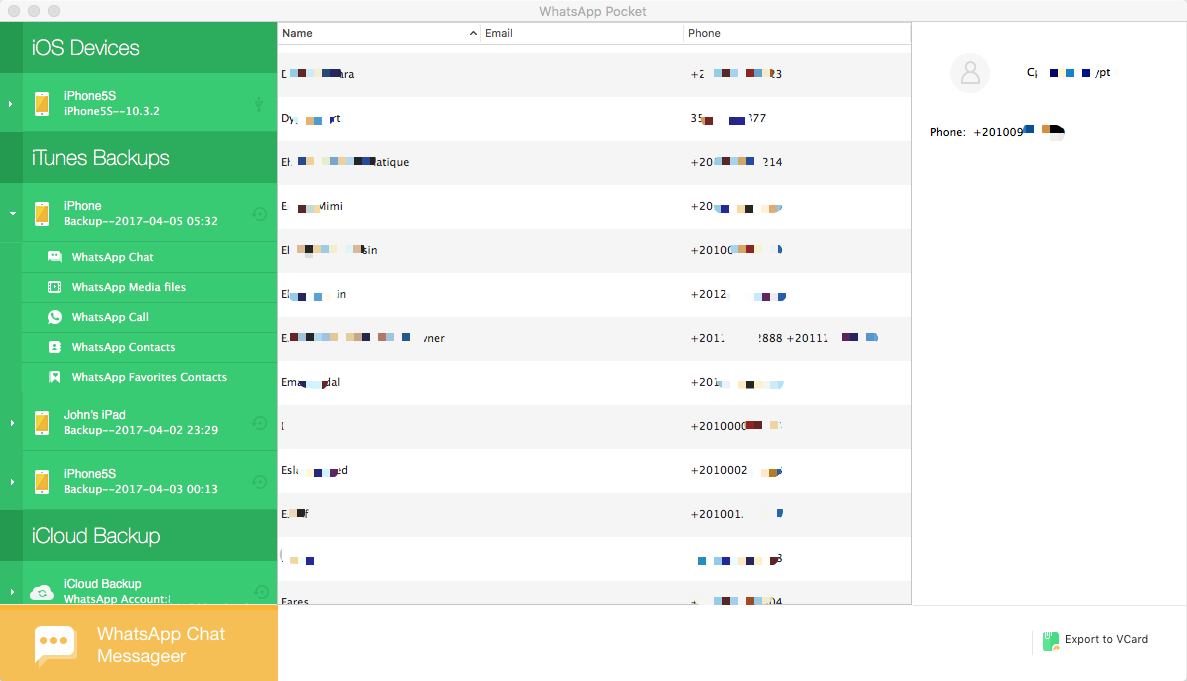 4. Saved WhatsApp Call history---Click Export to text button in WhatsApp Call tab, it will save all WhatsApp call history.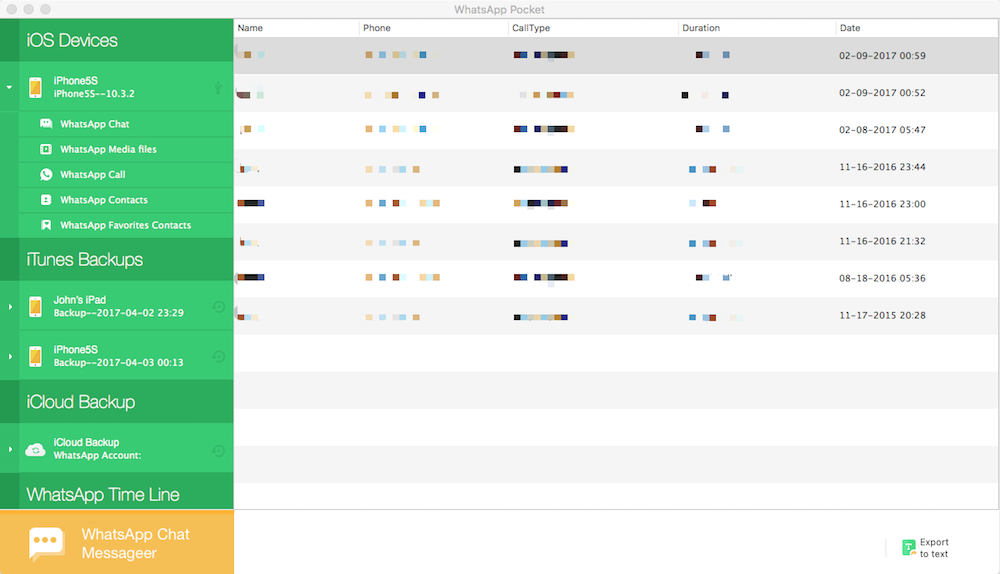 Part 4: How to scan the deleted WhatsApp messages
Considering the waiting time for scanning deleted message will be a bit long. By default, our product only scan the already existing WhatsApp conversation. So if you need to recover deleted WhatsApp message, you need turn on "Scan with advanced recovery mode" on Preferences->General, deleted then click Reset button. It will show the deleted message in next scanning.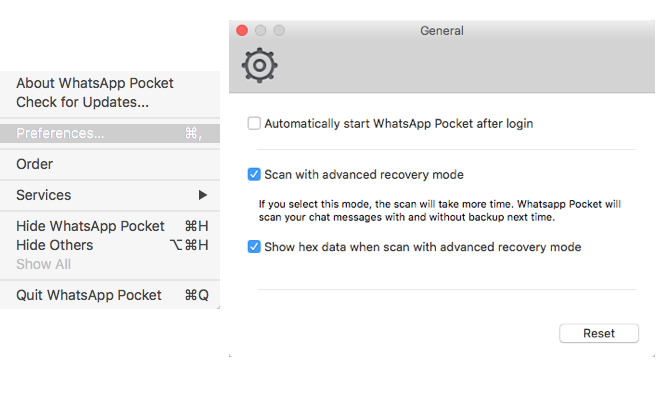 All the deleted message will be marked as the red text color, and WhatsApp Pocket adds "display hex data of chat message" function. After the scanning has completed, there will be a Chat Hex Data button appear in the result view. All chat content messages will be convert to hex data, including deleted message fragments. You can search any key words in hex view. It will help to find any deleted information.
Part 5: WhatsApp message on your computer
After you save a WhatsApp conversation to the computer, all message content including photos, videos, audios and other information will be save in a single html files. You can read all text messages and photos, play audio and video files in html file. And you can also choose to extract only some media files that you think they are important. Just click "Resource" button on the top of the product. It will list all media files and most part of them support preview.
The format of the photo is .jpg, .jpeg, .png, .tiff, .tif, .thumb. The format of the audio is .aac, .m4a.,.opus. The format of the video is .mov and .mp4. And each contact information will be save in single .vcf file. Other files retain the original file format, such as document.
WhatsApp messages in html file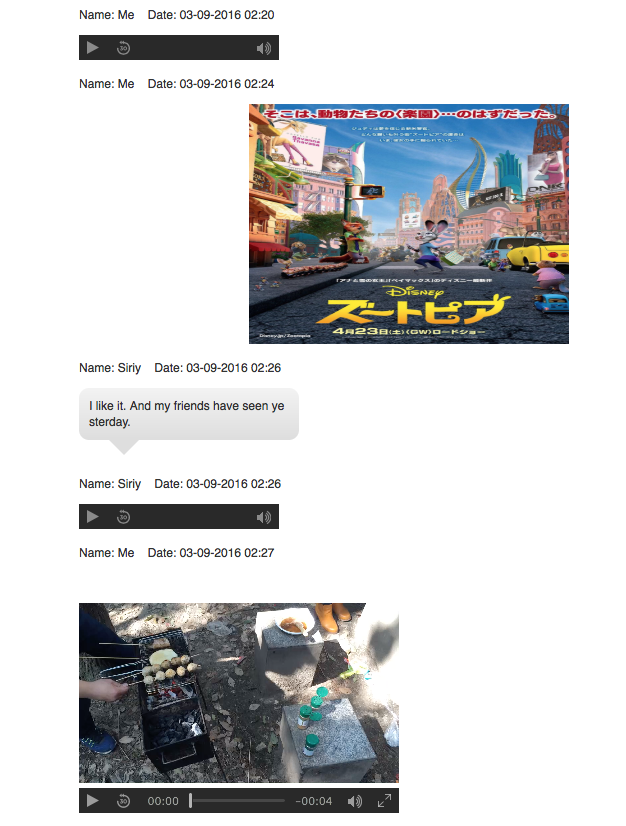 Part 6: Backup and Restore with WhatsApp Pocket Timeline
When you backup WhatsApp content with iTunes or iCloud, the old backup will be replaced by the new content. When you hope to find some old messages or media files from backup, but they have already been covered and rewritten. It's difficult to restore.
WhatsApp Timeline creates a graphical representation of your WhatsApp backup by display the time point and content sequentially along a line. Every time point in WhatsApp Timeline is a backup point, your WhatsApp with all content can be taken back to any time point like a time machine.
How to use WhatsApp Pocket Timeline
Every time, you complete the scanning from iOS device, iTunes or iCloud backup. You can create a timeline point with New Time Line button. Then it will prompt you that the create operation has been completed, and your timeline backup will list under WhatsApp TimeLine tab on the left. Then you can enter each WhatsApp Timeline to view your backup data.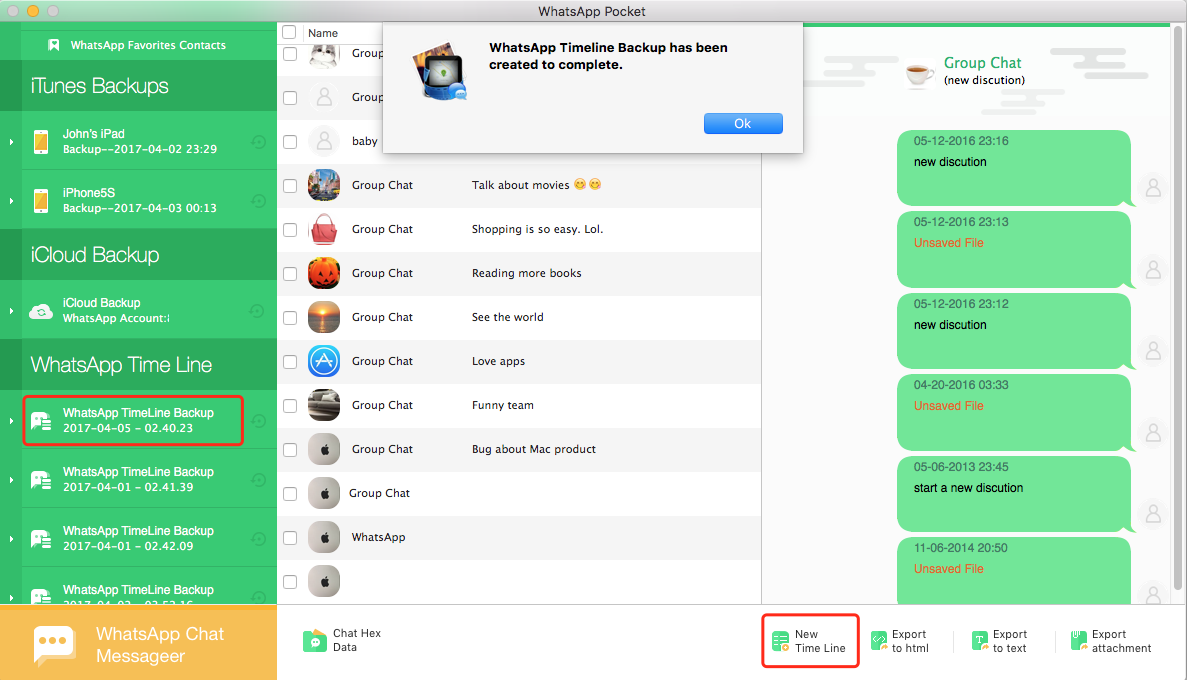 Part 7: Use WhatsApp Pocket to Chat WhatsApp message on Mac
WhatsApp Pocket for Mac 4.9.0 version support bring WhatsApp Messenger to your Mac. When your phone connect with Wifi, click "WhatsApp Chat Messageer" section to log in your WhatsApp. It supports text messages, emojis and more including media file(drag & drop the media file into the WhatsApp chat window). Send and receive message very smooth and fast and show unread message in Dock icon badge.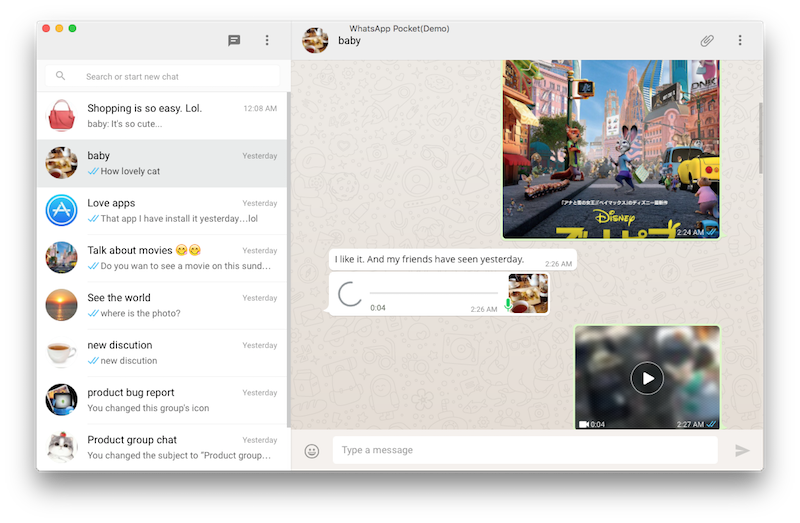 Part 8: How to activate WhatsApp Pocket
The demo version of WhatsApp Pocket supports scan and preview for free. But the demo version can't preview all the message content and can't save chat messages and media files to the computer. So if you need use those feature, you need to activate WhatsApp Pocket. When run WhatsApp Pocket, you will find the "Activate WhatsApp Pocket" button in product menu. When you click it, there will be a pop-up window to input your license email and code, if you don't have a license, you need purchase WhatsApp Pocket license on the store.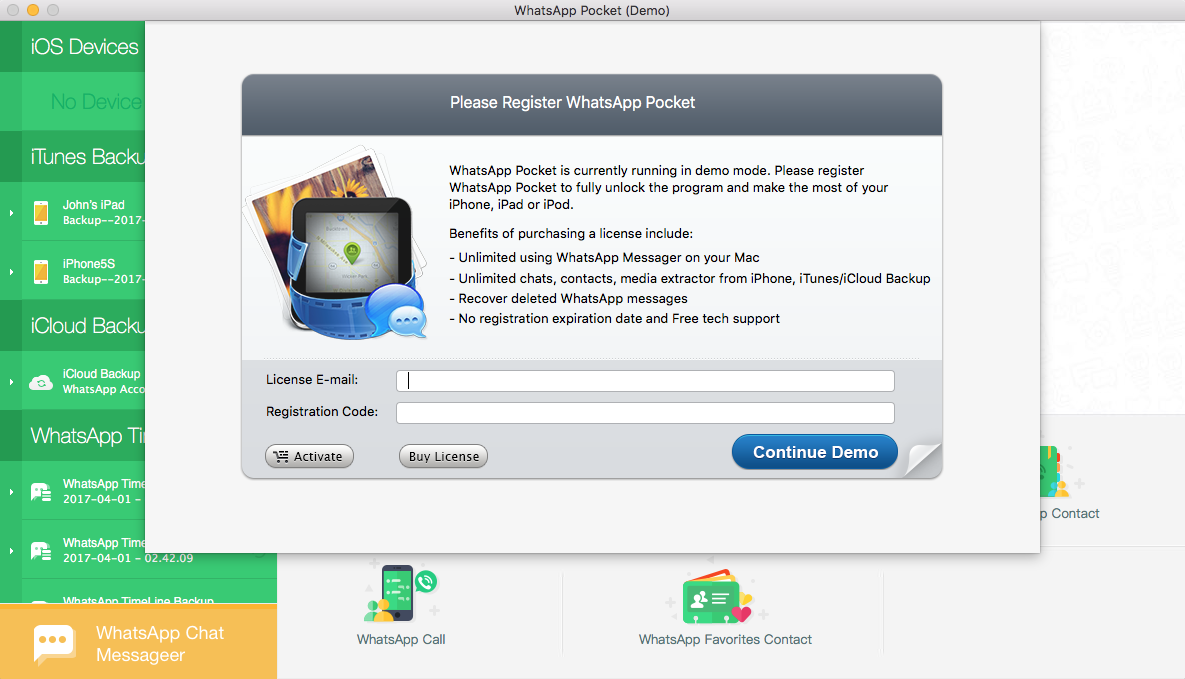 Have more questions or need help from us?
Contact our support team here.