iTunes backup as a safe copy of your entire iOS device, it is always the best solution to save our life. Unlike iCloud backup requires network connections and iCloud storage space, As long as you have a computer that runs normally, it can complete a full backup. And you can put them back to your iPhone or other iOS device with the restore functions. But some iPhone users have a problem during restoring the iTunes backup to their iPhone. The iTunes backup can be found in iTunes preference and the computer hard drivers, but it does not show in the restore list.
Took a backup from my iPhone 5
Eraseverything in my iPhone 6; then tried to restore from the iPhone 5 backup,
however on the list of backups to be chosen for restore, it does not show the most recent iPhone 5 backup.
A user from Apple Support
I restored to factory settings (as new iphone) today to try to fix imovie problems. Now I want to restore to the way I had it before that, and my backups don't show up in itunes at the restore from backup window. This is excruciatingly frustrating. Anything I can do?
A user from MacRumors
How did this problem come about? What's the solution to this problem?
# 1. The iTunes backup is not compatible with your iPhone's iOS version
When the iOS version of iTunes backup from your old iPhone 5 is iOS 8.3.1, but the iOS version of your new iPhone 7 is 10.3.2. Or the iOS version of the backup is newer than your iPhone. When you are ready to restore backup, they will not show in your restore backup list.
So if you are using the old version of your iPhone, you need update your iPhone to the new iOS version. Then have a try to restore the iTunes backup. Here are steps to restore your iOS device from an iTunes backup
Step 1. Open iTunes on the Mac or PC that you used to back up your device.
Step 2. Connect your device to your computer with a USB cable. If a message asks for your device passcode or to Trust This Computer, follow the onscreen steps.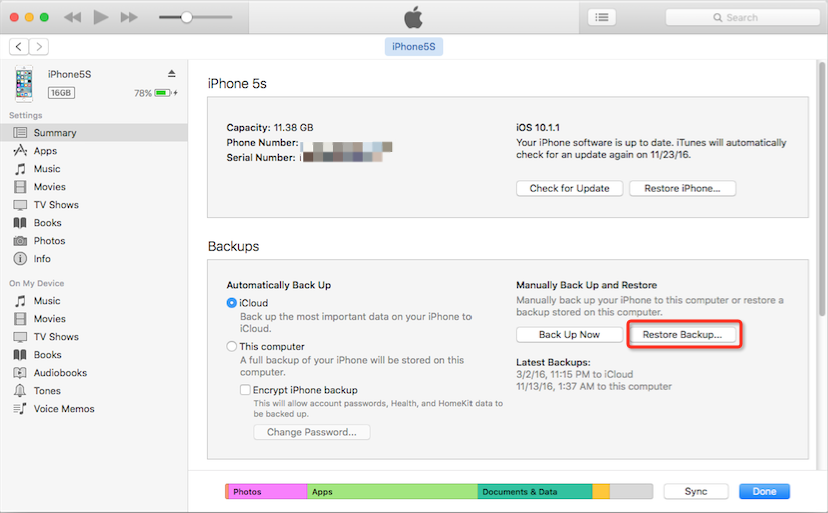 Step 3. Select your iPhone, iPad, or iPod touch when it appears in iTunes. Select Restore Backup in iTunes.
Step 4. Look at the date and size of each backup and pick the most relevant. Click Restore and wait for the restore time to finish.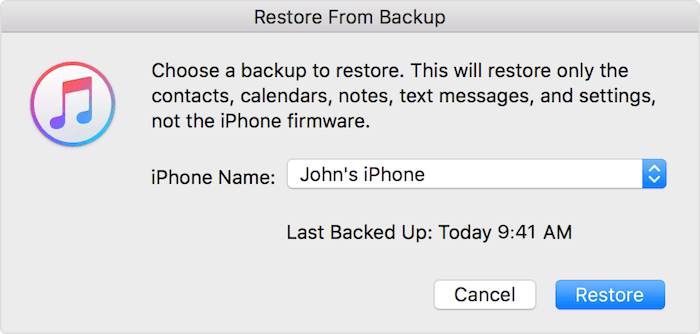 If the backup is still not show in the restore list, after you updated to the latest iOS version. Maybe your iTunes backup was a corrupt or incomplete backup, iTunes could not restore to iPhone. The only solutions to use a tool like Fone Rescue to extract all your Photos, contacts, SMS and other information from that backup.
# Using Fone Rescue to Extract backup data
About Fone Rescue
Fone Rescue is one of the most powerful iPhone data recovery software, it lets you to recover data that is lost or accidentally deleted from your iPhone, iPad or iPod touch. It has the ability of recovering up to 15 different file types that contain information like photos, contacts, messages, notes, videos, WhatsApp data, Viber data and other social media. Using Fone Rescue, you can easily rescue erased files from any situations such as iOS update, iDevice damage and jailbreak.
Here are some detail steps to extract iTunes backup data with Fone Rescue
Step 1. Download Fone Rescue on your computer.
---
Fone Rescue


Recover lost or deleted SMS, contacts, photos, videos, notes and more for
your iPhone with ease.



For Window & Mac OS X
---
Step 2. Choose "Recover from iTunes backup" tab, all your iTunes backup files will be displayed under the table. If your corrupted or incompatible iTunes backup doesn't list there, you can import the corrupted backup with "Select" button.
Find your corrupted or incompatible iTunes backup folder.
• For Macintosh users, you merely need to: Right-click Finder from dock > Select Go to Folder > Suggestions: ~/Library/Request Support/MobileSync/Back up/
• For Windows users, Suggestions: C:\Users\USER\AppData\Roaming\Apple Computer\MobileSync\Backup\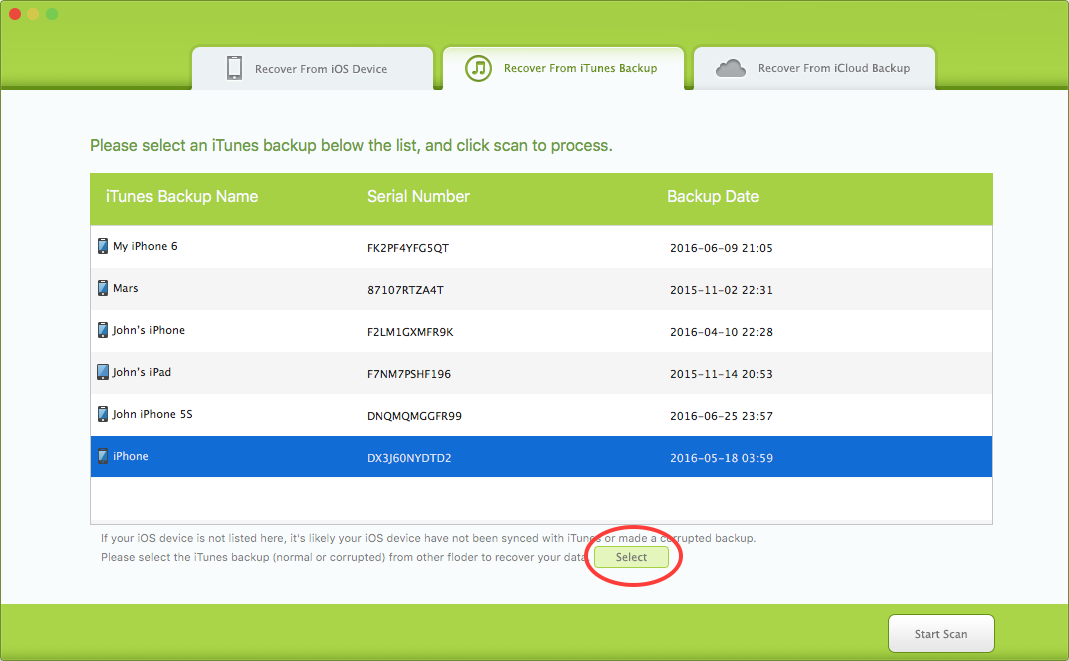 Step 3. Following the completion of the scan, all the data files which were found by Fireebok Fone Rescue will be showed on the still left side in well-organized categories and you could find the lost documents easily and quickly by choosing different categories. The program also gives you list of the categories to preview the lost records one by one to determine those you need to get back. Finally, simply click "Recover" button to export the recoverable data files and designate a folder to save lots of them on your computer.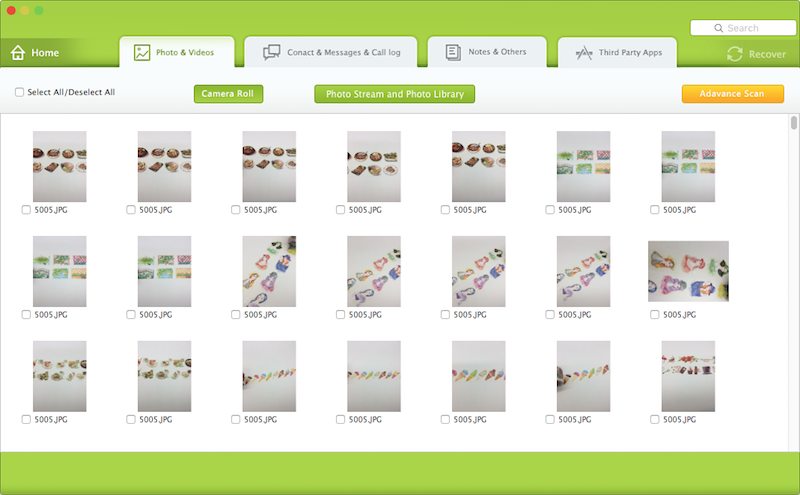 More Related Articles
About Fireebok Studio
Our article content is to provide solutions to solve the technical issue when we are using iPhone, macOS, WhatsApp and more. If you are interested in the content, you can subscribe to us. And We also develop some high quality applications to provide fully integrated solutions to handle more complex problems. They are free trials and you can access download center to download them at any time.