Many iPhone users feedback that the podcast app can't play all episodes continuously on iOS 11. If you're used to listening to podcasts whilst driving or working, it's so frustrating! Is there any solution to solve it?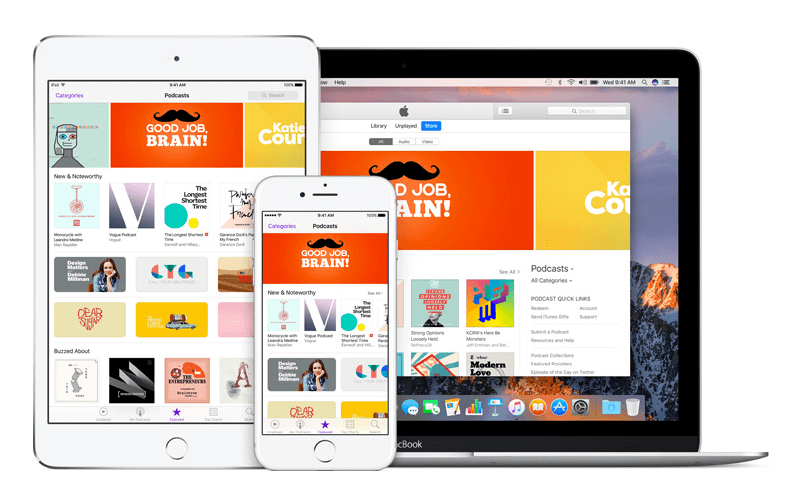 The iOS 11 Podcasts App took a major step toward simplicity over previous versions, however, after first introducing Stations as a replacement for iTunes Playlists with iOS 10, it now forces a manual transition to Stations since iTunes Playlists no longer appear in the app. It also only permits Autoplay within Stations, introduces the term Shows and eliminates the Mark As Played feature for an individual podcast Episode or a selected group of Episodes.
To move around the app, one needs to understand three terms:
Episode – a single event of a Show such as a single evening's recording of the PBS NewsHour.
Show – a podcast subscription, such as the daily PBS NewsHour.
Station – a collection of Shows in whatever grouping you choose such as News.
The new Stations - Shows - Episodes methodology can initially be confusing. Autoplay only works within stations; not within Shows, the Episodes list or Listen Now. This Tips Sheet will tell you how to get your episodes to autoplay in the sequence you wish so you do not need to use Play Next. Note the sections on Stations and Autoplay.
Two Steps To Autoplay Episodes
1. CREATING A STATION
Stations can be created, named and edited in the app at Library >Edit (upper right)> New Station or in iTunes.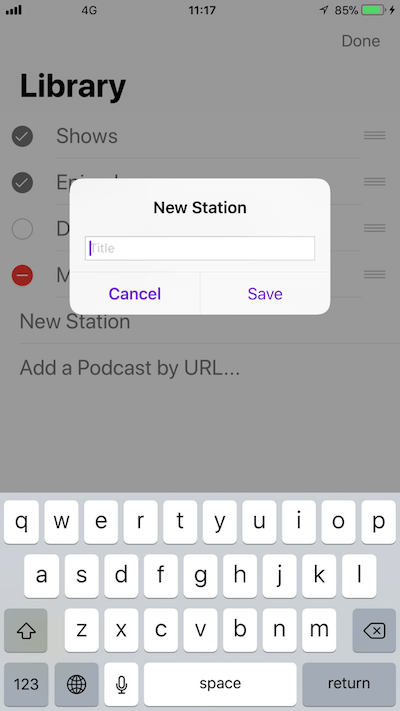 2. Add Shows and Episodes to a Station
Shows and Episodes can be added to a Station or removed by opening the Station in the Library screen and choosing Edit (upper right)>Settings>Choose Podcasts, then placing (or removing). a check mark to the right of the Show. A Station's Shows can also be added or removed in iTunes.
You can Sort&Play all Episodes within the Station or when grouped by Show within a Station. The Sort&Play choices are Manual Show Order, Oldest to Newest, Newest to Oldest or Manual.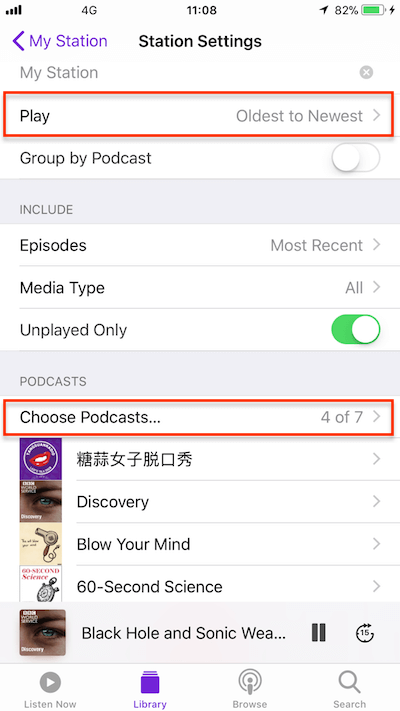 Note: a bug in the Podcasts App is that, if you are listening to an episode in a Station, then briefly move to another episode elsewhere, some music, a video or close the app, the original episode to which you were listening will automatically be marked as played and, therefore, removed from the station even though you did not listen to it all. You will still be able to find it in Available Episodes in the episode's Shows screen.
AUTOPLAY
Episodes can only be Autoplayed within a Station; but not in Listen Now, the Library Episodes list or in a Shows screen. Simply open a Station in the Library and click the top Episode. The remaining Episodes will play in sequence. In each Station's settings you can designate whether the Episodes are sorted and played from oldest to newest, the reverse or manually. Episodes not fully downloaded can be streamed when on Wifi, however, Autoplay will stop at the Episode, if only on mobile data, regardless of the Podcasts App settings for mobile data.
PLAY NEXT
If you want to designate a particular Episode to play next, open its Episode screen, click on the blue three-dot icon to the right of Play and select Play Next. If the Ep you designated is in a different Station, it will play next, then Autoplay will return to the original Station and continue where it left off.
More Related Articles
About Fireebok Studio
Our article content is to provide solutions to solve the technical issue when we are using iPhone, macOS, WhatsApp and more. If you are interested in the content, you can subscribe to us. And We also develop some high quality applications to provide fully integrated solutions to handle more complex problems. They are free trials and you can access download center to download them at any time.