Apple just released new MacBook Air 2018, with 128GB SSD storage and 256GB SSD storage. Not only the MacBook Air, MacBook and MacBook Pro also use 128 and 256gb SSD storage. Is 128GB or 256gb of storage space enough for you? I don't think so. Have you seen the warning "Your startup is almost full"? When your mac storage space is not enough.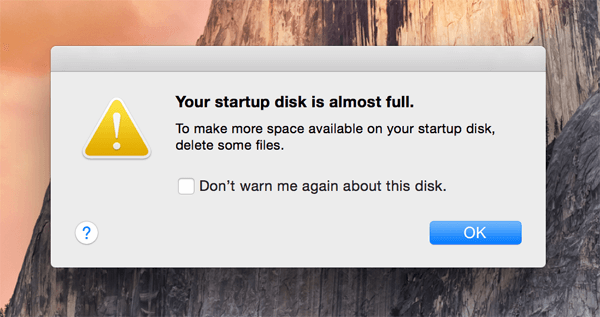 Of course, we can use external disks to extend computer storage, but usually we use external disks to back up time machines. A macbook with two external disks will make everything even heavier. So I prefer to free up the startup disk storage space on macOS. With some tricks, we can always keep enough system storage space.
This article provides 9 ways to release startup disk storage in macOS Mojave, which you can choose to do with or without third-party application tools.
1. Check the storage usage in your Mac
Choose About This Mac from the Apple () menu, then click Storage, then you will find the storage usage of Apps, photos, audio movies, backups and other. Click Manage... to remove some junk files manually on the mac(it needs macOS 10.13 and later).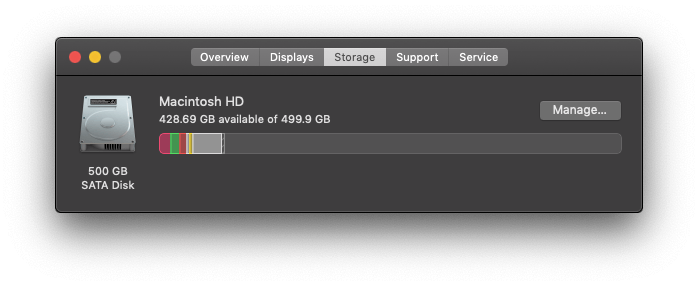 2. Delete old and unwanted applications
Choose the Applications section on the left sidebar, all applications will be listed in the right list view. Use the "Last Accessed" to sort the applications, choose the unwanted application, right click "Delete", it will remove this application. But this operation only remove the application itself, not the app cache, document data. If you want to remove all app data, use PowerSuite to uninstall app completely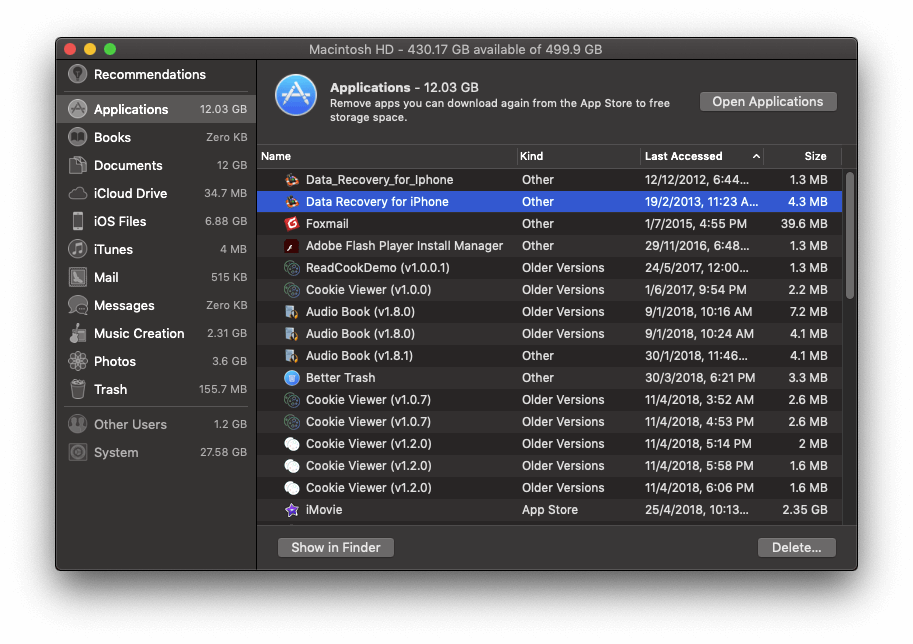 3. Remove the old and large document files
Usually Documents section will take up lots of startup disk storage. And it provides Large Files, Downloads and File Browser three types to manage these document files. Select "Large Files" button and sort all files by Size in descending order . You can view the largest document files in your computer, delete unused large files, or copy them to the external disk then delete them.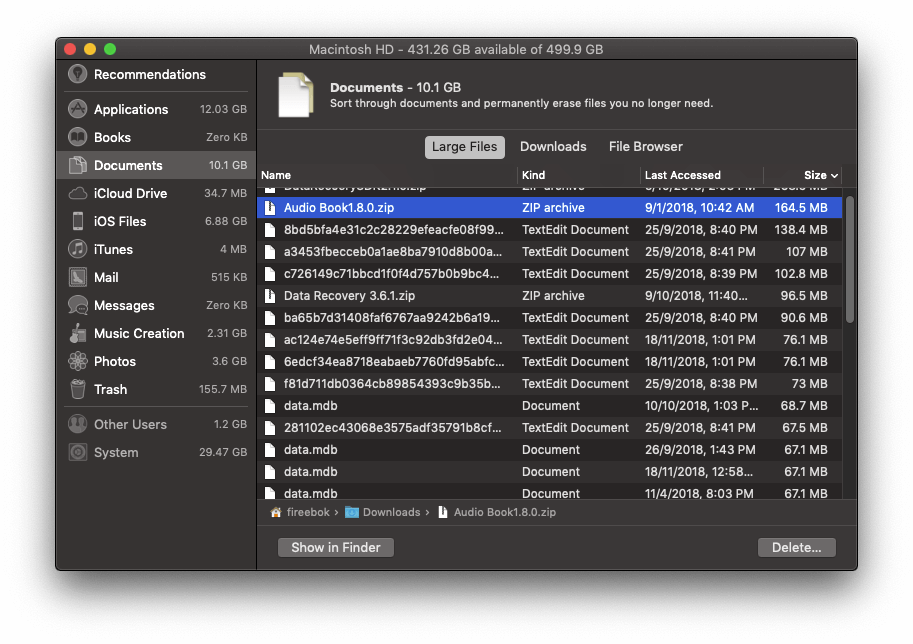 Sort all file by "Last Accessed" in ascending order, you will view the old document files, then delete the unused items.
4. Remove the old download files
Remove the old and unwanted download files will free up the disk storage. Select "Download" button, the macOS arrange all the download files by download date: Older than 1 year, Older than 6 months and more. And you can also sort those download files by Size and Last Access to manage and delete old and large download files.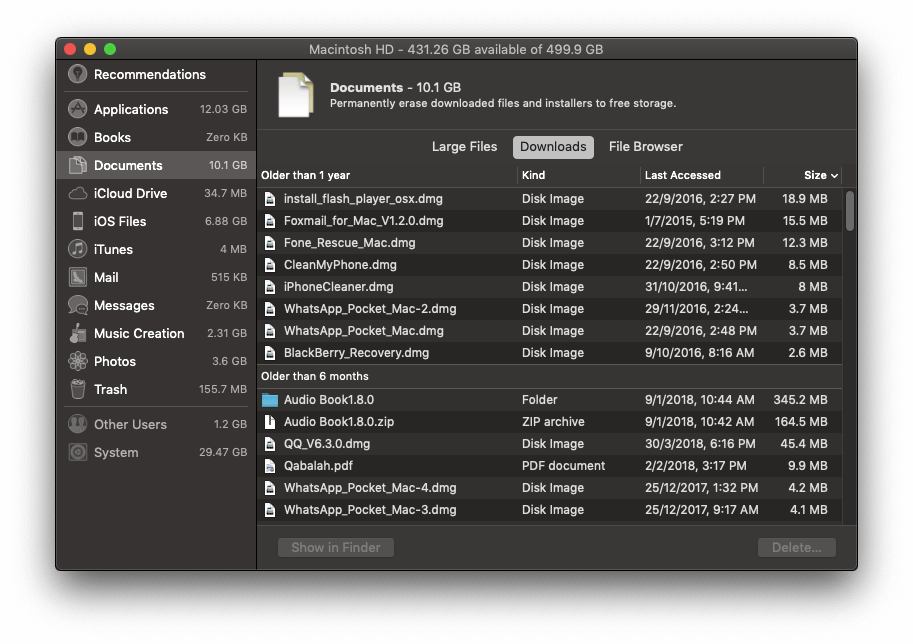 5. Check the folder size with file browser.
To lean more about which documents and folders usage storage. The File Browser feature will help you to check which folder and sub folder takes up most storage of your computer. It will list all folders in startup disk. So you can find each large folder and file in the startup disk storage.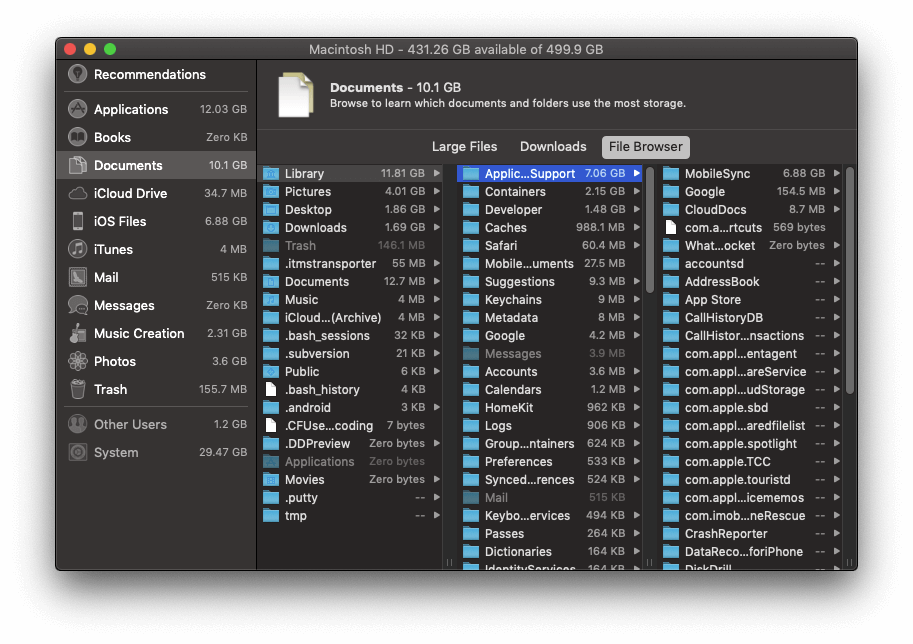 6. Remove the old iOS backups.
It list your iOS device backups on the computer, remove the old iPhone, iPad, iPod touch backup will free up a lot of disk storage.
7. Remove the cache file.
As we known, each app will produce some cache files during the using process. We can access cache folder ~/Library/Caches in File browser(5), or open Finder, Hold down the option key and pull down the Go menu, then choose Library. Once access Library folder, you will find the Caches folder.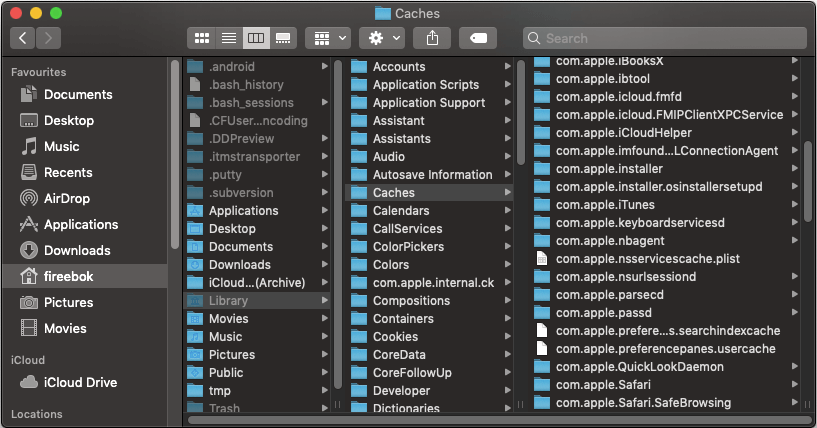 8. Empty Trash
When we remove the items to the trash, we need to empty Trash to free the disk storage. Otherwise, those items in Trash still takes up the disk storage.
9. Free up disk storage with PowerSuite
To avoid manually erasing accidental deletion of files or saving your working time, we use PowerSuite to release disk storage with one click. It comes in free and paid versions ($9.95)
a. Download PowerSuite
b. Run PowerSuite and choose the Clean Up feature. The Clean Up feature is designed to remove junk files including Caches, Trashes, Web Data, iService & Large Files.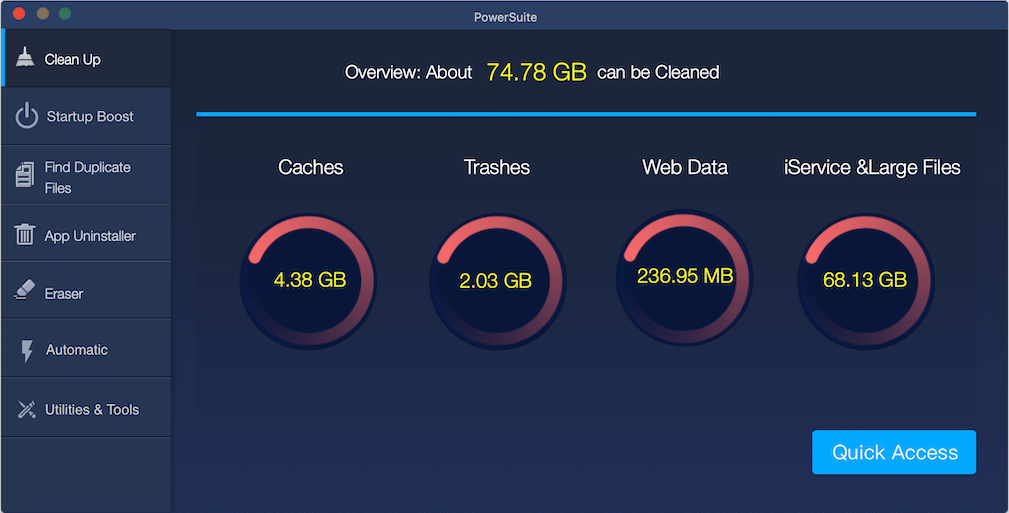 c. After the scan has completed, Click Quick Access button to view these junk files. You can select all or partial file to remove .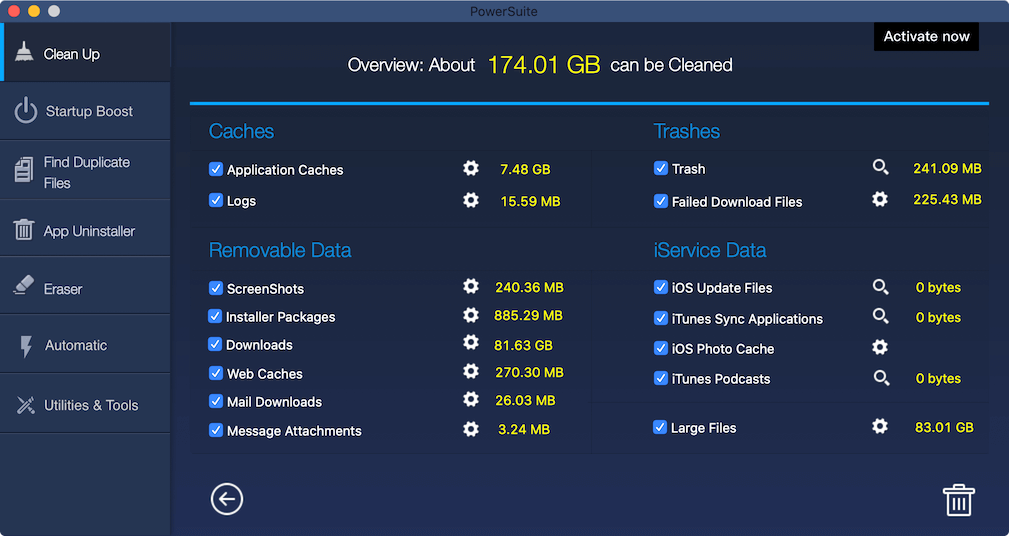 d. You can also use AppUninstaller feature to uninstall app completely, find the duplicate files, remove the startup items and more with Powersuite.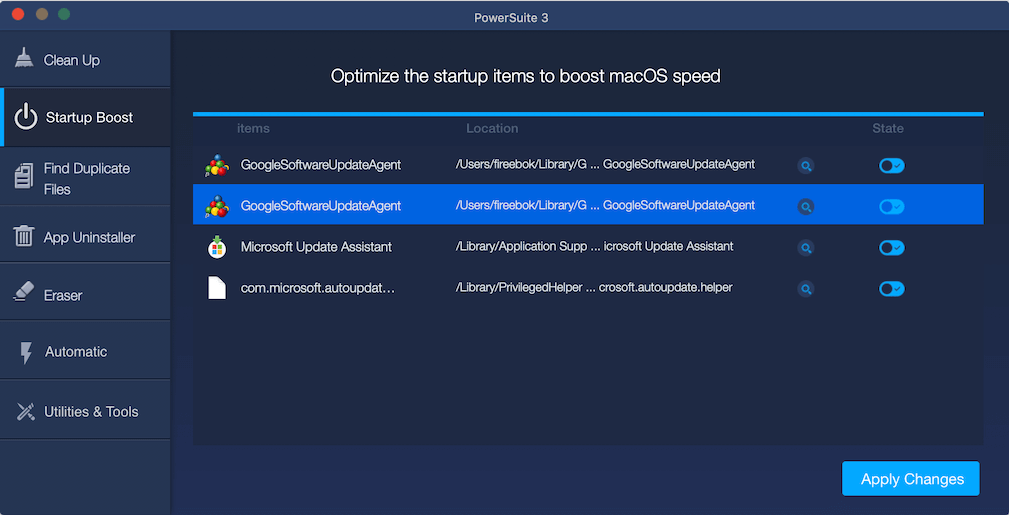 More Related Articles
About Fireebok Studio
Our article content is to provide solutions to solve the technical issue when we are using iPhone, macOS, WhatsApp and more. If you are interested in the content, you can subscribe to us. And We also develop some high quality applications to provide fully integrated solutions to handle more complex problems. They are free trials and you can access download center to download them at any time.