Have you and your family members ever encountered iPhone disable -- connect to iTunes? There is a logo on your iPhone with a message to connect to iTunes. Why the iPhone has been disabled? This article will tell you the reason and how to solve it.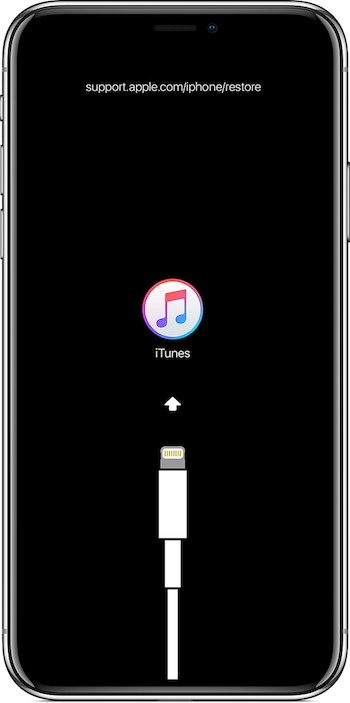 Here are top 4 reasons why the iPhone is disabled.
1. Lock screen Passcode is incorrect. 10 incorrect passcode entries, iPhone will be disabled, connect to iTunes.
2. Disable by FindMyPhone. Disable by FindMyPhone. When somebody turn on the lost mode for the iPhone in FindMyPhone.
3. Screen Time Passcode is incorrect. Use Screen Time -> Downtime feature to disable an iPhone during a time range.
And here are the detail operation about the above for placing an iPhone in the disabled mode. https://www.wikihow.com/Disable-an-iPhone So if your iPhone has been disabled, it may experience one of the cases, and you know what's happened about your iPhone. Next, we start to fix it out.
How to fix it?
1. Restart iPhone
In the case, first we need to restart your iPhone to give it a try. If your iPhone are experiencing an iOS error, restarting the iPhone will return to normal.
2. Update or restore iOS
After restarting iPhone, if you still see the connect to iTunes screen after your restart, you need to update or restore iOS:
a) Download and update the latest version of iTunes.
b) Connect your device to your computer using the USB cable.
C) Click the iPhone icon in iTunes, you will see this message: "There's a problem with the iPhone [your device name] that requires it to be updated or restored."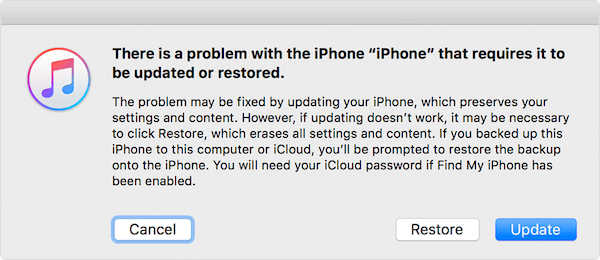 D) Choose the Update option to reinstall iOS and keep your iPhone personal data. If you have made an iTunes/ iCloud backup before, you can choose the Restore option, it will erase all iPhone data and restore from the backup.
If your iTunes can't recognize your iPhone after connecting with iTunes?
When you connect your iPhone with iTunes, but iTunes can't recognize because of an unknown OxE error. You may need to update the Apple Mobile Deice driver or restart the Apple Mobile Device service on the windows. Here are the detail steps: https://support.apple.com/en-us/HT204095
If your iPhone get an error during the iOS update and restore progress?
If your iPhone device couldn't be updated or restored and you get a message that "an unknown error occurred [error number]," here are the steps to choose your error number or error message to solve it https://support.apple.com/en-us/HT204770
More Related Articles
About Fireebok Studio
Our article content is to provide solutions to solve the technical issue when we are using iPhone, macOS, WhatsApp and more. If you are interested in the content, you can subscribe to us. And We also develop some high quality applications to provide fully integrated solutions to handle more complex problems. They are free trials and you can access download center to download them at any time.