My friend's iPhone 6 is very slow after updating to iOS 11. It will take him nearly 20 seconds just to open the camera app or settings from the lock screen. I don't know if the other iPhone 6 users are having this issues. It's very difficult to use the phone under the situation. So we decide to find some solutions to fix it.
We have tried many solutions that we think can be implemented, even replacing new iPhone battery in the Apple Store, but all failed. Finally just install the iOS 3 beta 2, the iPhone back to normal. Here I list those solutions below, maybe one of them can slove your issue.
1. Check the iPhone Storage
When you use the iPhone for a long time, the iPhone storage may be running out of space. So you need to check the free iPhone Storage. Go to Settings -> General -> iPhone Storage.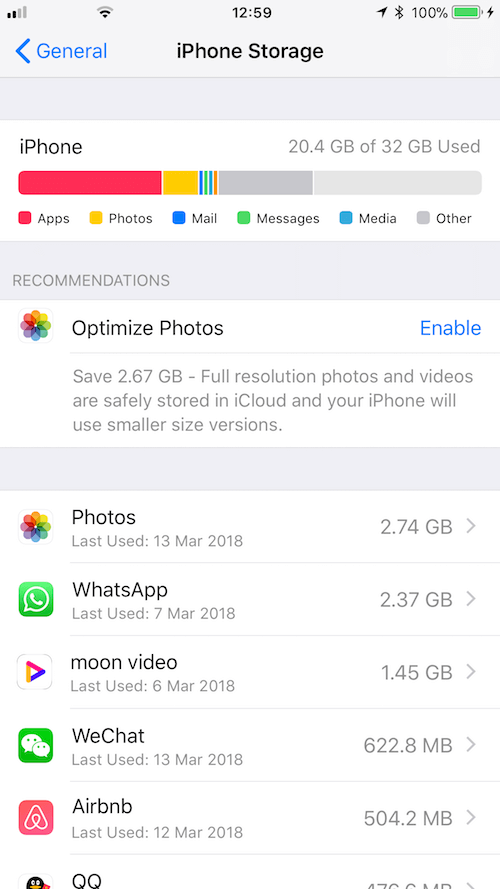 You might be able to delete some of its content, or delete the app and all of its content. You can also offload the app, which frees up storage used by the app, but keeps its documents and data on your device. Or you'll need to remove some less-used content like videos and apps to free up the storage.
If the "Other" data takes up lots of your iPhone storage, you need use the third party - iPhone Cleaner. It will help you to clean the junk files, cache files, privacy data and more.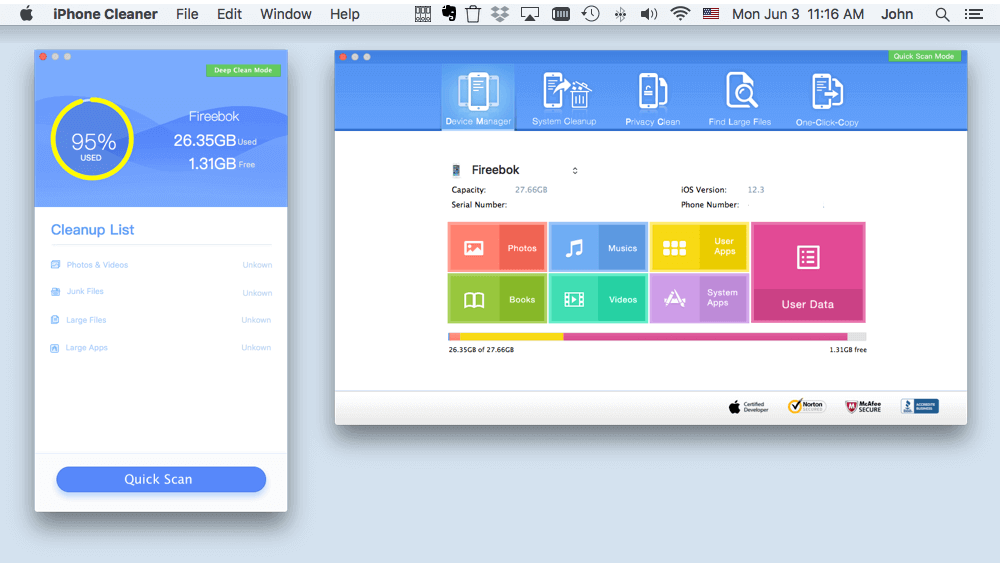 2. Close the unused apps in background
Your iPhone may be have many apps running in backgroud, they will use your iPhone memory. For iPhone 8 or earlier: just double click the Home button to show your most recently, Swipe up on the app's preview to close the app. For iPhone X: from the Home screen, swipe up and pause. Firmly touch and hold the app, then tap the red - button. You can also swipe up to close the app as soon as you see the red - button.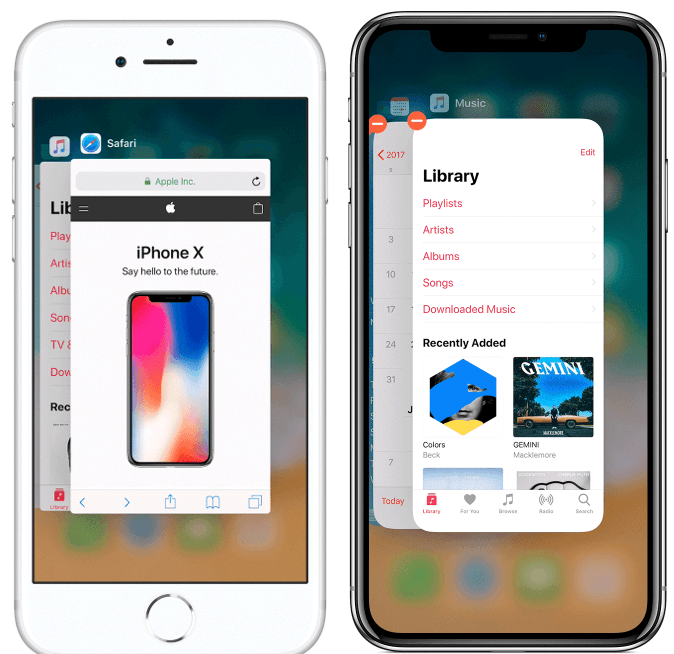 3. Update your app to the latest version
Some old apps may not run as smoothly or quickly on the new iOS 11 without an update. After updating your iPhone to iOS 11, check to see if you've got app updates waiting. Open the App Store app, tap Updates and tap Update All to update your apps.
4. Turn off the Location Services for some apps
When you turn on the locations services for many apps, they will continue to update and get your location information, which is very consuming the mobile phone memory. Go to Settings > Privacy > Location Services to adjust the settings for all of your apps that use location services.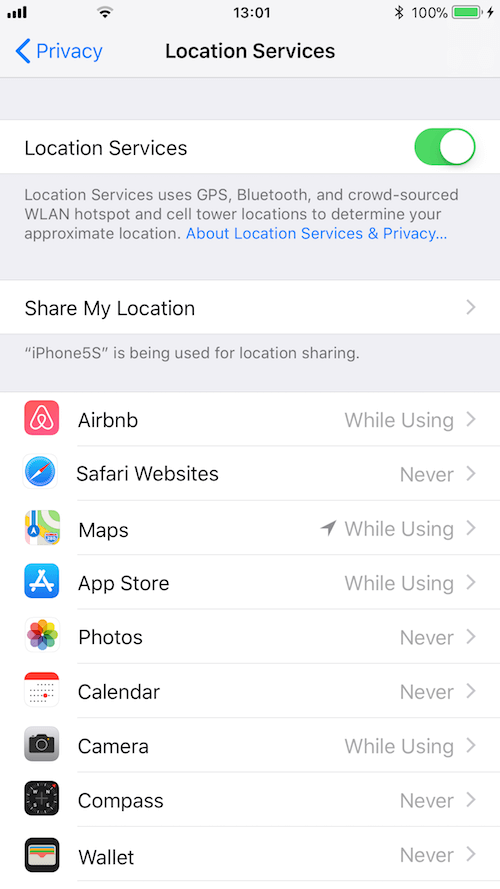 5. Reboot iPhone
No matter you store notes on iPhone or iCloud, when your notes were accidentally deleted, they will be moved to the Recently Deleted folder, you can view and recover notes in the Recently Deleted folder for up to 30 days before they're permanently removed. Select a note on the left, then click Move To... in the toolbar. Then choose the recovery Note folder, the note moves to the Notes folder.
6. Reset All Settings on iDevice
Go to Settings -> General -> Reset -> Reset All Settings -> Enter your passcode > Confirm on the pop-up window. It will reset your iPhone to factory settings, but will not erase any existed data.
7. Replace iPhone Battery
Apple has recently admitted that it intentionally slows down older iPhones with software updates. After Replacing the iPhone battery, your older iPhone will return to normal performance and operation under iOS 11. But unfortunately, the iPhone 6 is Still Slow even after installing a new battery.
8. Install iOS 11.3 beta
Finally solved the problem after installing the iOS 11.3 beta 4. We are happy that the iPhone is back to normal. Maybe the iPhone developers realized this serious problem and solved it. If you want to update to the iOS 11.3 beta, here are the detail steps. https://support.apple.com/en-us/HT203282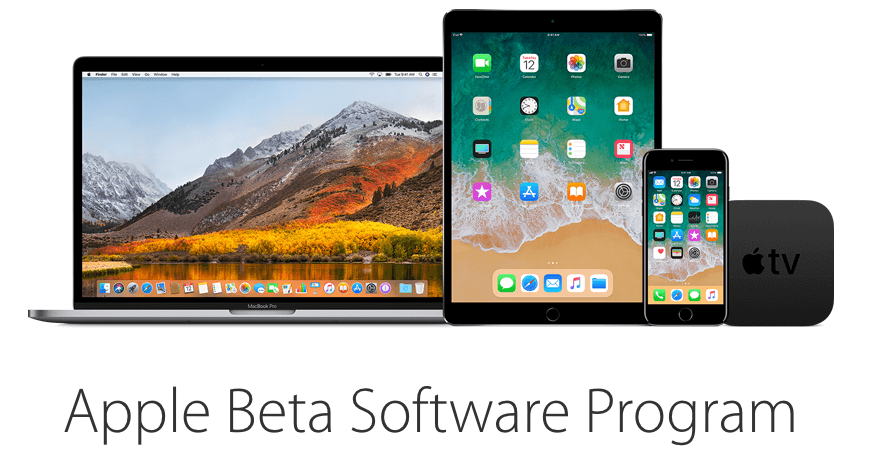 Tip:Everyone's iPhone situation is different. It may be that your iPhone will work after replacing the battery. I suggest that you can skip the method 7 and use the method 8 to have a try. Maybe it will work without replacing the iPhone battery.
More Related Articles
About Fireebok Studio
Our article content is to provide solutions to solve the technical issue when we are using iPhone, macOS, WhatsApp and more. If you are interested in the content, you can subscribe to us. And We also develop some high quality applications to provide fully integrated solutions to handle more complex problems. They are free trials and you can access download center to download them at any time.