Making an audio book (or audiobook) is not easy at all. It is not just about using your phone, but getting the needed gadget that will help you to produce a professional audiobook. It takes both technical expertise and skill to produce a professional-quality audiobook that one might buy through Audible or iTunes.
The Tools Needed to Produce high quality Audiobook
In this article, I am going to show you how to create an audiobook on a Mac, using the software and hardware that are free and not too expensive. Keep in mind that you should be able to substitute a Windows platform or your own software and hardware fairly easily.
Here are the generic tools you need to professionally record your own audio book
• A computer with a USB port
• A high-quality microphone with a stand and pop filter (that round cloth thing in front of the mic)
• A way to connect the mic to the computer (either directly via USB or through a mixing board)
• A recording environment with very little to no background noise and no echo
• Recording software (recording software is GarageBand)
• Editing software (free Audacity)
• Audiobook creation software
Here are the generic tools you need to professionally record your own audio book
• A desktop Mac (circa 2014)
• An XLR microphone with a pop filter and stand
• A USB2 multimixer that connects my XLR mic to the USB port on my computer
• A regular home office (about 20x20 feet) with a carpeted floor
• GarageBand for the MAC (I prefer to use GarageBand '09)
• Audacity (this is great for making sure the sound files meet the technical specifications)
• Audiobook Builder for the MAC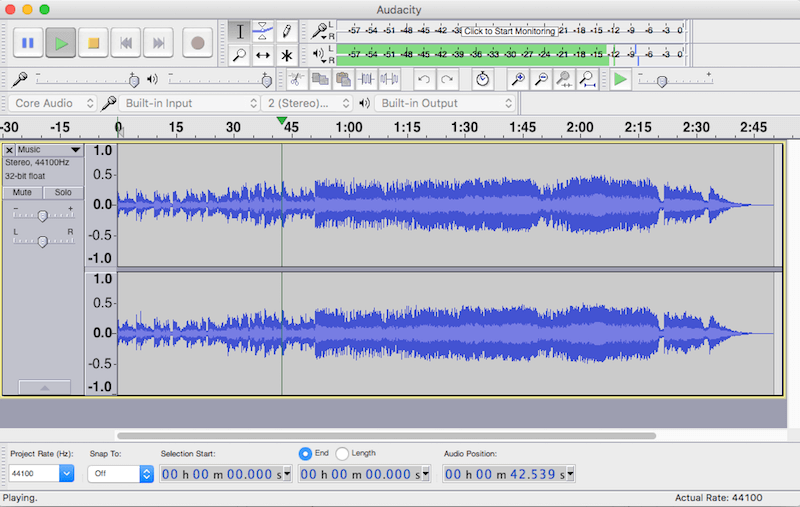 The Technical Requirements
Recording Tips
• Record in mono, not stereo. Play the recording back through headphones, and make sure the sound is evenly played in both channels.
• Don't use digital vocal effects. If you have a good reason you might want to use some light effects to enhance your voice or the overall sound, but for the vast majority of cases, remove any vocal effects that might be on the track.
• Make sure volume levels are set at 0.0db. When you record at this level, you should have very peaks and the overall sound should be loud enough so the volume does not have to be all the way up to hear it.
• Save often. You never know when a crash or technical glitch will erase everything you have done prior to your last save, so save your recording often.
The idea of creating an audio book is a good one, but please read more and practice more so that you will master it very well and become a professional in an audio book creator. Here is a more convenient and efficient software to convert your ebooks to audio book.
Fireebok Audio Book is a practical Mac OS X application that enables you to covert various types (EPUB, PDF, HTML, RTF, TXT) of eBooks or iBooks to audiobooks in the MP3 and AIFF format. It comes with support for over 50 robot voices, including male, female and neutral, as well as 38 different languages.
---
Audio Book


Convert any PDF, EPUB, RTF, TXT or HTML eBooks or iBooks to audiobooks
narrated by a wide range of voices.



---
When you run the software, it will list all your ebooks of iBooks on your computer. After you selected the book and the voice of the read, you can click "Convert" button to start. If you want to import other ebooks which are not in iBooks. click "Import Books" button to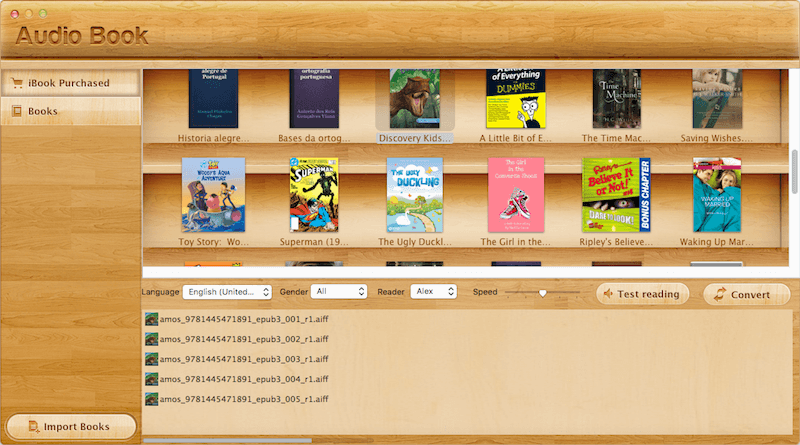 It will be easier than using those complex tools, which will save you time to learn. And It is a good choice for people who want to convert your ebook into the audio book.
More Related Articles
About Fireebok Studio
Our article content is to provide solutions to solve the technical issue when we are using iPhone, macOS, WhatsApp and more. If you are interested in the content, you can subscribe to us. And We also develop some high quality applications to provide fully integrated solutions to handle more complex problems. They are free trials and you can access download center to download them at any time.