I used the old iPhone 6 to make a video one day, it says "Not enough storage". When I access iPhone Settings -> General -> iPhone storage, I found my 16 GB phone is showing 11.35GB used by System Storage. It's not normal. How to reduce the iPhone system storage?
Soon I find 70% of system storage space is taken up by "Other" files, it means that iPhone system storage contains the "other" file in iOS 11. If I need to reduce the iPhone system storage, I only need to remove the iPhone Other files.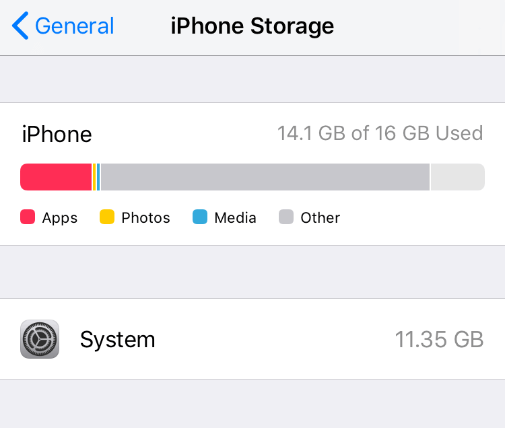 What's "Other" in iPhone
iPhone categories data such as :Apps, Photos, Music, Movies, TV Shows, Padcast, Book, Mail, Messages. Anything stored on your iPhone, iPad that cannot fit into one of those categories is categorized as "Other." This includes:
1. Apple Music Download
2. Safari cache and cookie data
3. Safari download cache
4. Safari bookmark data
5. Photo thumbnails cache
6. VoiceMail
7. iTunes or iCloud backup and sync records
8. iTunes sync failed data
9. wifi and gps records
10. System app cache
11. iOS system log and crash files
12. iOS update download package
And more.
Some of them you can remove from iPhone, such as Apple Music. But most of them can't be remove from iPhone directly, even you can't see them on iPhone. Download the third party app -- iPhone Cleaner, it run on the computer when you connect your iPhone with the computer, it can reclaim a considerable amount of free space on your iPhone and iPad.
With iPhone Cleaner, you can remove many other data. Such as iOS system logs, Safari Browse cache and cookie data, iTunes Photo caches, iTunes sync-failed files, wifi connection record, GPS location record and more.
It has two clean up modes - Quick Scan mode and Deep Scan mode. Quick Scan mode— you can one click to free up most of your iPhone storage. Deep Scan mode — It contains many functional features such as App Cleaner, System Cleanup, Find Large Files, Privacy Cleaner, One-Click-Copy. It can help you to clean up, extract and backup iPhone data and more. Here are the steps we use it to clean up iPhone other data.
Step 1 Download and install iPhone Cleaner on your computer. The demo version is free to try.
---
iPhone Cleaner


Free up iPhone storage, organize and backup the files and enhance the performance of your iPhone, iPad or iPod touch.



For Window & Mac OS X
---
Step 2 Connect your iPhone with the computer, then run iPhone Cleaner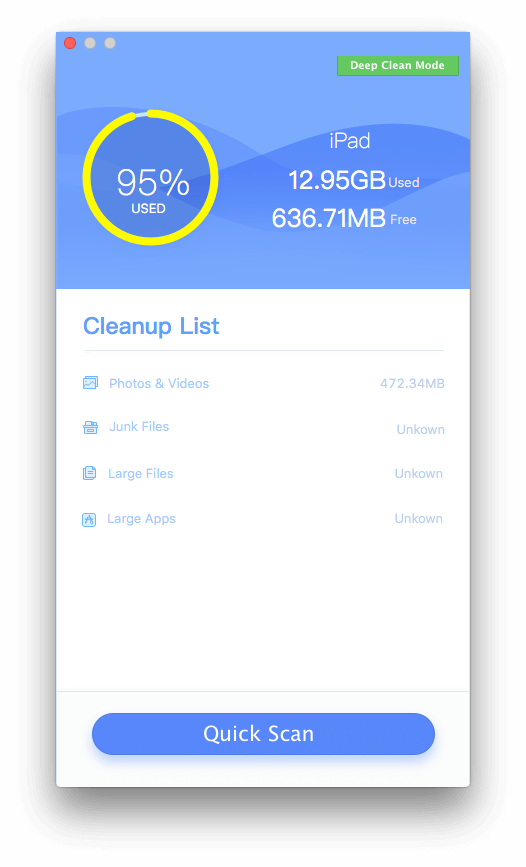 Step 3 Click "Deep Clean Mode" and click "System Cleanup" tab. You can clean up iOS system log, photo cache, iTunes sync-failed files and more after the scanning has completed.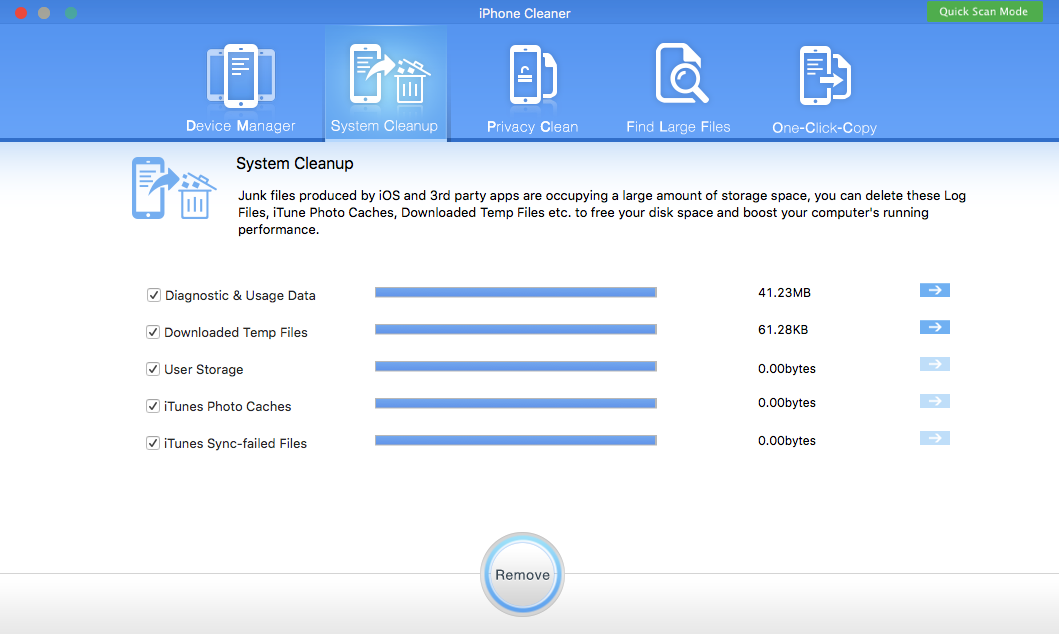 Step 4 Click "Privacy Clean" tab, you can remove Safari cache and cookie data, GPS location record, Wifi connection record and more here.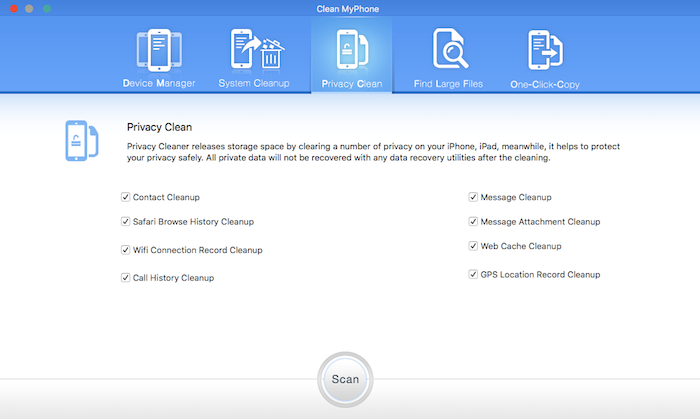 Finally, you can use Find Large Files functions to search the large files and apps. iPhone other data will be removed by the above steps. If you are plan to deeply manage your iPhone data, it will be a good app to choose.
More Related Articles
About Fireebok Studio
Our article content is to provide solutions to solve the technical issue when we are using iPhone, macOS, WhatsApp and more. If you are interested in the content, you can subscribe to us. And We also develop some high quality applications to provide fully integrated solutions to handle more complex problems. They are free trials and you can access download center to download them at any time.