iPhone users will every now and then notice space being occupied up on the device called "Other" when trying to synchronize their iPhone with iTunes. "Other" is commonly made up of data you almost certainly no more in need off, such as caches from web browsers, apps, email, speech data, texts, failed downloads, and even more. This article will highlight the very best way to remove the "Other" data on your iPhone to make space for new data and mass media.
Sometimes when trying to back up your iPhone, iPad or iPod touch, you keep getting the error message "iPhone/iPad/iPod touch cannot be synced because there is not enough free space to hold all of the items in the iTunes Library (additional space required)."
Actually, this is normal because data like music, video and photos take up storage space on your device. You'll have to identify what is taking up the most space then delete some unnecessary data. You can see what is using the storage space in iTunes by selecting the iPhone/iPad/iPod touch and checking it's "Capacity" bar at the bottom. You will also notice "Other" is taking up a lot of storage. Before removing these temporary files from your iOS device, you need to know what is "Other" that makes up an overwhelming amount of storage.

What is iPhone/iPad/iPod Touch Other Data
"Other" data is real data including your system files and cached content that you put on your device by using the built-in apps. It's just that as you use the phone, it will grow. This includes:
Messages/iMessage content and attachments
Contacts
Reminders
voice Memos
Safari bookmarks and cache
Email messages and attachments
Calendar entries
Genius data
Music catalog and cover art
iPhone photo cache and photo thumbnail
failed-download files
iOS system settings
Sync-failed iTunes media files
iOS system and iOS pre-installed app log file
App purchase information and Game Center status
Basic Clean-up Other Data on the iPhone, iPad, iPod Touch
Delete the Web browser Cache and Record
Click on "Settings" and choose "Safari."
Click on "Clear History and Website data" to erase your Internet surfing record and cookies. Your iPhone will remove all "Other" data associated with your internet browser, and this will make it to work a bit faster now.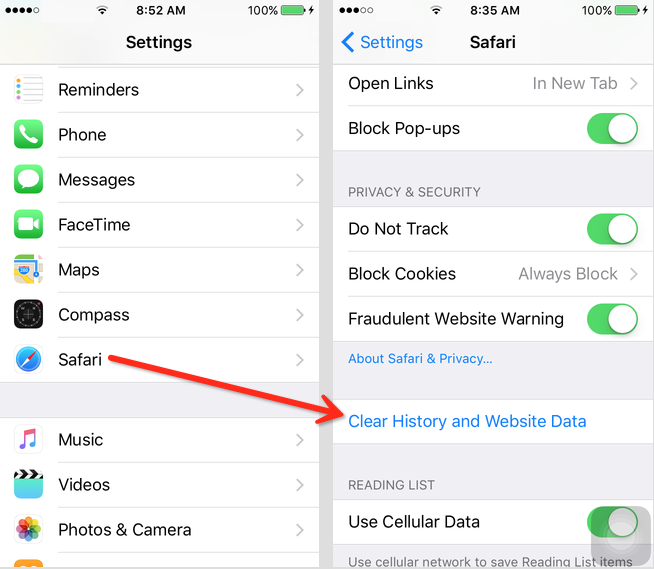 Delete Tone of voice Memos
Start the "Voice Memos" iPhone app on your iPhone.
Click on the words memo you want erased.
Click on the red "Erase" button.
Repeat this collection for every tone memo you no longer require to release extra storage area on your device.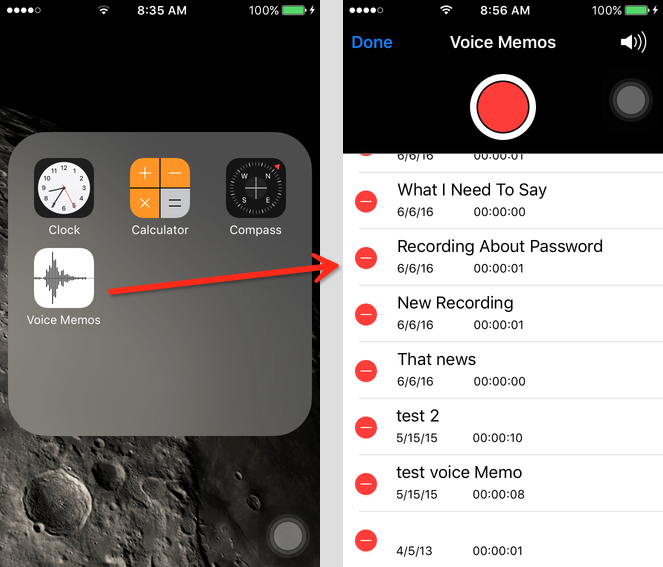 Delete and Reinstalling Your Email
Click on "Settings," then choose "Mail, Contact, Calendars."
Click on email account you want erased.
Scroll to underneath of your email settings and click on delete account and the email account you select will be removed.
Get back to "Settings" and choose "Email, Contact, Calendars."
Click on "Add Accounts."
Follow the direction to add your email accounts, such as joining your email and security password.
Repeat the aforementioned sequence for each and every email bank account stored on your iPhone. All "Other" data associated with your email accounts will now be wiped from your device.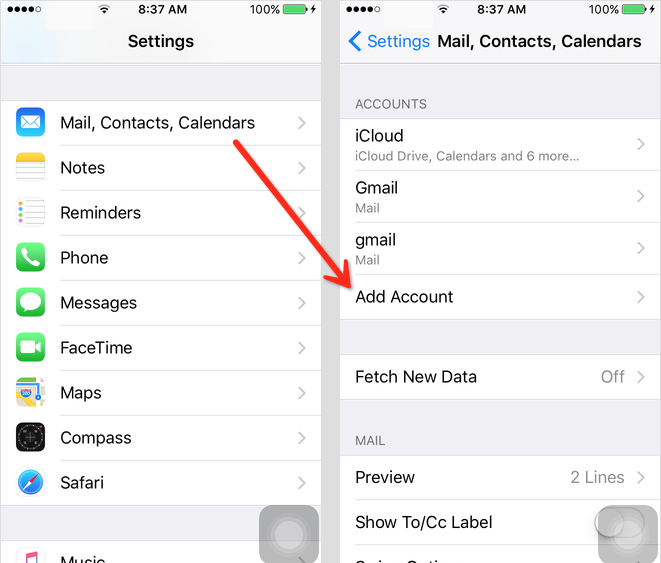 Delete and Reinstall Apps.
Click on "Settings," then choose "General."
Click on "Usage."
Check through the set of programs installed on your device to look for the app that is consuming more spaces or taken more data.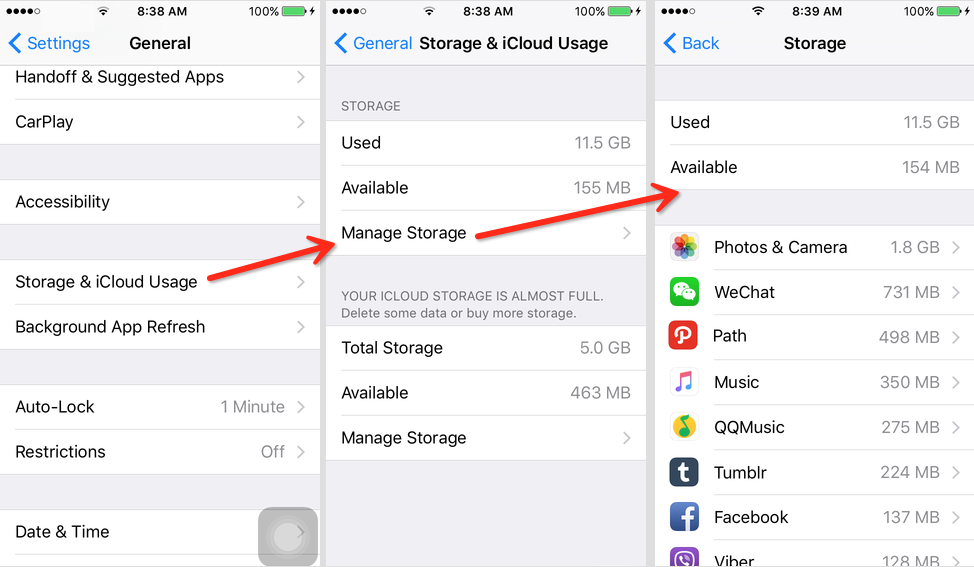 Click on any one of the biggest data consuming apps and compare the actual app size to the size listed next to "Documents and Data." If the size next to "Documents and Data" exceeds the actual app size, you may want to delete and reinstall that particular app to free some space.
Click on "Erase App" to remove the software from your device. Repeat the above mentioned sequence for each and every app that has exceedingly large space being used by "Documents and Data." Revisit the iTunes App Store after deleting certain programs to redownload and reinstall those to your iPhone.
Depth getting Rid of Other Data on the iPhone, iPad, iPod Touch
According to the above basic Clean-up, it can remove some part of the iPhone other data. In order to completely clear the other data, there are two solutions to clean-up the depth of the rest the other data.
Solution 1: Setup the iPhone as the new iPhone, then restore from the iTunes backup.
Solution 2: Using the third-party cleaning up tool
Obviously the first solution is more complex and full of risk losing your data in the process of restore your iPhone. And the second solution is more simple and reliable, it does not need to restore your iPhone iOS device, just Install and run CleanMyPhone to resolve this problem.
Connect your iPhone, iPad or iPod your Computer.
Step 1:Run CleanMyPhone on your computer, select the "Find Large Files" tab and then click the "Scan" button. The program will list all lage files in your iPhone data, such as a video, app or other failed-download file.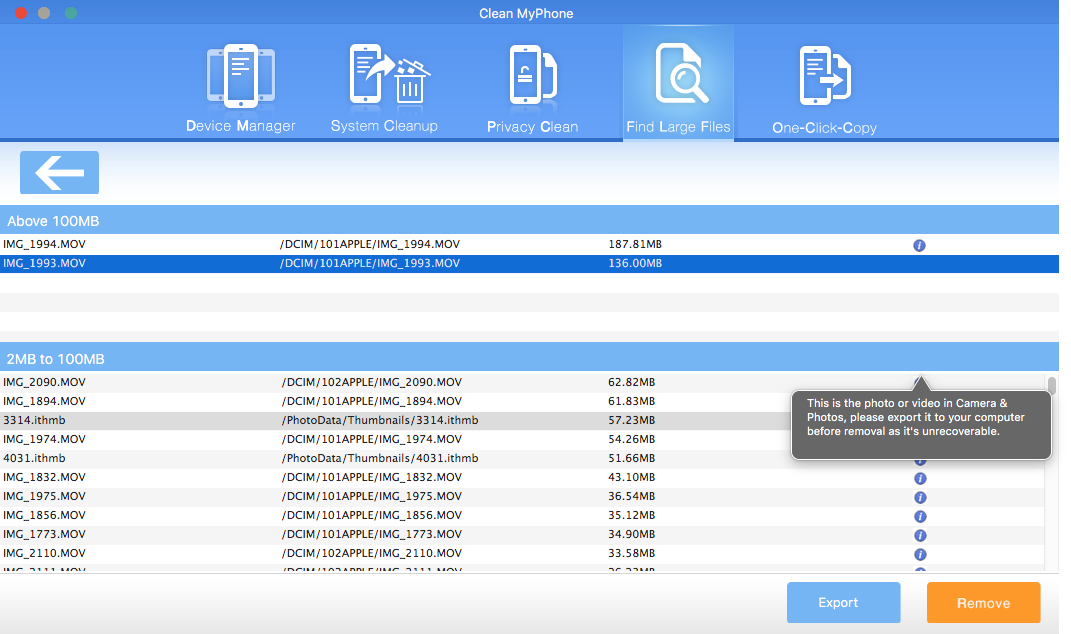 Step 2:Select "System Cleanup" section, you can delete iOS diagnostic & usage data, los files, download temp files with this function. It will free your disk space and boost your iOS device's running performance.
iPhone diagnostic & usage data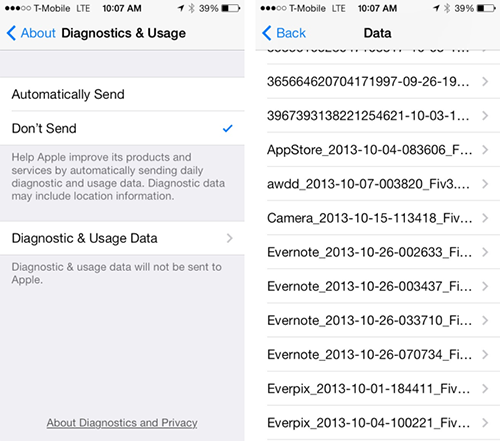 The result of system cleanup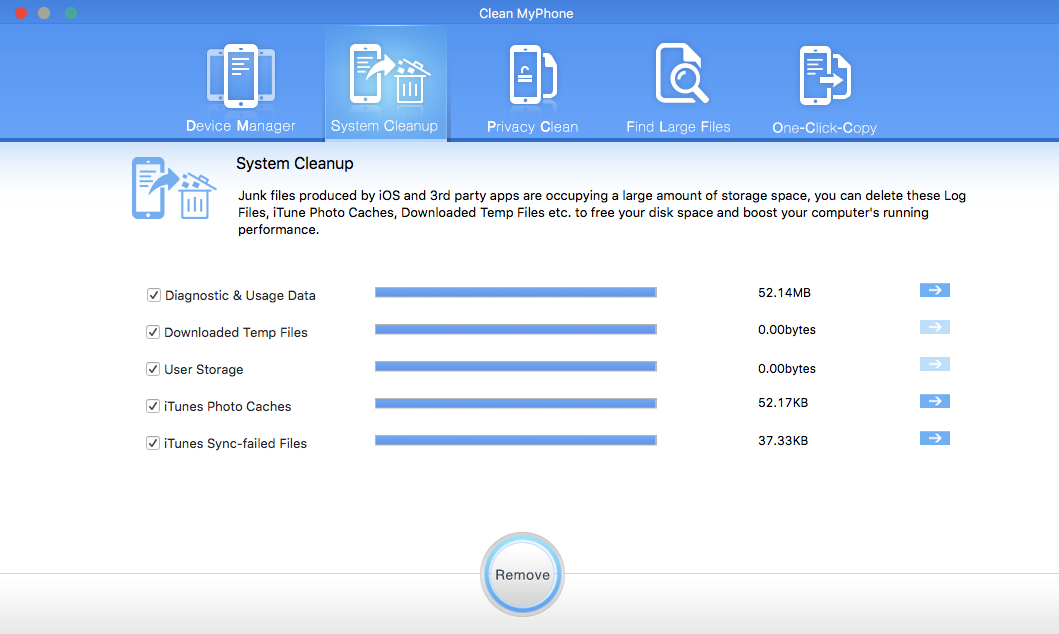 Step 3:Select "Device Manager" section, enter "User Data" to find photo cache, sync-failed media files and more.
Device Manager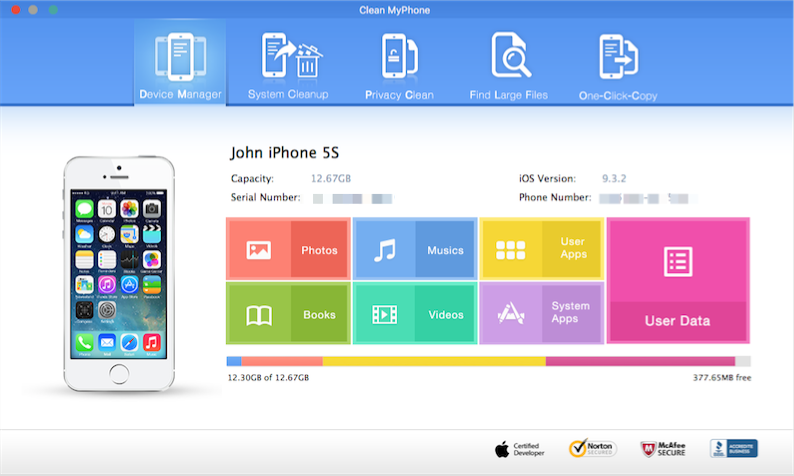 Enter User Data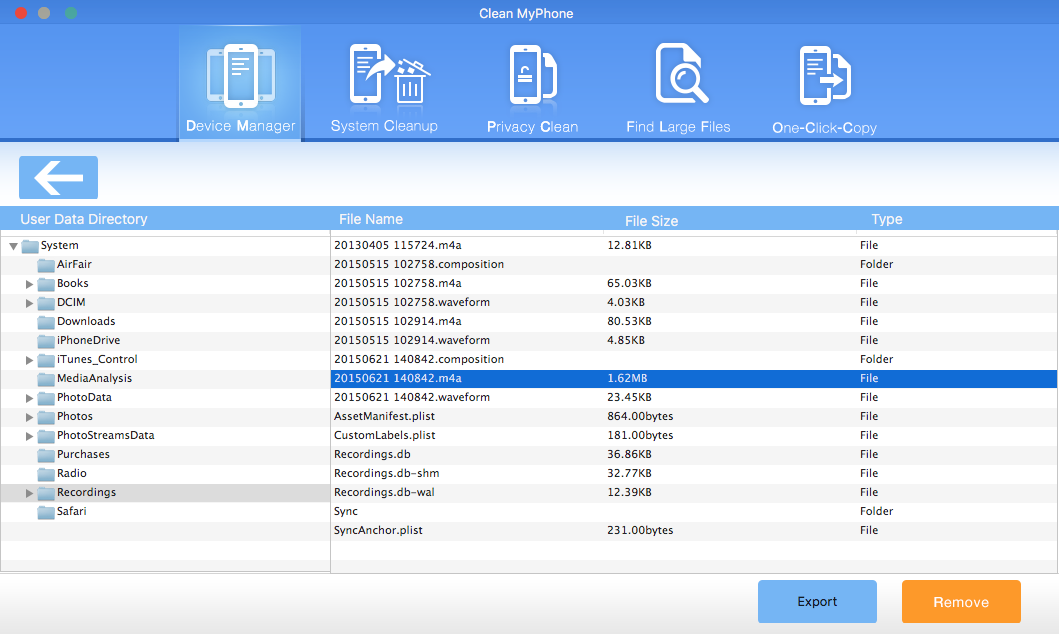 Step 4:Clean-up SMS/iMessage attachment, web cache with "Privacy Clean" tab, it will release storage by clearing a number of privacy on your iOS device. Meanwhile, it helps to protect your privacy safely. All private data inculuding wifi connection record and GPS location record will not be recovered with any data recovery utilities afte the cleaning.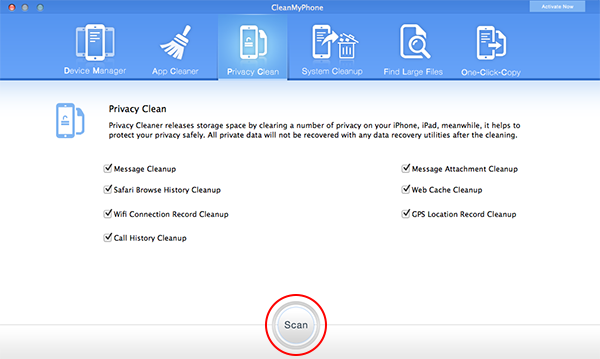 Scanning Result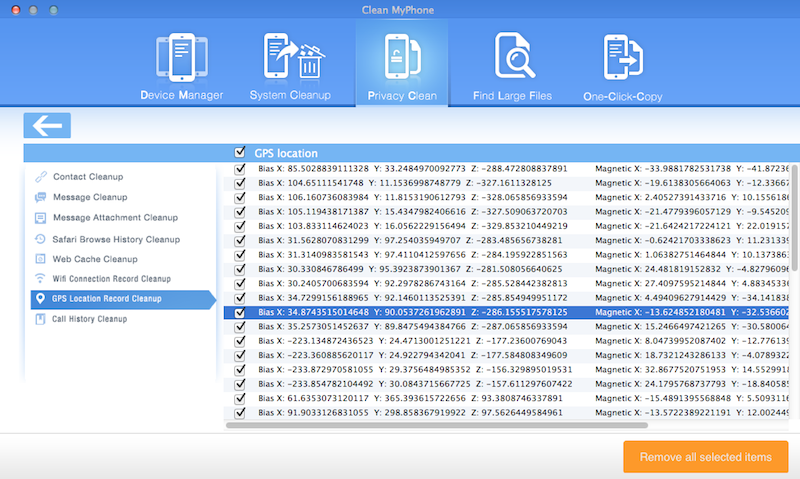 CleanMyPhone also support export any iPhone data to your computer with "One-Click-Copy" function. If you have a lost of photos and videos on your iPhone, it will help you to transfer them to the computer without losing any important data.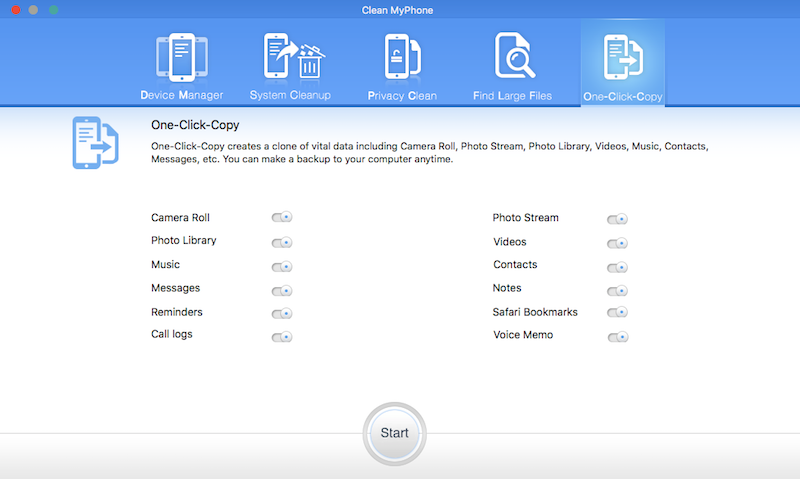 ---

Clean MyPhone


Transfer iPhone all data, save disk space, organize the files and enhance the performance of your iPhone,
iPad or iPod touch.



For Windows & Mac OS X
More Related Articles
About Fireebok Studio
Our article content is to provide solutions to solve the technical issue when we are using iPhone, macOS, WhatsApp and more. If you are interested in the content, you can subscribe to us. And We also develop some high quality applications to provide fully integrated solutions to handle more complex problems. They are free trials and you can access download center to download them at any time.