Update on Dec 23, 2018
Is your iPhone or iPad running out of storage space after updating iOS? Photos and apps take too much space on your iPhone or iPad but you don't want to delete them? Or iPhone "Other" data is taking up much space of your iOS device? It's been six years since iOS 5 to iOS 12, and the iPhone's storage space is from 16GB to 512GB. But the iPhone storage is still not enough to use. This tutorial will show you how to free up space on your iPhone iPad or iPod touch.
1. Store Photos, Messages and other iPhone data to the iCloud.
If you have lots of iCloud free storage, you can choose to store some iPhone data to iCloud. It will save lots of iPhone device storage to store other data.
Turn on iCloud Photos to keep your iPhone photos and videos stored in iCloud. Go to Settings -> [your Name]Apple ID -> iCloud -> Photos, then turn on iCloud photos.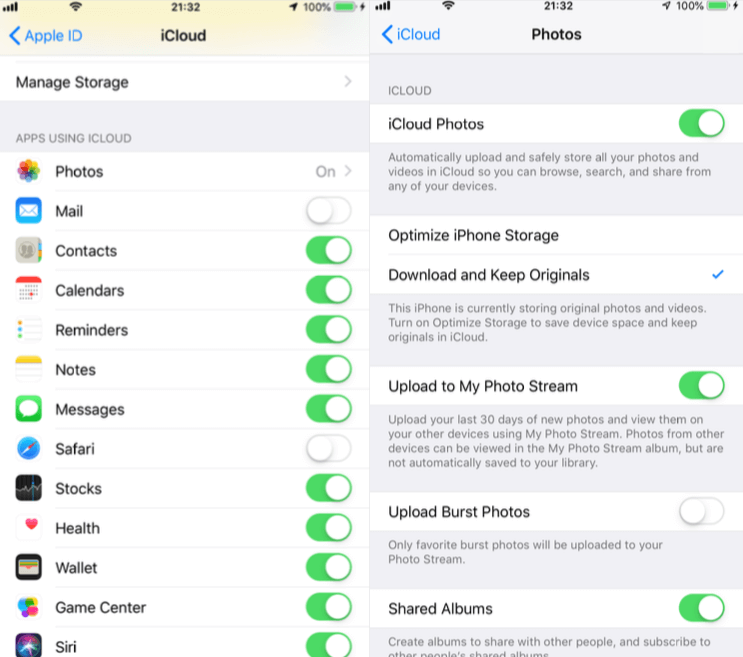 Turn on Messages in iCloud, it will help you to store your iPhone entire message history and attachments to iCloud. Go to Settings -> [your Name]Apple ID -> iCloud, then turn on Messages.
Under iPhone Settings -> [your Name]Apple ID -> iCloud, you can also choose to store other iPhone data, such as Mail, Contacts, Notes, Calendars, Voice Memos, Safari and more.
2. Uninstall the large app
Usually most of iPhone storage has been took up by many apps. When you view iPhone storage usage, it will list the file size of each app. Go to Settings -> General -> iPhone Storage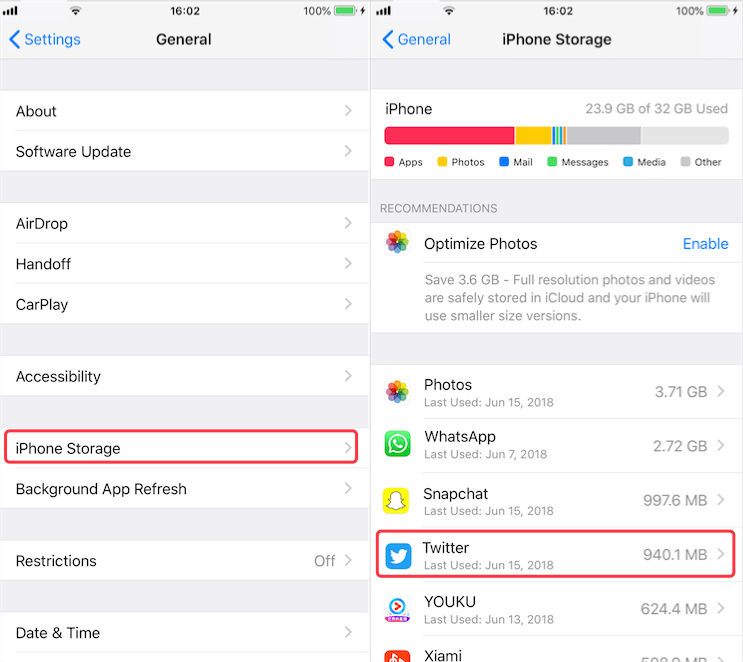 Most of the iPhone's storage space is occupied by many applications. When you view the iPhone's storage usage, it lists the file size of each app. When you access each app, you will see the total size of app contains two parts: App Size and Documents & Data. After using a long time, the documents &data of app is larger than the app itself.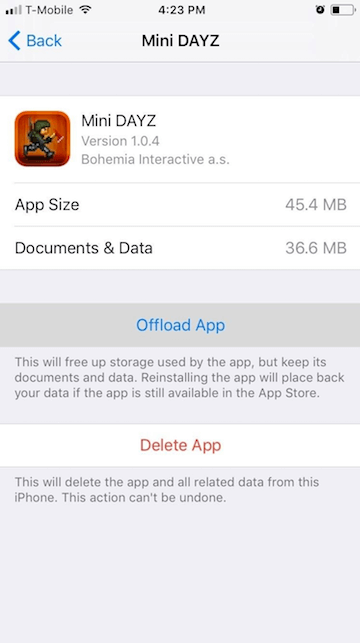 To Uninstall the app, you can choose two solutions: Offload App and Delete App. Offload App action will remove only the app itself of app, but keep the documents & data of app. Delete App action will remove all app data.
3. Free up the web browser data
When we open a webpage to search in safari, it will produce some website cache, webpage history. It's necessary to clean Safari web data after using safari in a long time. Go to Settings -> Safari , and tap Clear History and Website Data.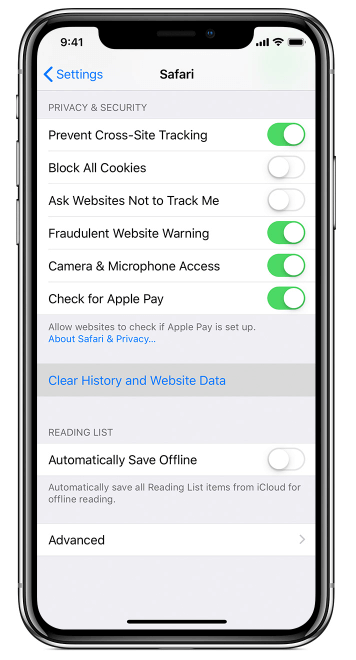 To remove Safari cookie and other web data. Go to Settings -> Safari -> Advanced ->Website Data, tap Remove All Website Data.
4. Remove iPhone Other data with iPhone Cleaner
If your iPhone storage contains lots of Other data, we can't free up them on iPhone. Most of the data has been classified in the iPhone storage, such as Photos, Mail, Media, Books, Apps and more. The rest of the unclassified data is called Other data, such as iOS logs and app crash file, failed-download files, photo cache and photo thumbnail, iTunes sync-failed files and more. Here we use iPhone Cleaner to clean up Other data from iPhone, iPad and iPod touch.
1. Download and install iPhone Cleaner on your computer, and make sure your computer has installed iTunes application.
2. Connect your iPhone, iPad or iPod touch with the computer by USB cable.
3. Run iPhone Cleaner, and click "Deep Clean Mode"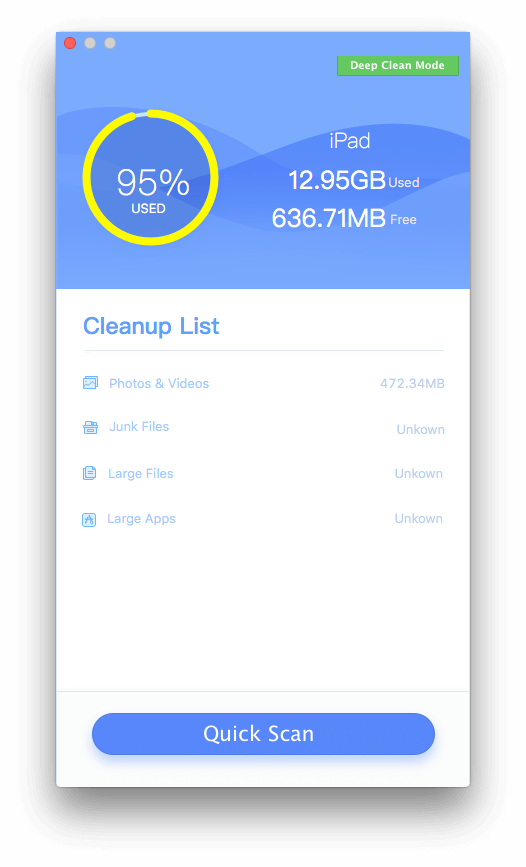 4. Choose System Cleanup and Privacy Clean mode, they will delete many iPhone other data. Such as Diagnostic & Usage Data, Downloaded Temp Files, User Storage, iTunes Photo Caches, iTunes Sync-failed Files, GPS data and more.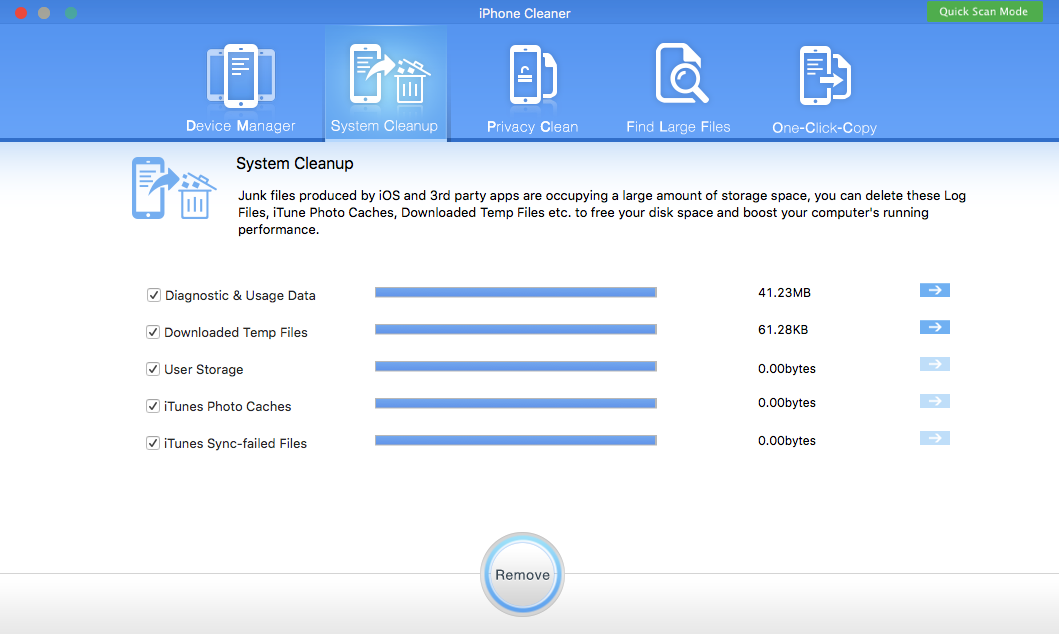 As we spend more and more time on the iPhone, we need more storage space to store more and more iPhone data. Therefore, it is necessary to free up space on the iPhone, iPad and iPod touch, just like cleaning up computer space.
More Related Articles
About Fireebok Studio
Our article content is to provide solutions to solve the technical issue when we are using iPhone, macOS, WhatsApp and more. If you are interested in the content, you can subscribe to us. And We also develop some high quality applications to provide fully integrated solutions to handle more complex problems. They are free trials and you can access download center to download them at any time.