Recently we received a feedback that WhatsApp photos and videos disappeared after restoring WhatsApp, and all the media come up as question marks in the chats. Have you ever encountered the similar case when you using WhatsApp. Before we start to restore those WhatsApp media and fix the issue, we need to know the reason.

Reason 1 : Different version
When you replace your old iPhone with new iPhone, it may happened after restoring from the old backup when your iPhone and new iPhone are running the different iOS version, because the whatsApp media files storage locations are different in some different iOS version. You can check your iOS version under Settings -> General -> About ->Version
Another solution, restoring from the backup with the different WhatsApp version may produces the issue. WhatsApp database fields changes sometimes in the different WhatsApp version, it may produces an error during the database parsing process. Check your WhatsApp version here: WhatsApp Settings -> Help
Reason 2 : Turn on iCloud Drive and WhatsApp
If you need restore the WhatsApp data from the backup, make sure you have turned on WhatsApp backup in iCloud Drive. Or your WhatsApp data will not be backup in iCloud backup.
The first step would be to set up iCloud Drive on your iOS device following the steps: Go to Settings -> Apple ID[your name] -> Tap iCloud -> Swipe to turn on iCloud Drive.
After iCloud Drive has been enabled, Swipe to turn on WhatsApp to make a backup of your WhatsApp chats and media
How to recover the WhatsApp media in the case?
WhatsApp doesn't provide any similar solution to fix the issue. Here we recommend the third party application -- WhatsApp Pocket, a WhatsApp backup, extract and recover app tool for resolving WhatsApp issue. If the media has downloaded in your iPhone, but the WhatsApp doesn't display or the pictures and videos are just question mark thumbnails in chat. You can use WhatsApp Pocket to scan the iPhone device, you can find all WhatsApp media files in the software after the scanning has completed. Or you can use WhatsApp Pocket to extract all media files from iCloud backup or iTunes backup directly. Here are the detail steps to scan the iPhone device with WhatsApp Pocket
1. Download WhatsApp Pocket Application on your computer, make sure the computer has installed iTunes.
---

WhatsApp Pocket


Chat WhatsApp messager, Extract and recover WhatsApp message from iPhone, iTunes and iCloud backup.



For Windows & Mac OS X
---
2. Connect your iPhone with the computer, and run WhatsApp Pocket. Choose your iPhone device under iOS Devices tab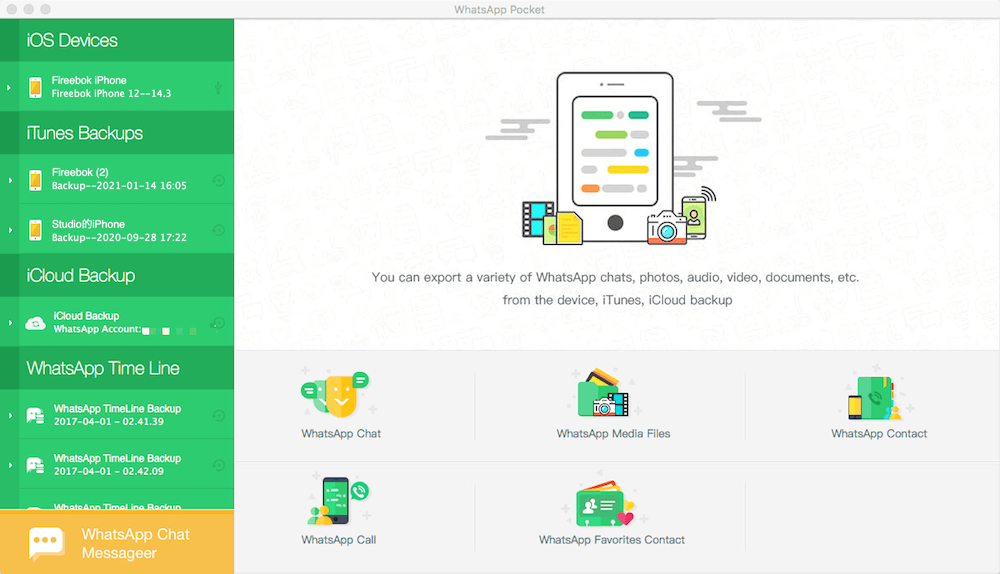 3. After the scanning has completed, all your WhatsApp chats,contacts ,media files will be listed in WhatsApp Pocket. You can save them on the computer.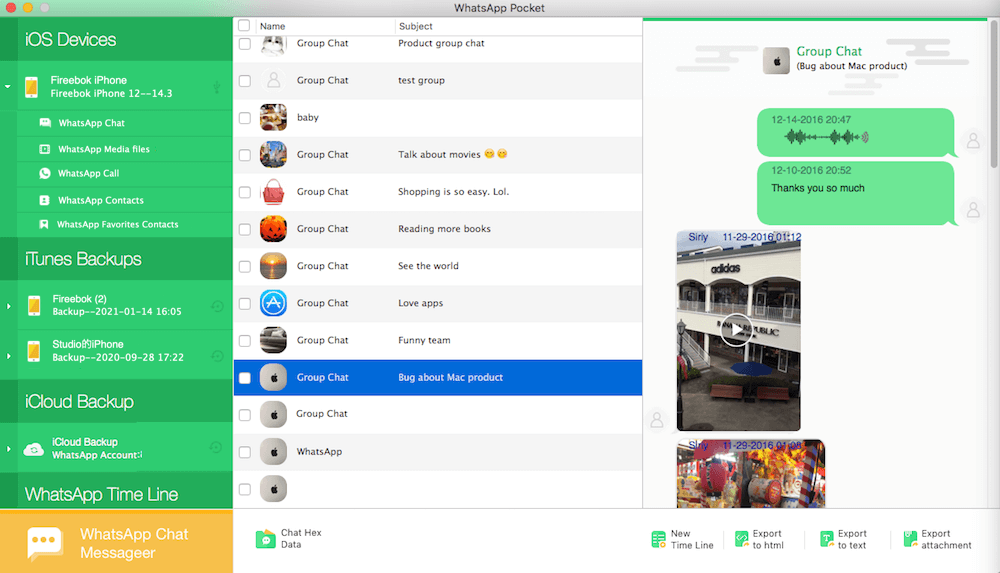 4. Or you can find all media files under WhatsApp Media tab.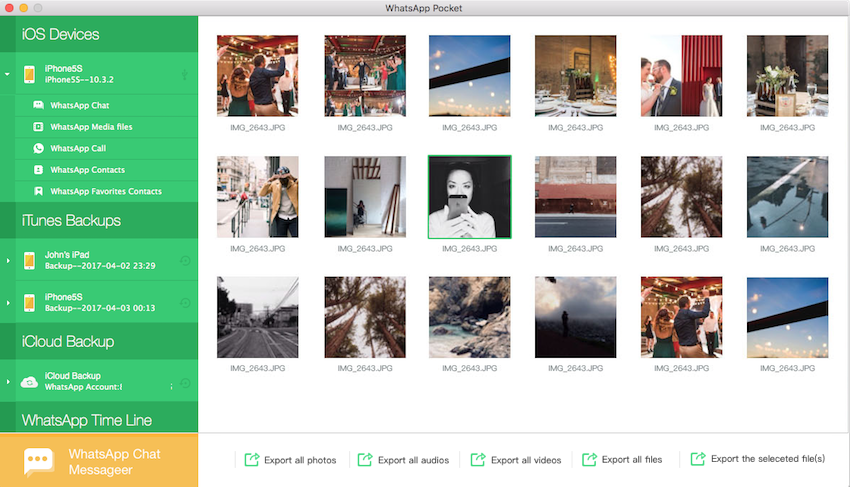 More Related Articles
About Fireebok Studio
Our article content is to provide solutions to solve the technical issue when we are using iPhone, macOS, WhatsApp and more. If you are interested in the content, you can subscribe to us. And We also develop some high quality applications to provide fully integrated solutions to handle more complex problems. They are free trials and you can access download center to download them at any time.