For WhatApp users on iPhone, iCloud backup is one of important features in WhatsApp application, we can auto-backup all whatsApp chat messages and media files in WhatsApp settings without backing the entire iPhone data. In additions, we can restore the whole iCloud backup when reinstall WhatsApp application or login WhatsApp account in another iPhone device. And we can set auto-backup options to daily, weekly, Monthly or manually tap Back Up Now button.
But recently, many WhatsApp users reported that WhatsApp backup is stuck at 0% for hours on iPhone. What's the reason for this issue? How to fix it? Don't worry, this article will show you how to solve the issue of WhatsApp backup stuck.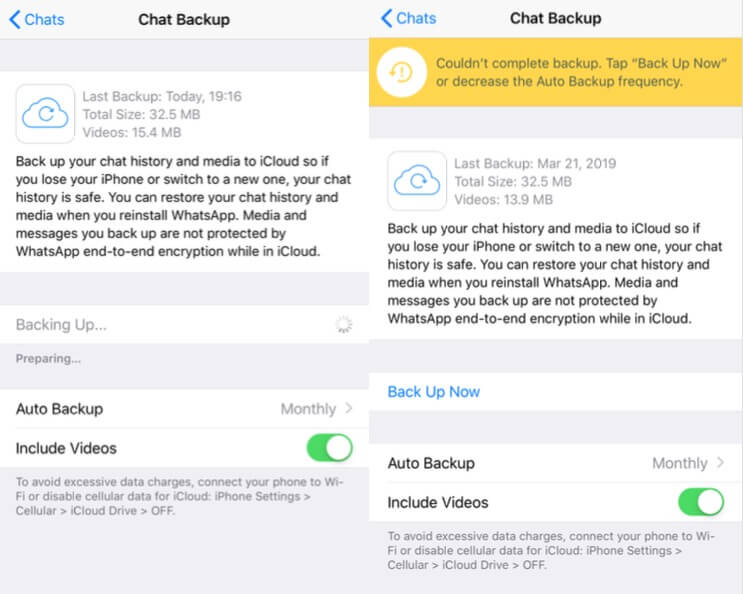 1. Decrease WhatsApp Auto Backup Frequency
Open WhatsApp, go to Settings -> Chats -> Chat Backup -> Auto Backup. If you choose auto backup with daily, then change to weekly or monthly. Or manually tap Back Up Now.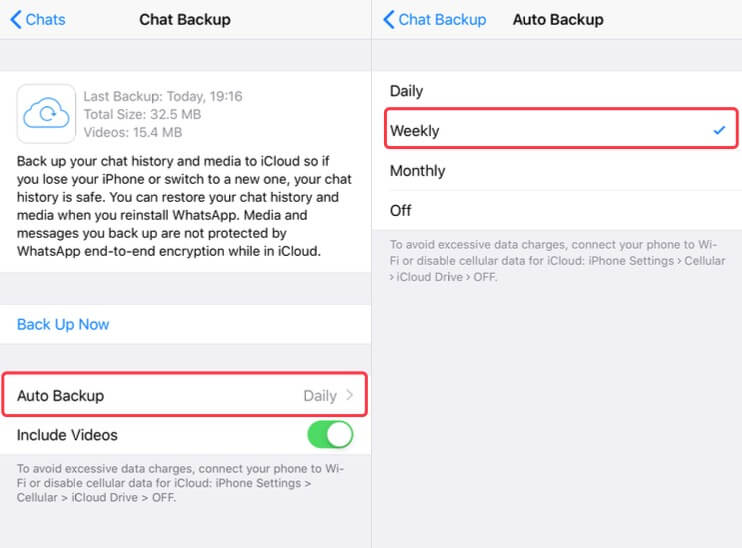 When your WhatsApp application contains lots of WhatApp content data, each backup process will be a long time. Frequent backups may cause the last backup to be incomplete, then decrease the auto backup frequency can avoid this case.
2. Turn off the Auto Backup without a Wifi environment
When you travel abroad or other situation that you are not in a wifi environment, it's slow to upload WhatsApp content to iCloud. Especially WhatsApp contains lots of WhatsApp chat messages, or some big audio and video files. A bad Cellular data network environment can't complete a lot of WhatsApp data uploads.
Open WhatsApp, go to Settings -> Chats -> Chat Backup - >Tap Off. And When you connect a wifi environment again, you can turn it on.
3. Check the App Size of WhatsApp and available storage of iCloud
Make sure your iCloud storage has enough free storage to store your WhatsApp content. Because there are many other application are using your iCloud storage, not only WhatsApp. Such as iPhone messages, all iPhone and iPad iCloud backups, iCould Drive, Photos, Voice Memo and more.
First we check the App Size of WhatsApp
Go to iPhone Settings -> General -> iPhone Storage -> Scroll down the iPhone screen to find WhatsApp, then your will see the App Size of WhatsApp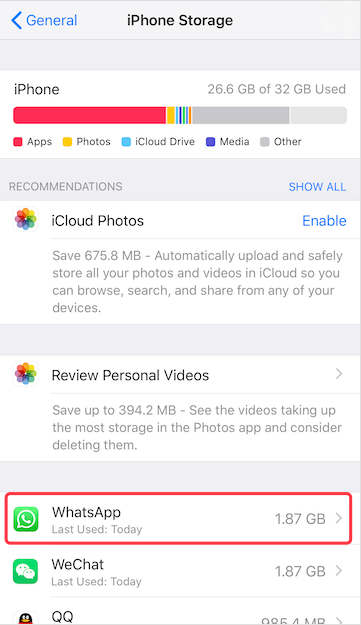 Then we check your available storage of iCloud
Go to iPhone Settings -> [Apple ID] user name -> iCloud -> Manage Storage, you will see the available storage of iCloud. If the iCloud storage is almost full, or if it's less than the App Size of WhatsApp, the WhatsApp backup operation can't complete. You need to upgrade your iCloud storage to a larger Storage plan. https://support.apple.com/en-us/HT201318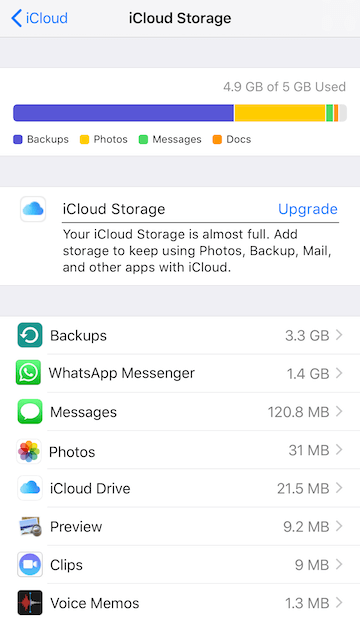 4. Use another method to back up WhatsApp data on your iPhone
In addition to iCloud backup, we can use iTunes to back up WhatsApp data. Make sure you have a computer with iTunes installed, find a USB cable to connect iPhone and computer, then run iTunes, click the iPhone icon in iTunes, click Back Up Now.
iCloud backup and iTunes backup are invisible backups, which means that we cannot view or access WhatApp data from backups. Here we recommend using a third-party application -- WhatsApp Pocket to backup all WhatsApp data as a visible backup to your computer. This means you can save and view every WhatsApp conversation, audio and media file, etc on the computer. In addition, WhatsApp Pocket can extract and recover WhatsApp data from iTunes and iCloud backup. Here are the steps to use WhatsApp Pocket to backup WhatsApp data from an iPhone device.
a). Download and install WhatsApp Pocket on your computer.
b). Connect your iPhone with the computer by a USB cable.
c). Run WhatApp Pocket and find your iPhone icon on the left window, click WhatsApp chat to scan.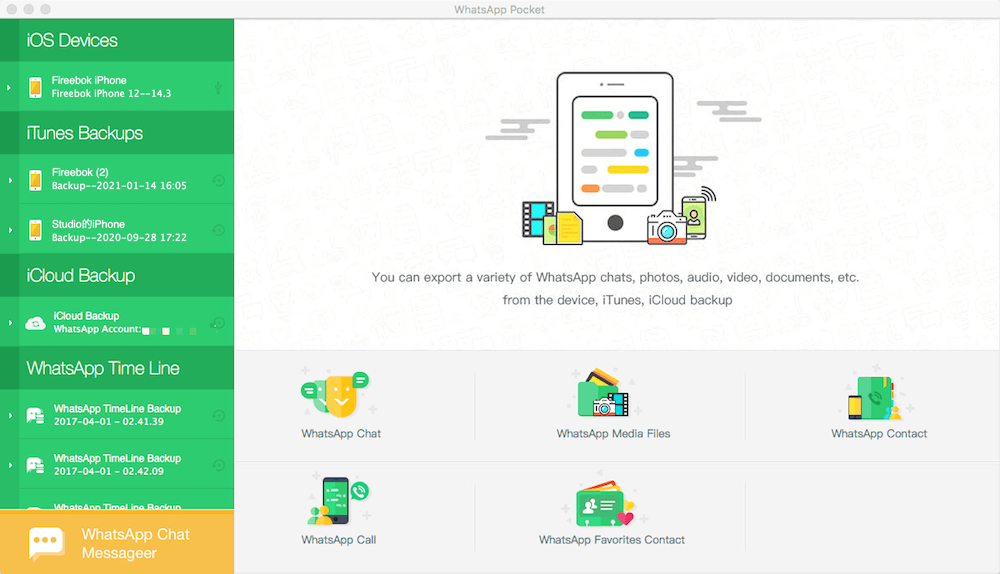 d). Wait for a while to finish scanning, you will see all WhatsApp data on the right of the Window.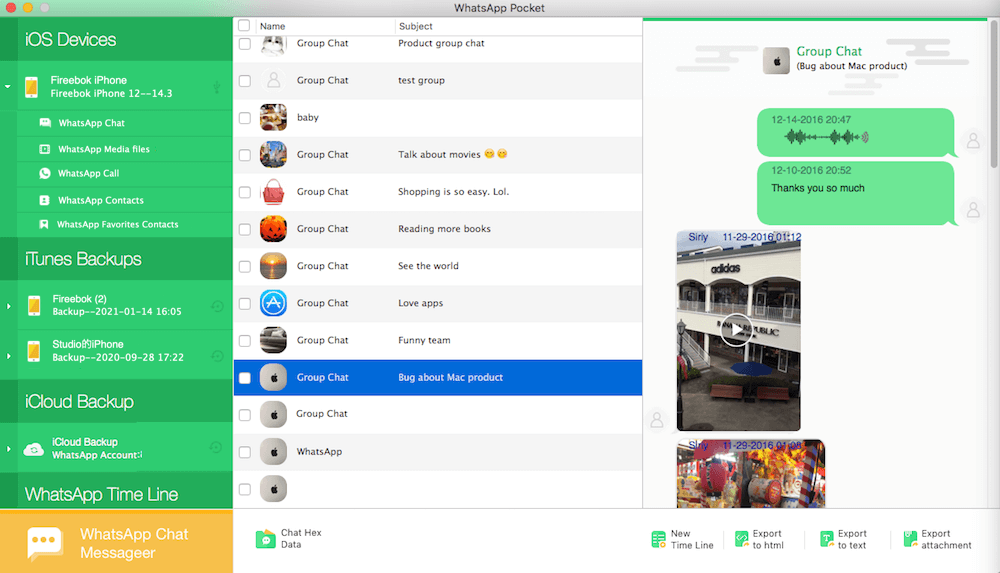 e). Click WhatsApp Chat tab or WhatsApp Media tab, then click "Export..." button to save WhatsApp data.
More Related Articles
About Fireebok Studio
Our article content is to provide solutions to solve the technical issue when we are using iPhone, macOS, WhatsApp and more. If you are interested in the content, you can subscribe to us. And We also develop some high quality applications to provide fully integrated solutions to handle more complex problems. They are free trials and you can access download center to download them at any time.