Recently Many iPhone family users have faced a issue that Messages combines two contacts into on thread after the iOS 12 update. It's very frustrating! They can only text the last person that sent a text. Many people report that the root reason to cause this problem is a bug that Apple has introduced in iOS 12 that is merging conversations from different phone numbers when they use the same Apple ID. How to fix this issue when family members use the same Apple ID?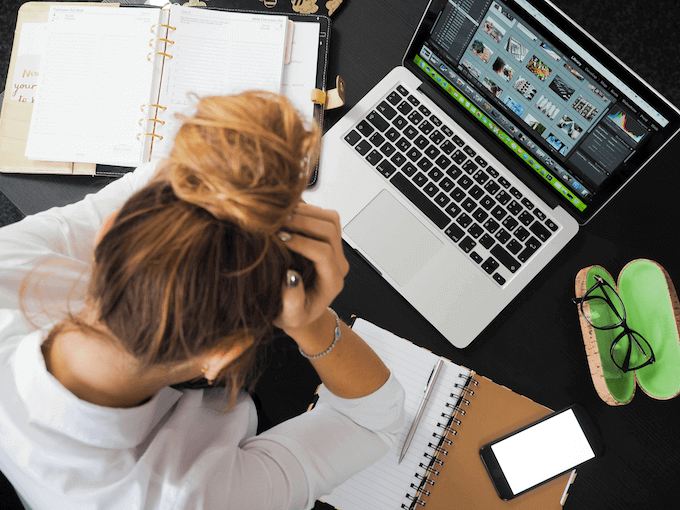 Why Apple combines the same Apple ID iMessage chat to one Thread on iOS 12?
As we known, one message converstion can contains text message and iMessage content.
Text message is identified the phone number from the telecom company, and iMessage is an Apple instant messaging service that sends messages over WLAN or cellular, and identified by Apple ID(mail address).
Messages use the different colors to distinguish the message content from text message and iMessage. Before updating to iOS 12, all the message content are stored in iPhone device, and iPhone use the phone number to display the message chat, if there are two different phone numbers, iPhone will display two different message threads.
After updating to iOS 12, iPhone turned on Messages in iCloud by default. When you sign in using your Apple ID on a new iPhone, you will get all of your messages history. Once you turned on Message on iCloud, your entire iMessages, SMS texts, attachments and images are stored in iCloud. iCloud use the Apple ID to identify the owner of chat, not the phone number. When your iPhone download and sync message content from the iCloud, if there are two different phone numbers with the same Apple ID, they will be Merged into one thread. The whole process is shown in the figure below.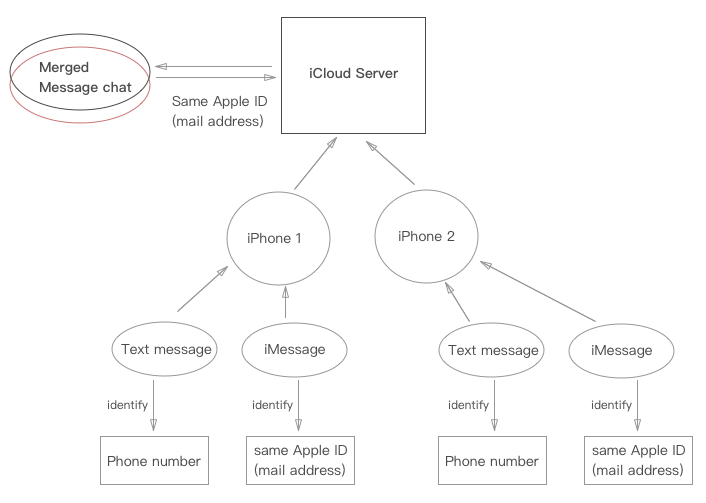 How to Fix this?
1. Created separate Apple ids for each family member
If you use the same Apple ID on the different Apple devices, this case happens not only in the message content, but also in the contacts and call history. Once you turn on Contact and call history iCloud, your contacts and call history will appear on another iPhone. And use these steps to create the Apple ID account.
Checking the devices use the same Apple ID
Open iPhone Settings -> Apple ID, iCloud, iTunes & App Store. Scroll down the iPhone screen, it will display other Apple devices use the same Apple ID there.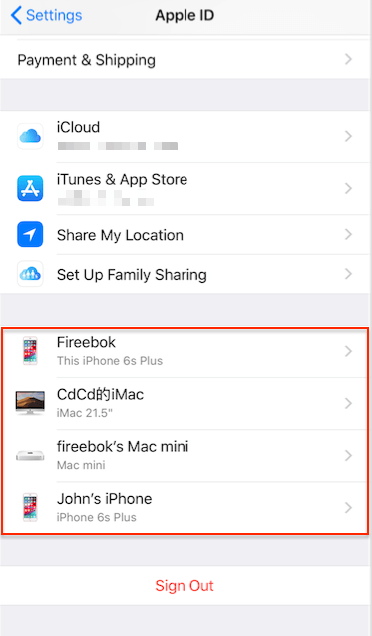 2. Turn off messages in iCloud
If you still want to use the same Apple ID for the family members, but display the two phone numbers in two message threads. Here are the steps.
1. First you need turn off Message iCloud on all iPhone device with the same Apple ID. Open Settings -> Apple ID, iCloud, iTunes & App Store -> iCloud -> turn off Messages, and click "Disable and Download Messages".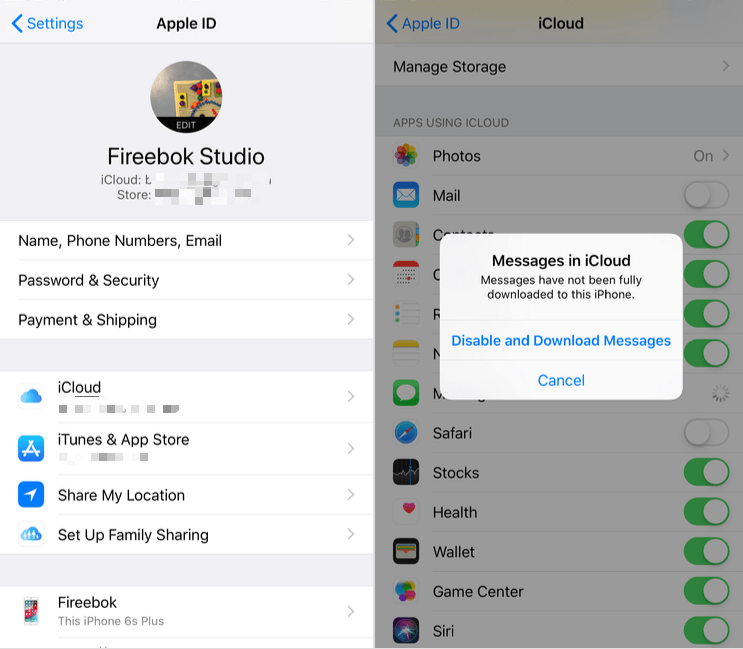 2. Backup the Merged message content before we delete it. Here we use Fireebok Fone Rescue to extract all iPhone message content, including text message and all message attachment.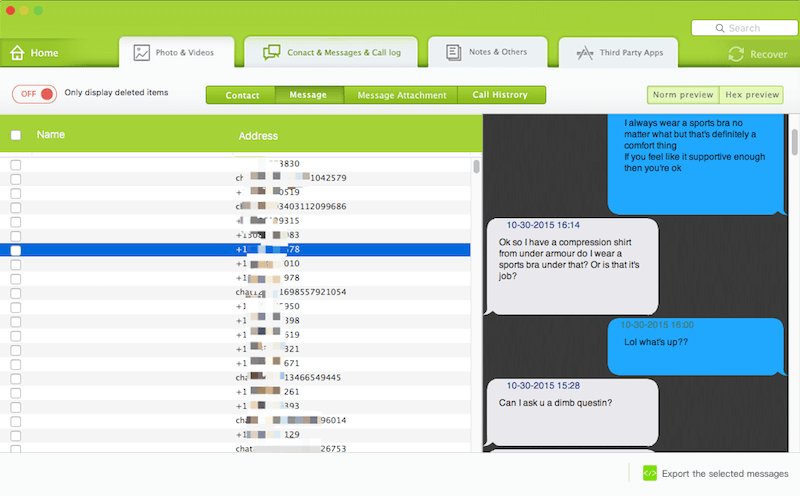 3. After Backup the message content, you need to deleted the Merged message chat.
4. Restart the iPhone.
3. Update to the latest version of iOS 12
Although a few iPhone users feedback that the new iOS 12.0.1 has fixed the issue. But after updating to iOS 12.0.1, my iPhone still has this problem. And I don't think Apple will fix it Unless iCloud identify the message chat by phone number not Apple ID. And it seems impossible now.
About Family Sharing
Many people think that the issue is related to Family sharing. Family sharing is useful for keeping music, movies, purchased apps, storage and photographs in sync with your family and not having to purchase content multiple times. So your iCloud content is not affected by Family Sharing. You can set up a family group to add or invite the family members(with the different Apple ID) to join your family group. Here is how to start a family group and invite people to join your family.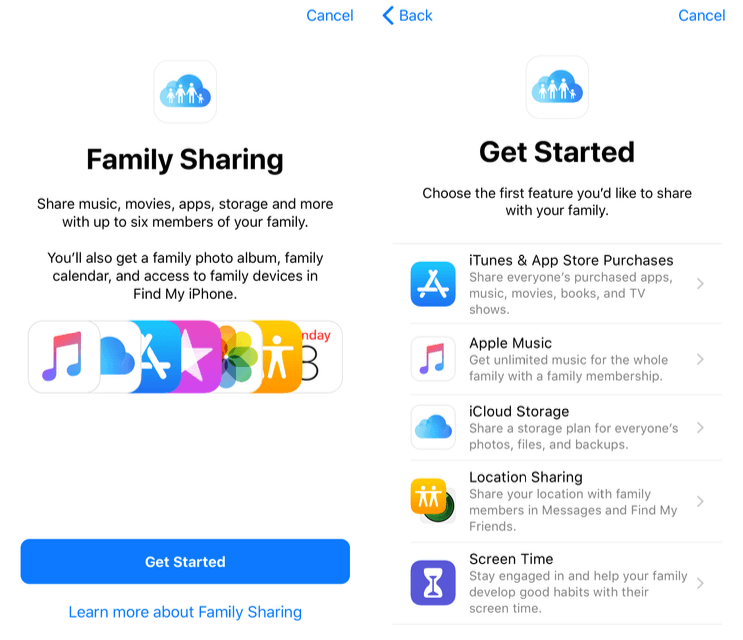 More Related Articles
About Fireebok Studio
Our article content is to provide solutions to solve the technical issue when we are using iPhone, macOS, WhatsApp and more. If you are interested in the content, you can subscribe to us. And We also develop some high quality applications to provide fully integrated solutions to handle more complex problems. They are free trials and you can access download center to download them at any time.