Many people listen to music and audiobooks while at work, but many kindle ebooks have no audiobook. So if we can convert a kindle ebook to audio format, that will be pretty cool. And the answer is yes. Here is the solution that we convert kindle books on the Mac computer.
As we know many online website can provide the text to speech function to convert your written words into the audio files. They use Google Translate's Text To Speech API to play back the written text into spoken voice. But Google's Text to Speech system can only convert strings that have less than 100 characters and the same limitation is applicable to Listen as well. Here is a text to speech online website.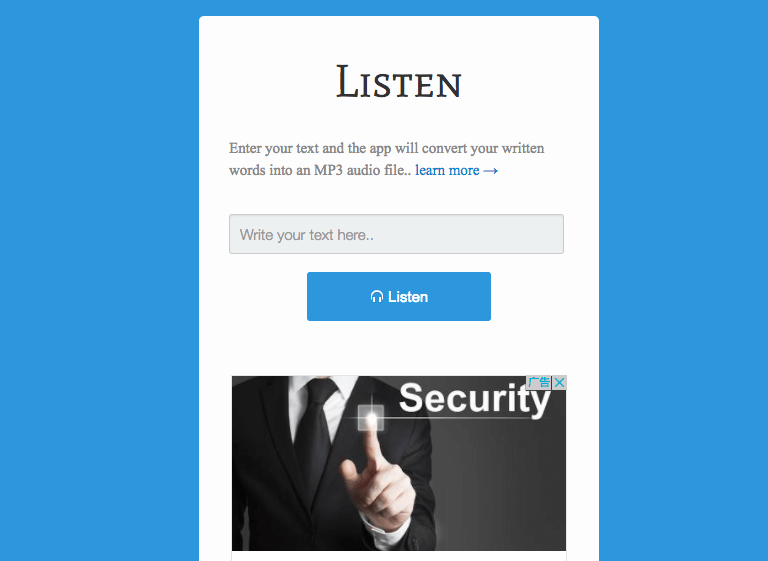 You need to keep copying and pasting the text content here. If you have a ebook with a large of content, it will require a lot of work. And it can't compatible with most ebook formats, such as epub and pdf and more. The most important thing is that it can't choose the reader, the language, the speed of reading.
Here we recommend Audio Book application--- it can support 38 different language and 50 reader voices. And it can convert various types (EPUB, PDF, HTML, RTF, TXT) of eBooks or iBooks to the audio files. It can control reading language, reading speed, etc. There is no limit to the content page of the ebook, which will automatically generate audio files based on the ebook section.
If you install the Kindle application on your mac, the purchased books will save on your computer. Here is s the location of Kindle books on your Mac computer: ~/Library/Containers/com.amazon.Kindle/Data/Library/Application Support/Kindle/My Kindle Content/ (Notice: that the directory "~/Library" is typically not displayed if you navigate with Finder. To access it, click on Finder, then click on the "Go" menu and select "Go to folder". Then enter the address of the directory you want to access.)
1. First we download and install Audio Book
---
Audio Book


Convert any PDF, EPUB, RTF, TXT or HTML eBooks or iBooks to audiobooks
narrated by a wide range of voices.



For Mac OS X

---
2. Run Audio Book. Click "Import Books" button to choose the Kindle book on the computer, then they will be added in Books section (under iBook Purchased)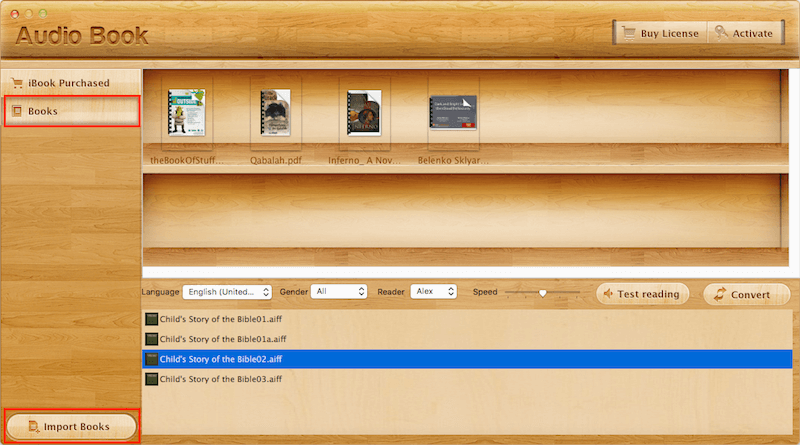 3. Choose the right language version. For example, there are six different English version.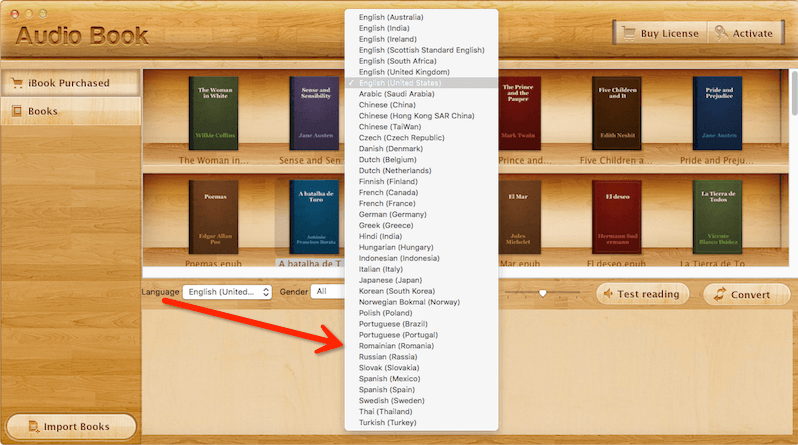 4. Choose the gender of the reader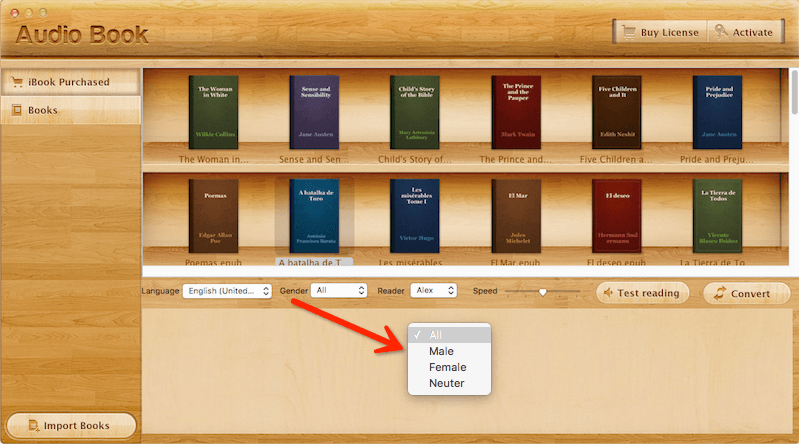 5. Choose the book reader. Each reader's voice is not the same, just find the right one for you.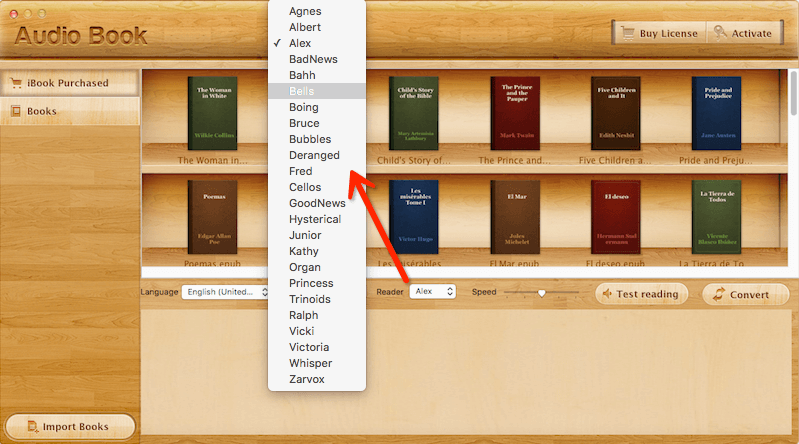 6. Click the "Test reading" button to listen the voice of your choice. If you are not satisfied with it, then replace a different reader, until you are satisfied. Every time you change the language and the reader, listen to the voice by the "Test reading" button. And different books can be read by different reader, which is very pleasant.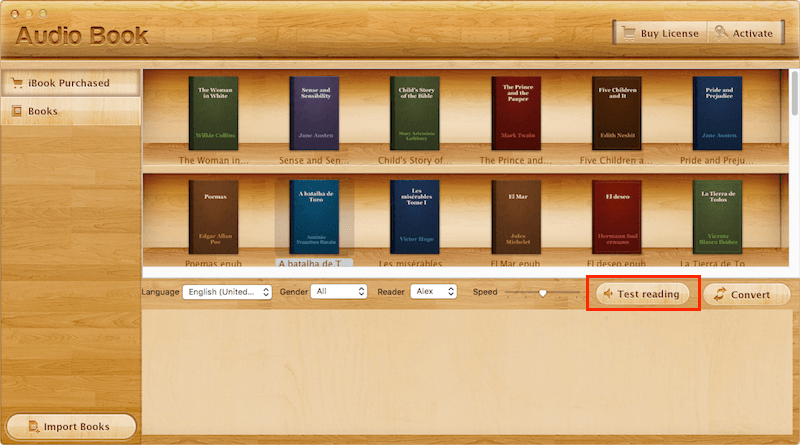 7. After you complete the settings of the voice. Selected the book in the software, you can click " Convert" button to start . Or right mouse down the book, it will pop-up a menu, then click "Convert to audio file" to start. The demo version is just free to convert part of the content.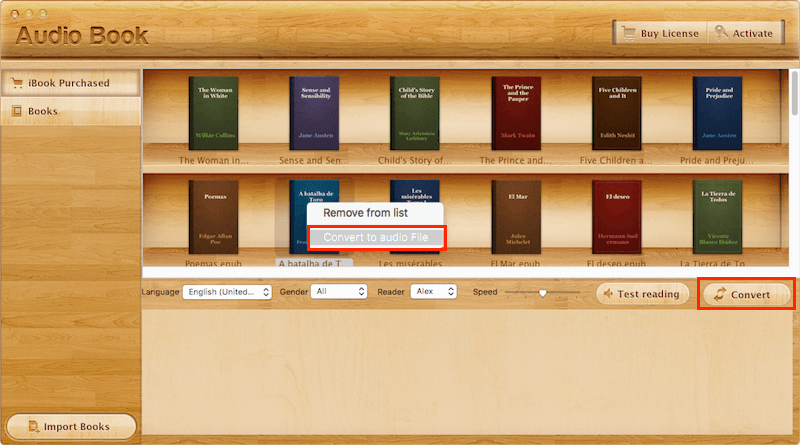 More Related Articles
About Fireebok Studio
Our article content is to provide solutions to solve the technical issue when we are using iPhone, macOS, WhatsApp and more. If you are interested in the content, you can subscribe to us. And We also develop some high quality applications to provide fully integrated solutions to handle more complex problems. They are free trials and you can access download center to download them at any time.