After updating my iPhone X to the new iOS 12.2, when I connected iTunes to back up the iPhone. iTunes recommends updating the updated version to the latest 12.9.4 version. However, iTunes prompted the error during the verification and installation process. "The iTunes signature is invalid and cannot be installed." Try it multiple times and restart the computer, but no results. Finally I solved this problem and I shared two solutions. If you encounter the same issue, they will fix it for you.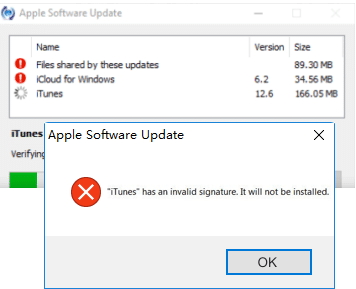 1. Manually install the iTunes-update package.
When you got the "iTunes has an invalid signature, it will not be installed" error window, do not click the Ok button.
Because the iTunes update installation package has been downloaded to your computer, when you click the Ok, iTunes will delete them.
Access the Apple Software update folder: C:\Users\username\AppData\Local\Apple\Apple Software Update, you will see the iTunes64 installation application and other service installation application there.

Double-Click the iTunes64.exe to install the update step by step. After the installation has completed, restart the computer to make the iTunes update work.
1. Download and install the latest iTunes installation.
Go to https://www.apple.com/itunes/download/, Then choose iTunes 32 bit or iTunes 64 bit to download. It will download the latest iTunes version to your computer. (You need check if Windows is 32-Bit or 64-Bit. You can access the System Properties by pressing ⊞ Win + Pause or Pause Break, or by right-clicking on This PC/Computer/My Computer and selecting Properties. And make sure you are using the right version of your Windows OS.)
Close the iTunes application before the installation, then double click the latest iTunes installation to install iTunes and it will detect your old iTunes version.
Choose Repair when it prompted, it will repair the Apple Software Update, and reinstall and update iTunes to the latest version.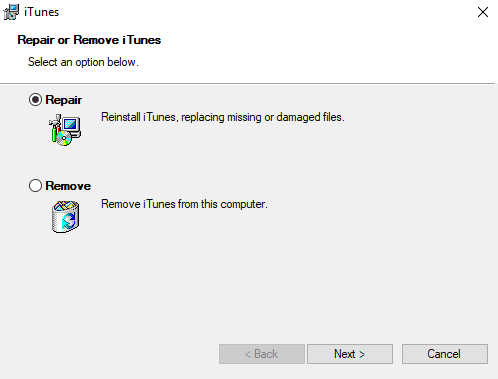 Then install it step by step to complete the installation process.
More Related Articles
About Fireebok Studio
Our article content is to provide solutions to solve the technical issue when we are using iPhone, macOS, WhatsApp and more. If you are interested in the content, you can subscribe to us. And We also develop some high quality applications to provide fully integrated solutions to handle more complex problems. They are free trials and you can access download center to download them at any time.