Do you like reading? Regular reading is a habit of many readers. As smartphones and other mp3 devices become more popular around the world, we can choose to listen to audiobooks while driving, at work, or before going to bed. It makes our reading more efficient and fun. Are you an audiobook lover? If so, this article will provide the best place to download free and paid audio books.
Free Audio Book Download
1. LibriVox supports the audio books in the pubic domain. You can find a free audio book by searching Author, Title or browsing in Genre/Subject. LibriVox volunteers are from the whole world, so there are many different language for the audio book.
When you access a book's description page, it will list all the chapters and you can play and listen each chapter. Or you can download the whole audio book with the zip file format.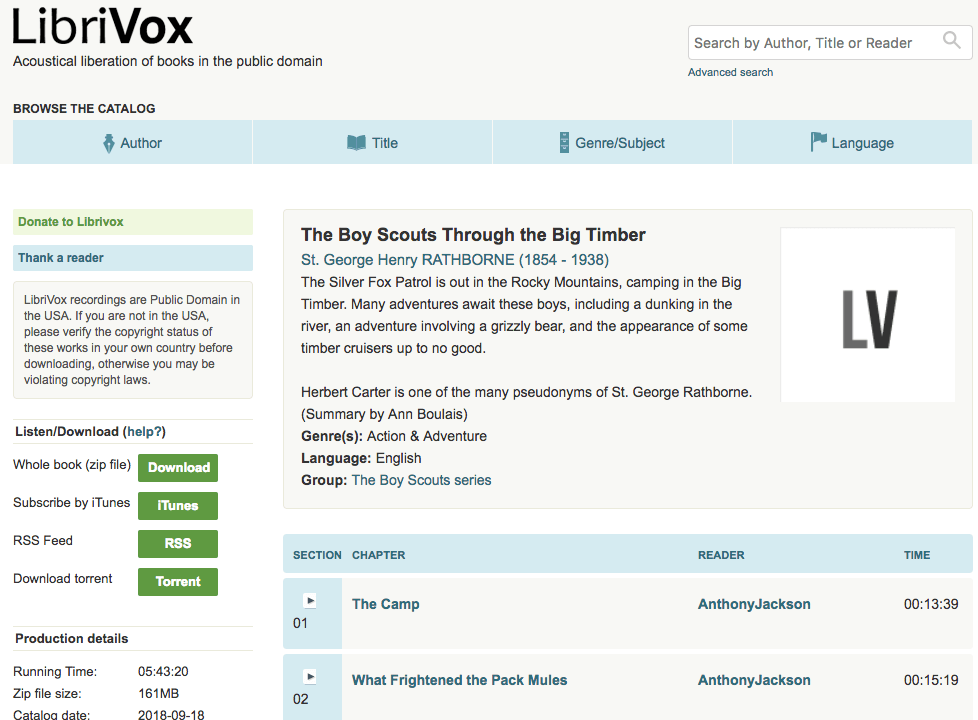 2. Loyal Books is another website to provide the free audio book for the public domain book. You can find many popular audio book in Top 100 section or in different genres. And each reader can submit a review to the audio book, so you also can find some great audio book with the reader review. It provides a picture cover for every audio book, which is very helpful when there are duplicate titles and different versions.
When you reach the description page of a audio book, you can listen and download each chapter, or download MP3s of the chapters altogether at once in one ZIP file, download the whole audiobook in one M4B file for iPhones and iPods, and even get the audio book through an RSS reader.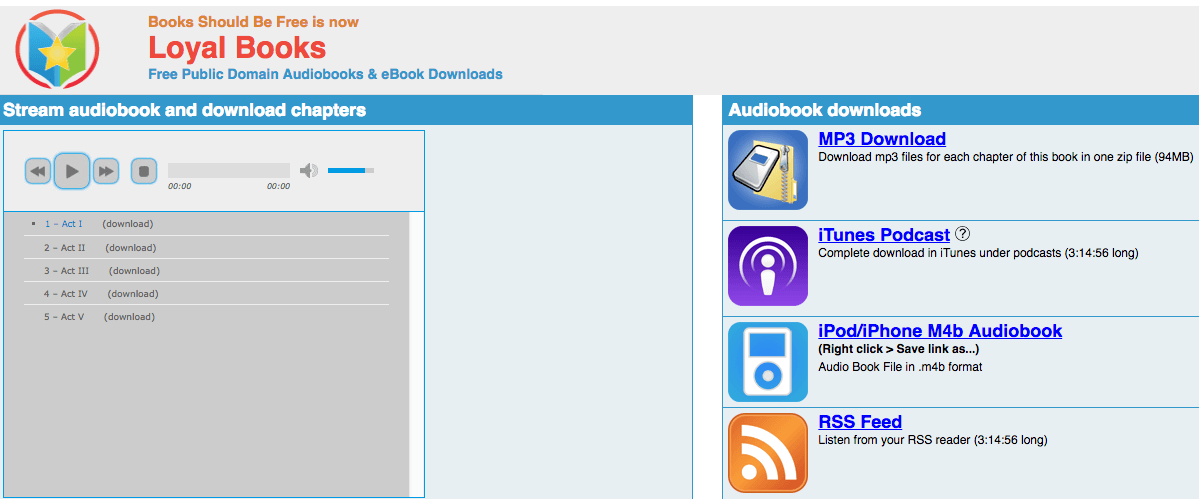 3. Lit2Go is copyright by the University of South Florida. All the free ebook and audio book on the website is part of the Educational Technology Clearinghouse and is funded by various grants. Here you can find many popular classic books.
You need download the audio book by the chapter, and you can also download a pdf page for each chapter. You can find and browse the audio book by Genres and Collections.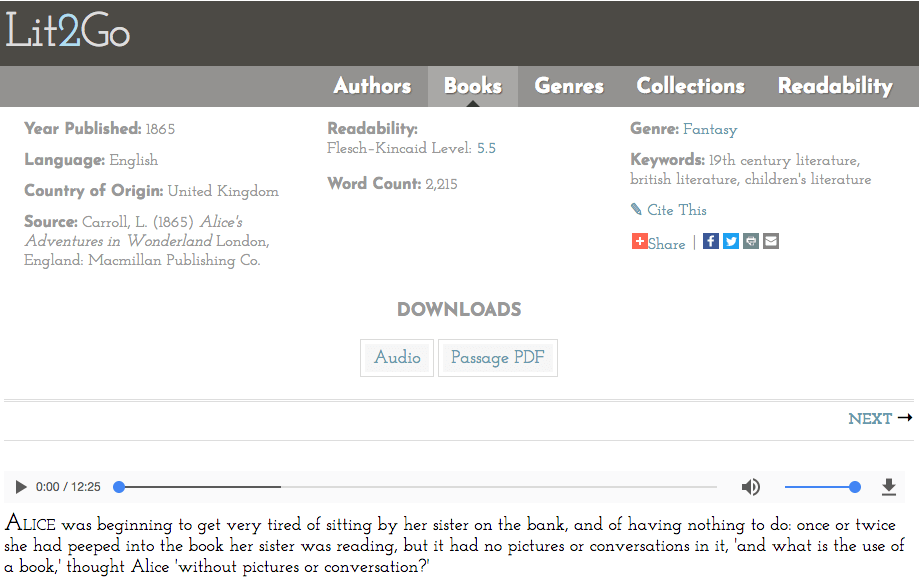 Paid Audio Book Download
1. Audible, as an audiobook provider owned by Amazon, it offers a wide range of high quality audio books on the website. So you'll be able to find just about any audiobook you are looking for, including best sellers and new releases. And it offers 30 day free trial and $14.95 subscription for one book per month.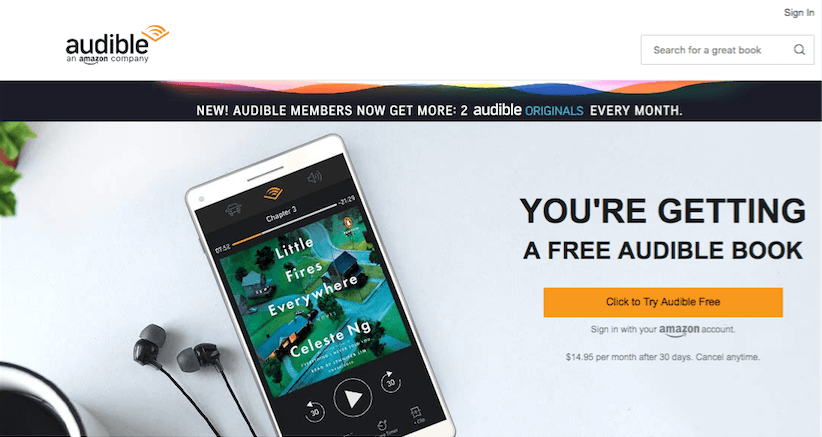 2. Audio Books, is another audiobook provider owned by RBmedia, which is an audiobook publishing company with sales globally. It claims to be the largest audiobook publisher in the world. Just like Audible, it has a 30-day free trial going which means that you can download any two audio books of your choice for free during that time.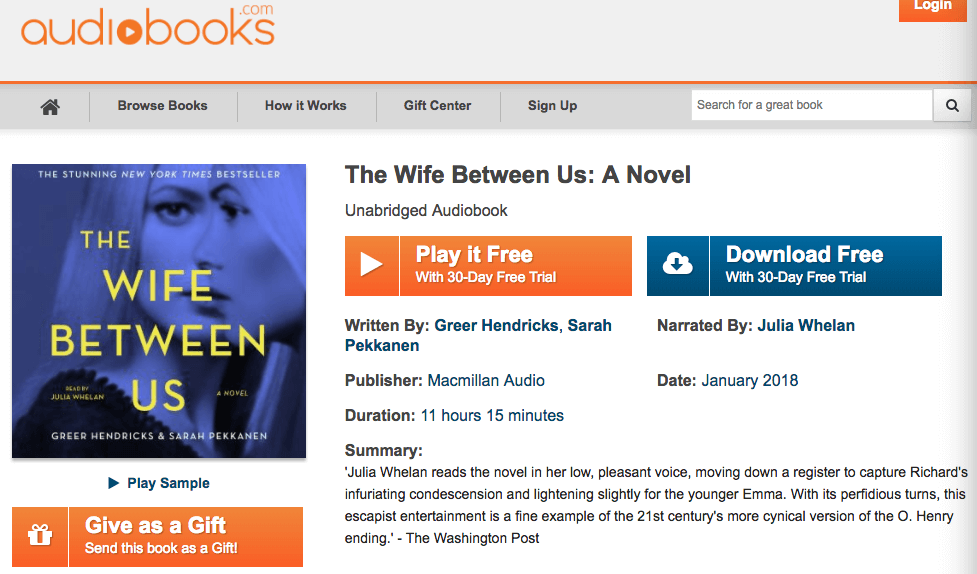 With the above free and paid audio book website, you can find many audio book. If you have an ebook file you still can't get its audiobook, here is another solution to use software to create audio book file on the computer. First download and install Audio Book application on the computer.
---
Audio Book


Convert any PDF, EPUB, RTF, TXT or HTML eBooks or iBooks to audiobooks
narrated by a wide range of voices.



For Mac OS X

---
1. Run Audio Book. Click Import Books button to choose the Kindle book on the computer, then they will be added in Books section (under iBook Purchased)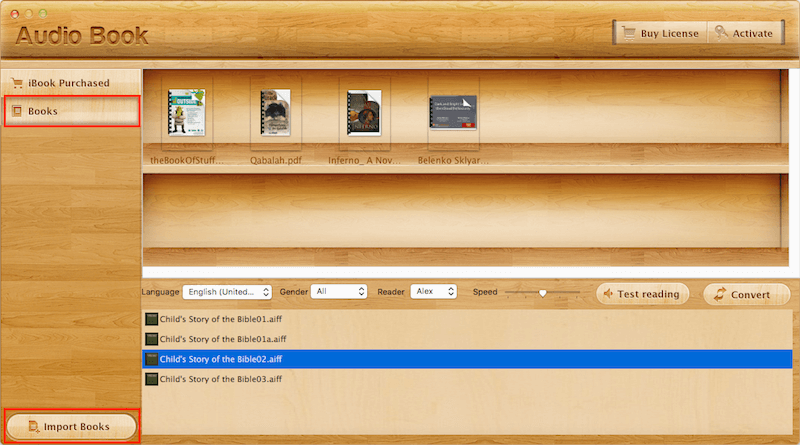 3. Choose the right language version. For example, there are six different English version.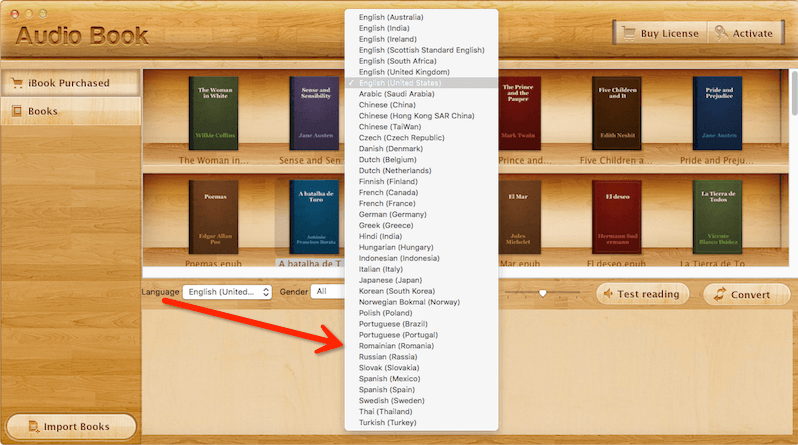 4. Choose the gender of the reader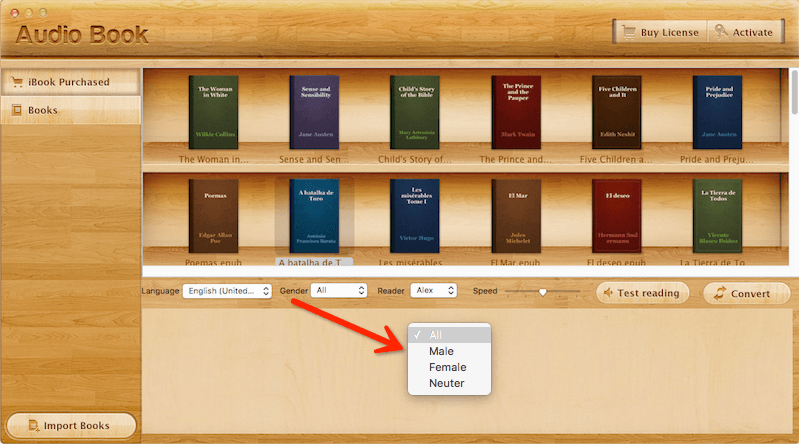 5. Choose the book reader. Each reader's voice is not the same, just find the right one for you.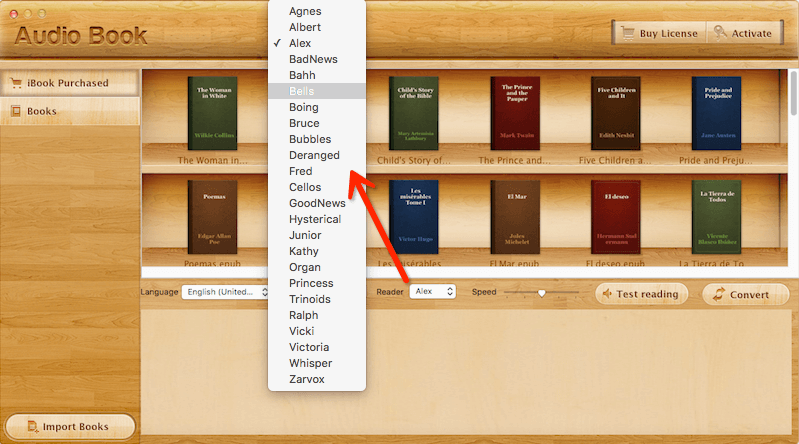 6. Click the Test reading button to test and listen the voice of your choice. Every time you change the language and the reader, listen to the voice by the Test reading button. And different books can be read by different reader.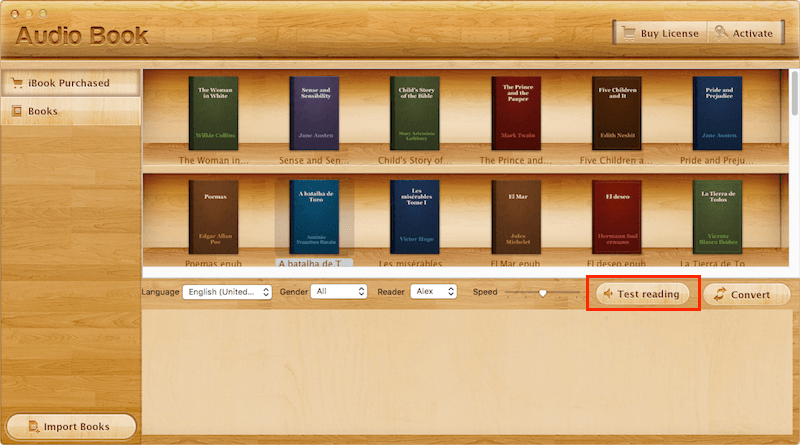 7. After you complete the settings of the voice. Selected the book in the software, you can click Convert button to start . Or right click the book, it will pop-up a menu, then click "Convert to audio file" to start. The demo version is just free to convert part of the content.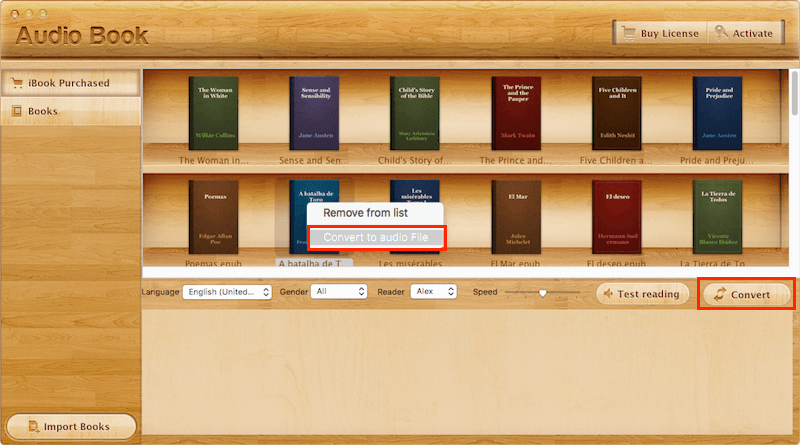 More Related Articles
About Fireebok Studio
Our article content is to provide solutions to solve the technical issue when we are using iPhone, macOS, WhatsApp and more. If you are interested in the content, you can subscribe to us. And We also develop some high quality applications to provide fully integrated solutions to handle more complex problems. They are free trials and you can access download center to download them at any time.