{宽版文章}
{宽版文章加载:/templates/fireebok/css/app.css}
{宽版文章加载:/templates/fireebok/css/other/navbar2.1.css}
{宽版文章加载:/templates/fireebok/css/other/footer2.0.css}
{宽版文章加载:/templates/fireebok/css/other/iexplorer-styles.css}
{宽版文章加载:/templates/fireebok/css/other/iexplorer-extras.css}
{宽版文章加载:/templates/fireebok/css/other/product-page-style.css}
{宽版文章加载:/templates/fireebok/css/other/background.css}
{宽版文章加载:/templates/fireebok/css/other/styles.css}

Fireebok Photo Recovery is an Mac application that allows you to recover lost, corrupted or deleted photos, videos and music from your memory cards, hard drives, iPods, memory sticks and other external drive connected to your computer.
Recover lost, deleted and formatted images from any situation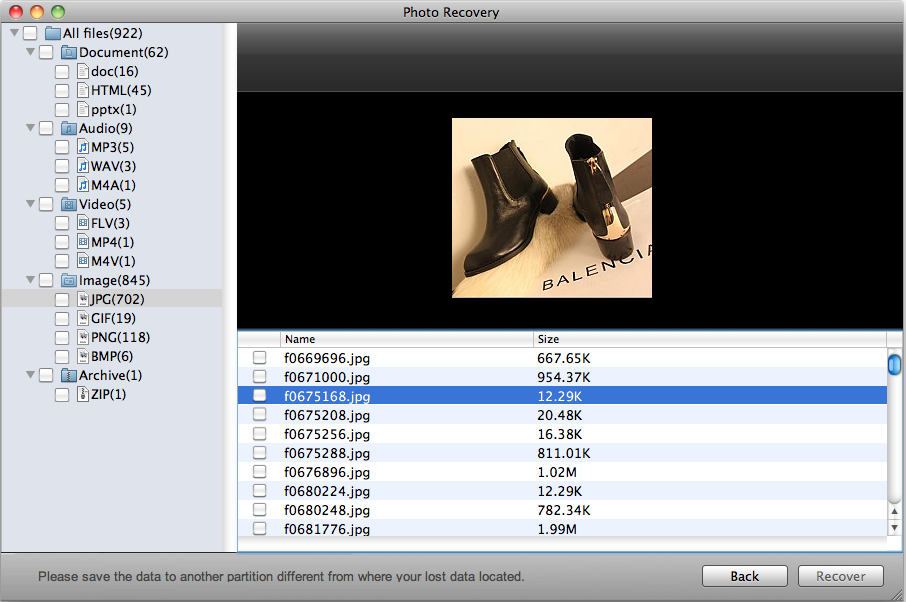 Powerful Mac Photo Recovery Ability

Provide two recovery modes - Deleted recovery mode and deep recovery mode, deleted recovery mode allows you to recover deleted photos from Mac hard drives, even emptied trash bin, command + Del. etc. while deep recovery helps to rescue files by scanning all the recognized files stored on each sector.

Overall data loss scenarios supported - Recover data lost due to accidental deleting, formatting, improper device usage, virus attack, software crash, and other reasons.

Flexible & Precise File Recovery for Mac

Recover not only photos, but also documents, audios, videos, music, archive, etc.

Supports various image formats: JPG/JPEG, GIF, TIFF, BMP, PNG, JP2, PSP, INDD, PSD, MOS, PCT, DJVU, TGA, PGM, PBM Comes with built in support for multiple digital camera types.

File validity lets you distinguish valid and invalid files before recovery.

Lost File Recovery can restore your deleted files with original file name, and storage path.

Save and import the previous scanning results to resume recovery without rescanning.

Partition-selectable Recovery Ability

Allows you to select a partition to recover your lost data, which opens the recovery destination field below the partition name.

Preview images before recovery: preview in thumbnail or cover flow, to let you check the image quality in advance.