Download iPhone Cleaner below and install the program on your PC or Mac.
Click the iPhone Cleaner icon to launch the program, and plug your iOS device into your computer.
Note: The guide will show you the manual of the Mac version, whic is same as the PC version.
How to Use Quick Scan Mode to clean up your iPhone
iPhone Cleaner Quick Scan Mode is designed to release the most iPhone storage space in the shortest possible time. And it is very safe, it will automatically backup all your photos and videos before deleting it from all your albums, including Camera, Photo Stream and other albums. Meanwhile You don't need to do too much opreation, and you don't need to reboot your iPhone. Just tree steps to complete the clean up process
Step 1: Connect your iPhone with the computer, run iPhone Cleaner and click "Quick Scan" button to start.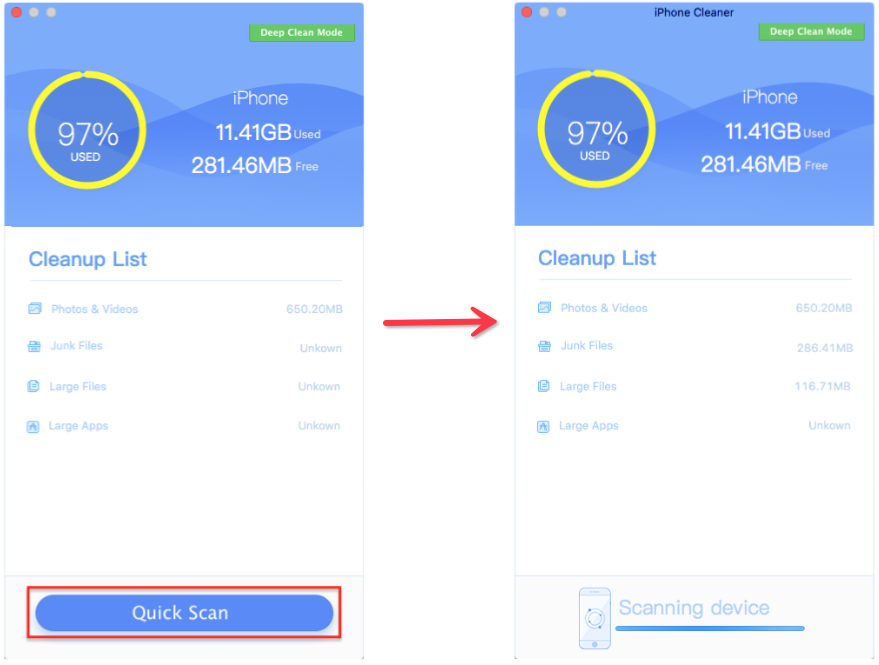 Step 2: After the scanning has completed, You can choose the files that you need to remove. All the photos and videos will be backed up before the clean up process.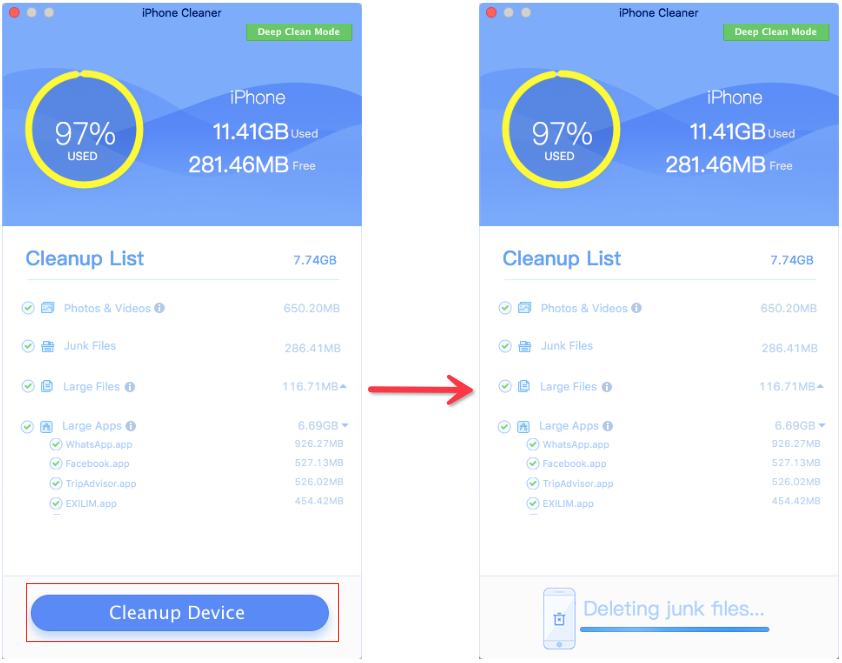 Step 3: Click "Cleanup Device" button to free up iPhone storage space, then iPhone Cleaner will complete the clean up process.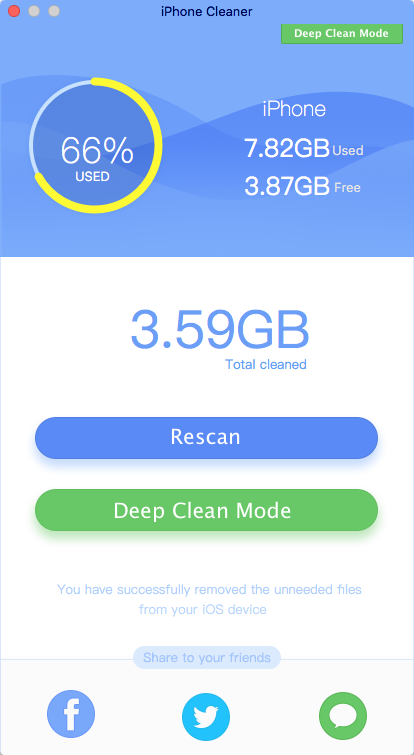 The Device Manger analyzes your device and shows you which types of data are occupying the disk space, these data includes: Photos, Music, User Apps, Books, Videos, Videos, System Apps and User Data.
1. Click any type of data, the Device Manger will categorize the disk space and mark space size with different colors by disk usage.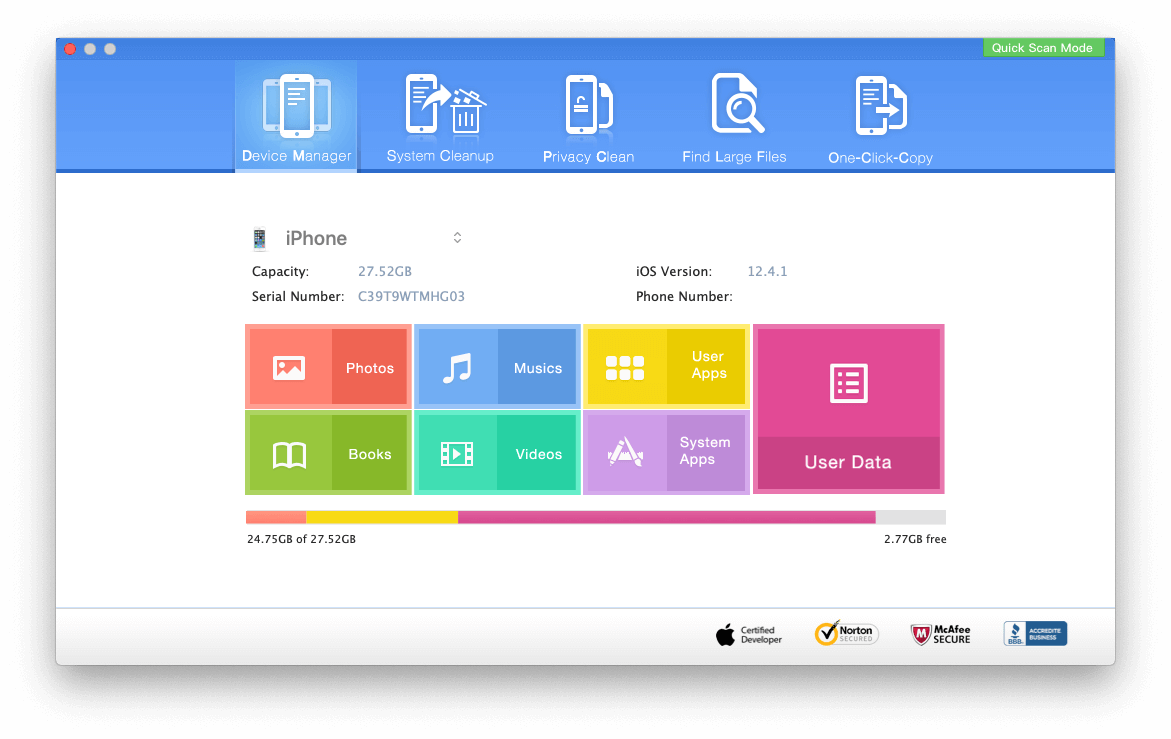 2. You can find out what exactly takes up the most space, then click on

to browse, export or delete the files in each category.
This module will analyze the junk files produced by the iOS system and other apps, you can remove these Diagnostic & Usage Data, Downloaded Temp Files, User Storage, iTunes Photo Caches, iTunes Sync-failed Files to free your disk space and boost your computer's running performance.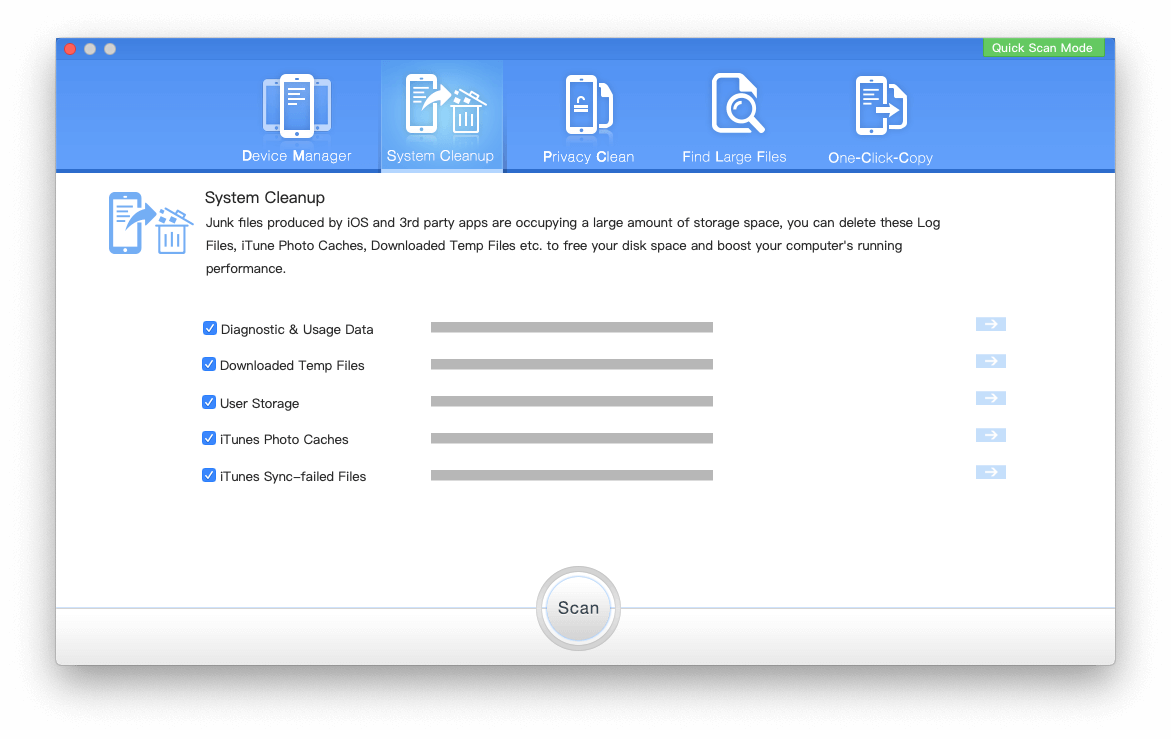 App Cleaner scans the garbage files in your apps like Documents & Data, App Caches, App Cookies, App Junk Files, and App Ads. You can delete all these files to reclaim storage and surf the web without annoying ads. As for Documents & Data, you can only remove partial of them because some are required when an app is running.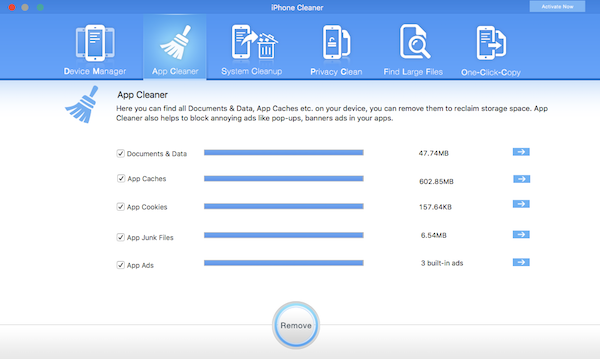 Privacy Cleaner releases storage space by clearing a number of privacy on your iPhone, iPad, meanwhile, it helps to protect your privacy safely. All private data will not be recovered with any data recovery utilities after the cleaning.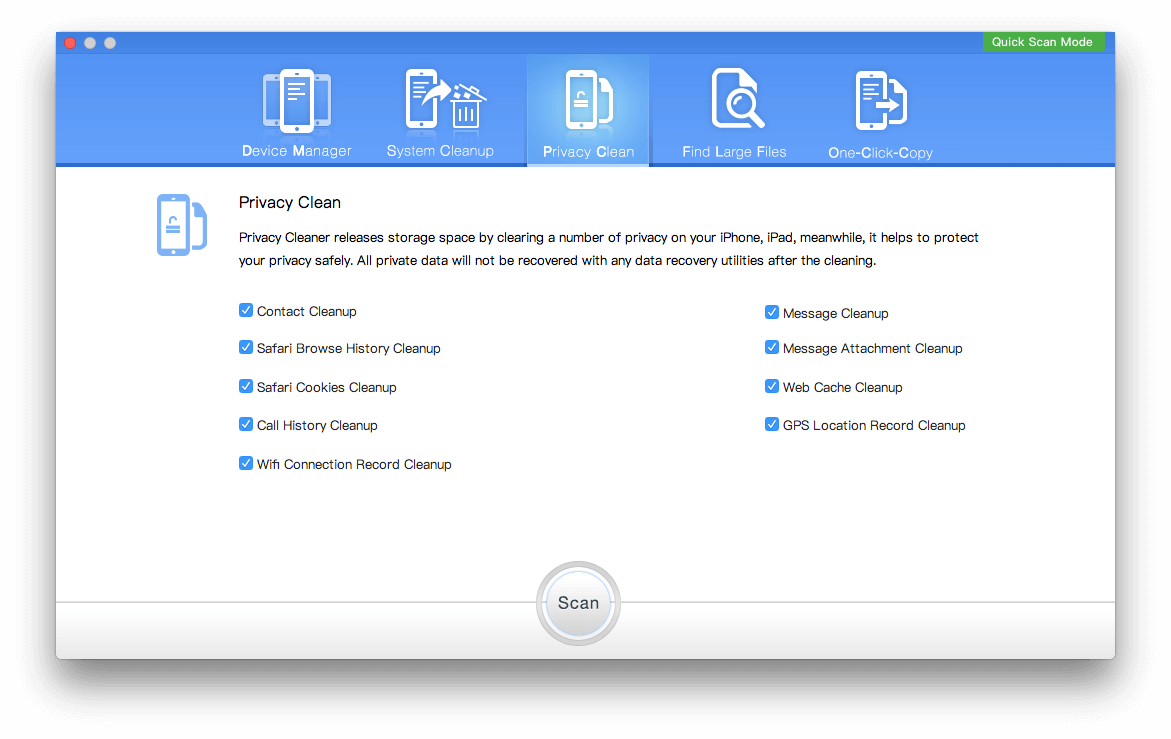 In Find Large Files module, you can view which files like videos are occupying big chunks of disk space. If these files are unnecessary, you can remove them permanently.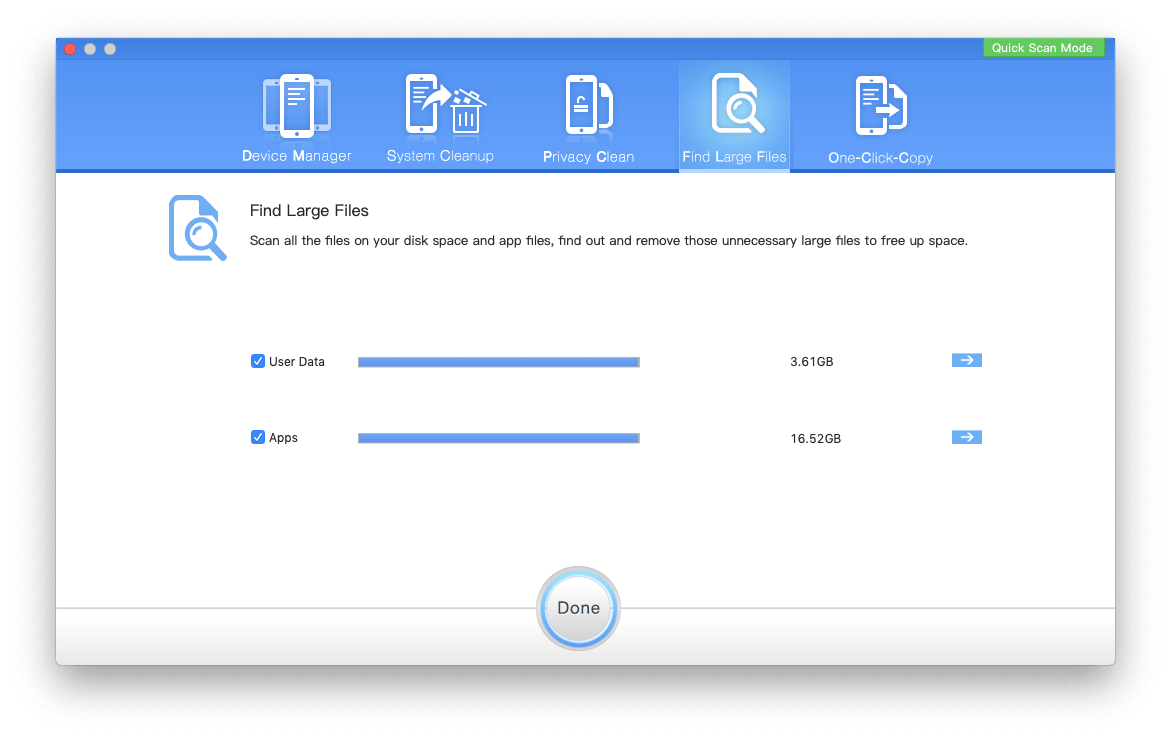 One-Click-Copy creates a clone of vital data including Camera Roll, Photo Stream, Photo Library, Videos, Music, Contacts, Messages, etc. You can make a backup to your computer anytime.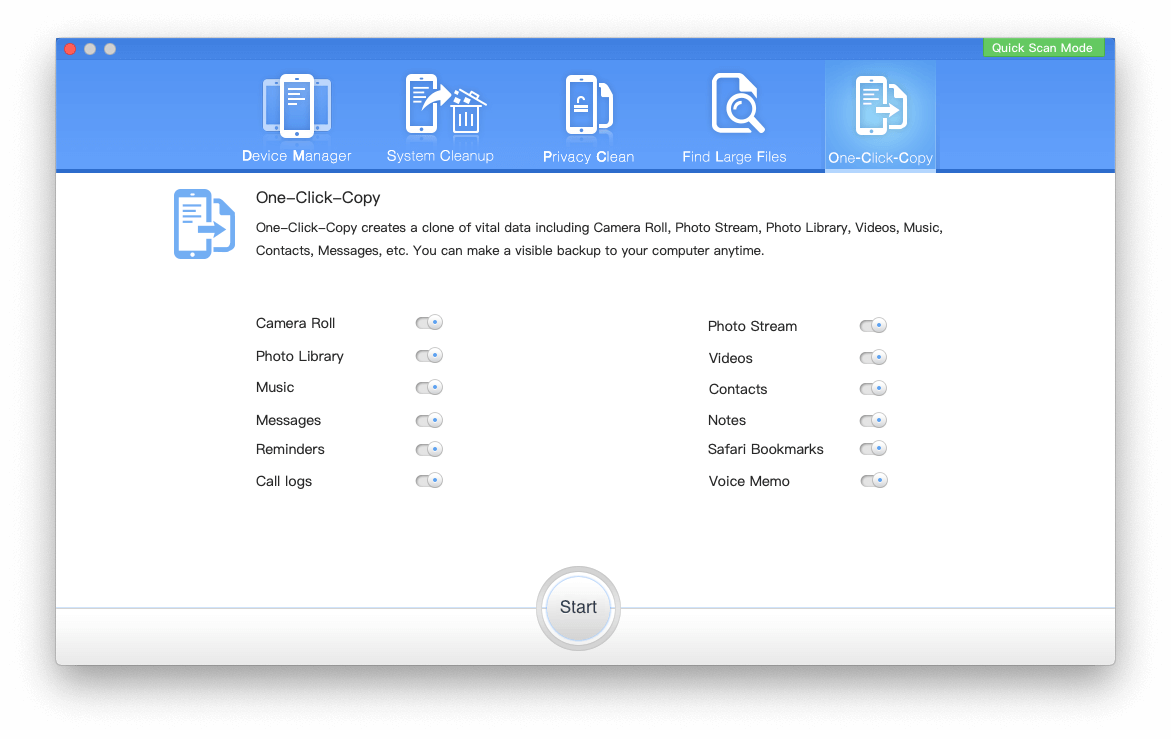 Related guide
how to manage your iPhone/iPad device storage with iPhone Cleaner
Manage your other data or user data-Access iPhone file system
Have more questions or need help from us?
Contact our support team here.