How to Manage your iPhone/iPad Device Storage with iPhone Cleaner
Learn how to manage your photos, musics, videos, books, apps with iPhone Cleaner in iPhone 4/4S/5//5C/5S/6/6Plus/6S/6S Plus.
The Device Mange is an important management tool as part of the iPhone Cleaner. It categorize your idevice disk space and mark the space size with different colors by disk usage. And you can find out which type files take up most of iPhone storage space. In the current version, it can export or remove your photos, videos, muisc, books and uninstall the apps from your iPhone Storage. In additions, You also can access the file system and manage your all personal data. This features will help you to manage your iDevice more easier, and reclaim much mor free space.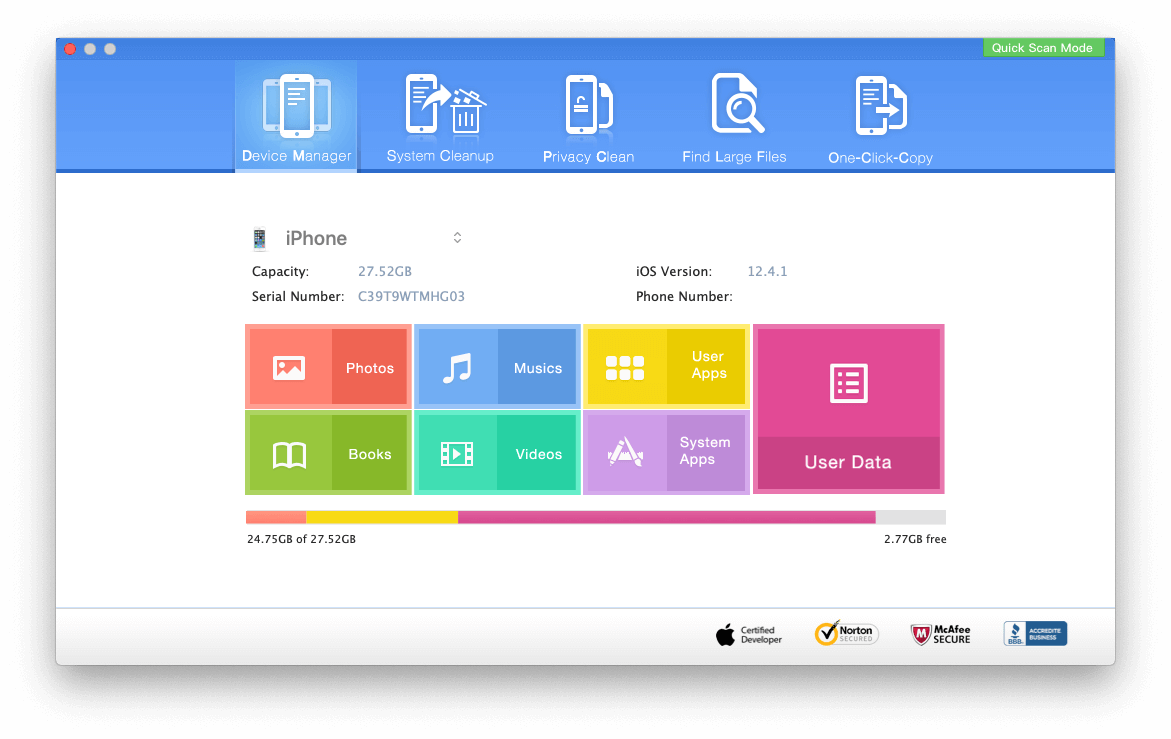 Transfer photos to the destop computer
Connect your idevice to the computer and open the Clean MyPhone. Click Photos to access your photo storage. It will show all iPhone photos& videos including Camera Roll, Photo Stream, Photo library. And you can preview the thumbnail of all photos, and delete or remove them from your iPhone.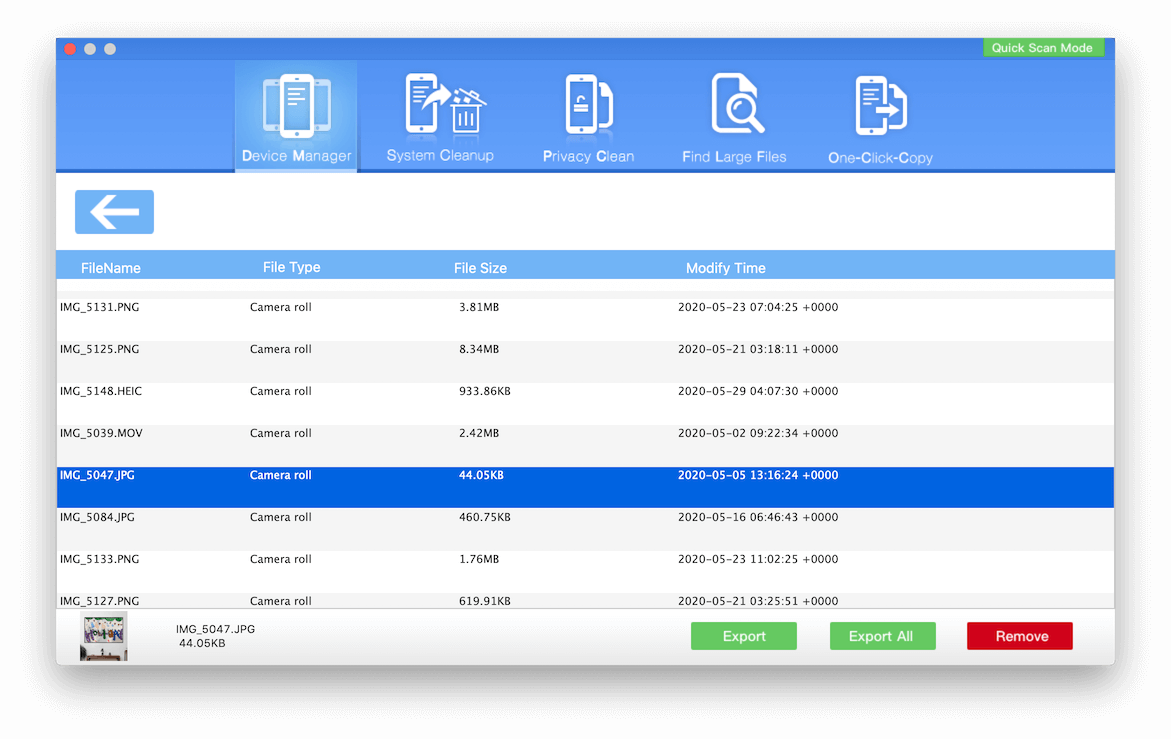 Transfer Muisc &Videos to the destop computer
When you access the music storage, it shows the name, artist, album, during time and more attributes of music, iPhone device storage be marked by kinds of colors. When your iPhone stores a lots of music or videos, it will eat lots of iPhone storage space. So export the infrequently used media file is necessary.
View app data or uninstall the whole apps
With this features, you can see the whole apps with app name, app version, app size including app doument&data. And you will find out the app real file size. For explem, the facebook app is 100MB, but it's document &data is 2GB, so the whole app size is about 2.1 GB. the which apps take up your most iphone storage. You can unistall the whole app with "Uninstall" button, or remove the document&data with App Cleaner.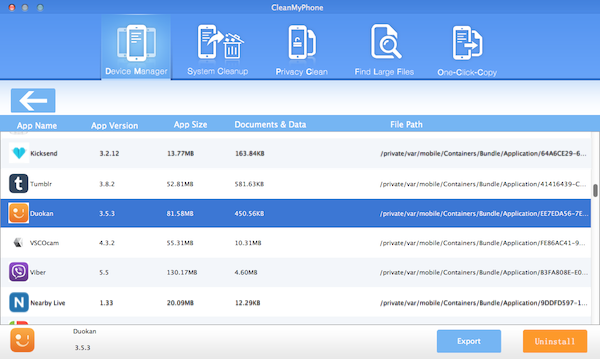 Manage and organise the user data
The user data under the iPhone file system. If your iPhone has jailbroken, it shows all iPhone files including the ios system app files. You can oprate each photo, music including synced-faield media files, database files and more. We suggest the advanced custom to use the delete fuction.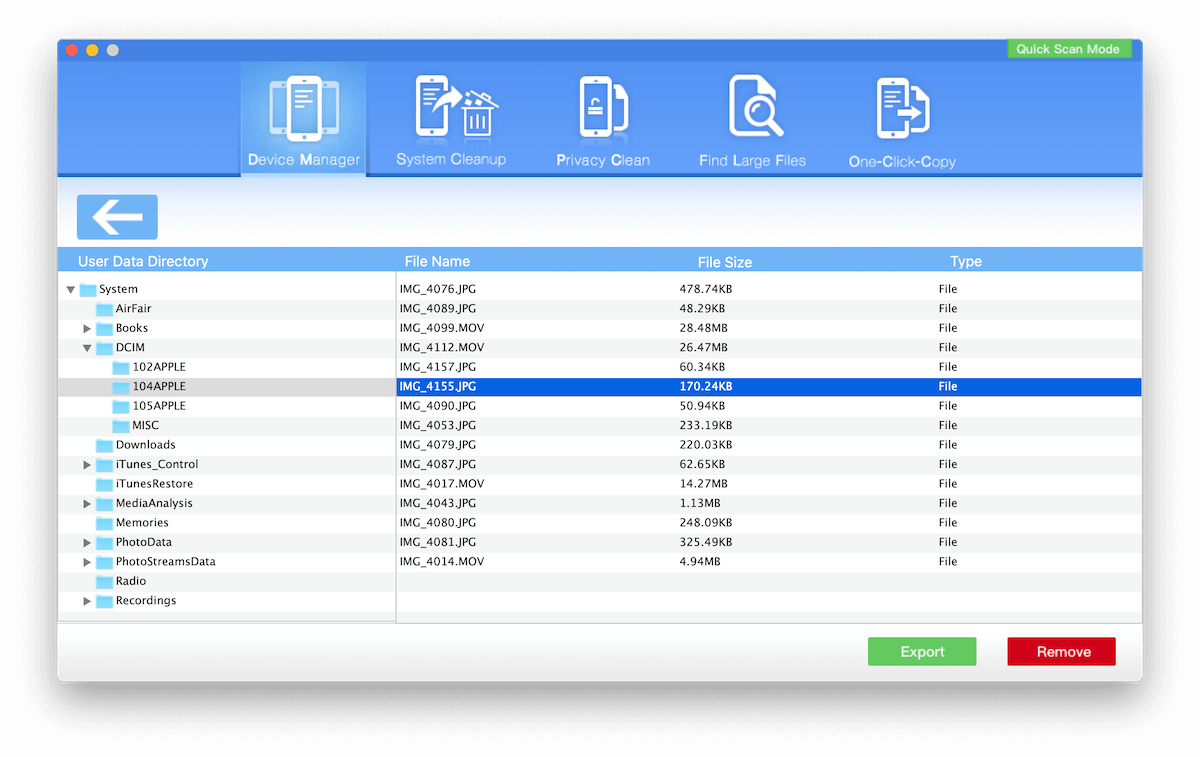 Note:

With the trial verison, you can export one photo with one opration. You can export all photos just one click with the registered version. After the transfer has finished, you can find the photos which you selected in export file path.
How to Change Export File Path

iPhone Cleaner set "Users/~/Documents/CleanMyPhone" as the default export file path. But If you want to change the path, use the steps below:
Open the iPhone Cleaner Perferences.
Click "General" Button
Click "Change.." Button to choose the right Path
Click "Reset" Button to finish it